Ros Alterman
From the age of 15 my hobby was tenpin bowling and I competed in two leagues every week until the early nineties. My highlight was representing GB at the European Championships in Copenhagen in 1987 where I won three medals, one of each colour.
I first became involved with athletics in 1982 when my twin daughters joined Shaftesbury Barnet Harriers. I used to take them to their matches most weekends and then the usual request for help would be announced. I qualified as a Grade 4 British Athletics official in 1983 and used to officiate at about 70 meetings a season as I knew I wanted to progress through the grades. I became involved with disability athletics in 1986 when I first went to have a look round Stoke Mandeville. During the following years I also qualified as a track judge and to this day officiate as such at several army meetings each season. The first meeting that I can remember officiating in Wales was is Cwmbran in 1991 and I have been coming down ever since.
For my sins I was secretary of the South of England Officials Association for nineteen years, having been assured that if I volunteered, it would only be for six months! I also became a tutor for H & S and the various Levels. Over the years I have been involved with just about every disability within athletics officiating. I was a Chief Judge at three World Championships, in the UK, New Zealand and Lyon and my highlight, at the Paralympics in London 2012. I have been involved with the wheelchair London Marathon for about 29 years.
I started officiating at Special Olympics events some 20+ years ago and have acted as referee at the GB National events as well as Regionals for many years. In 2011 I was invited to the World Special Olympics in Athens to act as an ITO and then as ITO/Field Referee in Los Angeles in 2015 and Dubai 2019.
Over the years I have been very fortunate that my hobby has enabled me to travel and meet some amazing people.
Ros Alterman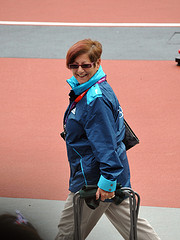 Featured links
Useful pages within this section you may like to consider visiting.