Bernie Jones
I have began running when I was 14, back in 1974, and was fortunate to have some success fairly quickly including representing Welsh Schools at the British Schools International Cross Country at Arrowe Park. By that time I had already decided that my career was going to involve sport and I was fortunate to be able to do my Assistant Club Coach and Club Coach awards under the then National Coach, Malcolm Arnold and as well as coaching myself I began helping a number of people with their training.
In 1976 I began working as a Trainee Leisure Manager and went on to have a wide and varied career in leisure including working for Birmingham City Council including liaising with AAA regarding the organisation of events such as the AAA champs at Alexander Stadium and the National Road Relays at Sutton Park. I also worked closely with people like Bud Baldaro on the organisation of events such as the Birmingham Vax Marathon. For the final 20 years of my career (I retired in 2018) I was Chief Executive of two leisure trusts providing community leisure. During the past 40 years I have been involved, either as a professional, volunteer or other role, in a variety of national, international, World championships at a variety of sports not just athletics and have also been involved in volunteering at Commonwealth Games, World Athletic Championships (indoor and outdoor) and I managed a couple of training venues during London 2012. I have also been involved in the sport's my children took part in ending up as Fitness Trainer for a football club (doing the fitness work for 6 age groups), cricket team manager and coach, and Safeguarding Officer for a couple of clubs.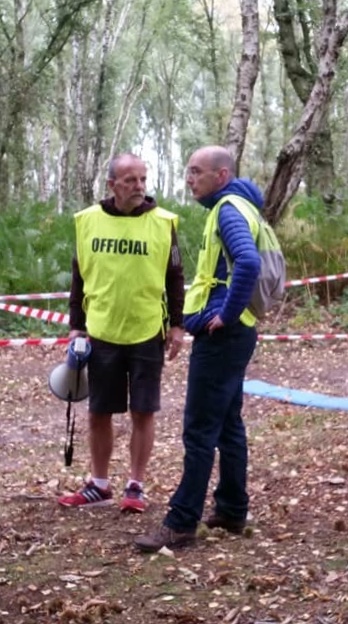 (officiating at local multi-terrain race)
As at any club, it is the same people who do all the work and having been given a lot of support as a youngster as soon as I was able I wanted to give something back to my club, Wrexham (even though I have lived all over the UK I have always remained first claim for Wrexham). Naturally with my work experience and sport specific experience I began getting involved in the organisation and officiating of events for my club, as well as still competing. Initially it would be officiating at track meetings after I had competed or checking out the course for cross country leagues. As time goes on you end up picking up more responsibility and more roles and these days I am Cross Country Secretary of Wrexham; Secretary of North Wales Cross Country Association (organising NWCCL and Championships and teams for Inter Regions/Counties), and Referee for North Wales League. I have been Team Manager for Welsh Masters Men's Team since 2007 and undertake adjudicating and referee duties for a number of races across North Wales and the North West. I also help a local race organiser acting as announcer/commentator on all of his races. I also have a training group operating in Cheshire involving about 30-40 athletes. Oh and I still run and as recent as last year represented Wales in my age group! So despite retirement I keep myself very busy!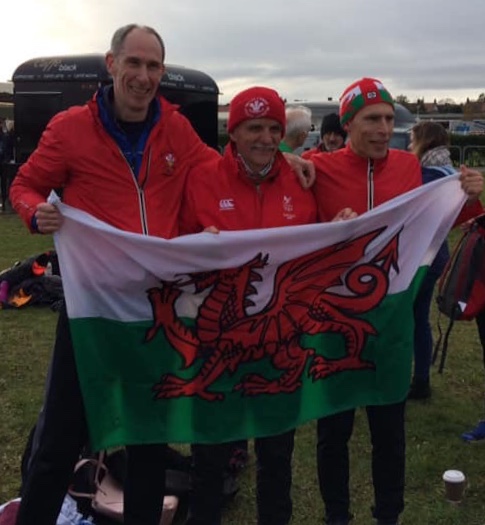 (Masters Cross Country International as Team Manager)
Despite having been involved in organising, officiating or administrating some significant events, I have to say that the biggest satisfaction I get out of my various roles in sport is a competitor coming to me after an event and saying "thank you that was a great event". However, the day before lockdown I was referee at the BMAF Cross Country Championships at Rhug and witnessed two 80 year plus athletes sprinting to the line with 1 second separating them at the finish. So inspirational and that's why I do what I do!!
In 2006 I received a Special Athlete Award and in 2019 I received the Award of Honour.
Bernie Jones, Wrexham AC, Level 3 Endurance Official
Featured links
Useful pages within this section you may like to consider visiting.