Young athletes enjoy chance to Run Jump Throw at Bridgend AC Open
02/07/2021 00:00, In Blog / Club Notice Board / Track & Field /
Bridgend Athletic Club have been enthusing their junior athletes with the second of their exciting Open Events.
After weekly workouts and online challenges during lockdown, the coaches were eager to get the children back to doing what they love. Usually, the children would have the chance to compete against other clubs in various track and field events throughout the summer, most of which of course have not been possible. However, the coaches from Bridgend AC have not let this hold them back and decided to hold their own event for their budding athletes, as well as welcoming athletes from a neighbouring club.
The day was organised into different age categories, covering run, jump, throw disciplines, with the U11's competing in 75m, long jump and vortex, U13's competing in 800m, high jump and javelin and the U15's competing in 300m, long jump and discuss. Following their races children from each age category chose their own teams to take part in a fun relay.
Presentations took place at the end of each age category with some children having their first experience of competing in events. There was a huge emphasis on enjoyment and participation with lots of positivity and encouragement from coaches.
Parents commented on how lovely it was to have the children back doing what they enjoy and were immensely grateful for the effort and enthusiasm put in by the coaches, as well as the time taken to orchestrate such a well organised event. Parent volunteers also got involved helping to set up, clean equipment and helping to organise the groups and races.
"We are all by now used to the restrictions and procedures and so thankfully these did not detract from the competition. From the smiles on the faces of the athletes (and the coaches) it was clear to see the enjoyment had by all. We will be looking forward to the next event in July, where the athletes will have the chance to compete in a different set of events, developing their skills and preparing them for future opportunities."

Rachel Hodges, parent at Bridgend AC, & writer of this report.
---
"It's great to see Bridgend AC leading the way and inspiring their juniors to take part in a multi-disciplinary series of events. The club have now invited 4 other local clubs, two of which have been involved from the start, to join them at their open events to give their children more opportunities to compete across run, jump and throw."

Hannah Pretty, South Wales Club Development Manager
Bridgend AC would love to engage with clubs across Wales to participate in a similar format, with local clubs getting together to host these fun open events. To encourage a league of results across Wales, clubs are encouraged to unite with local clubs to host their own events and submit results to a central results sheet.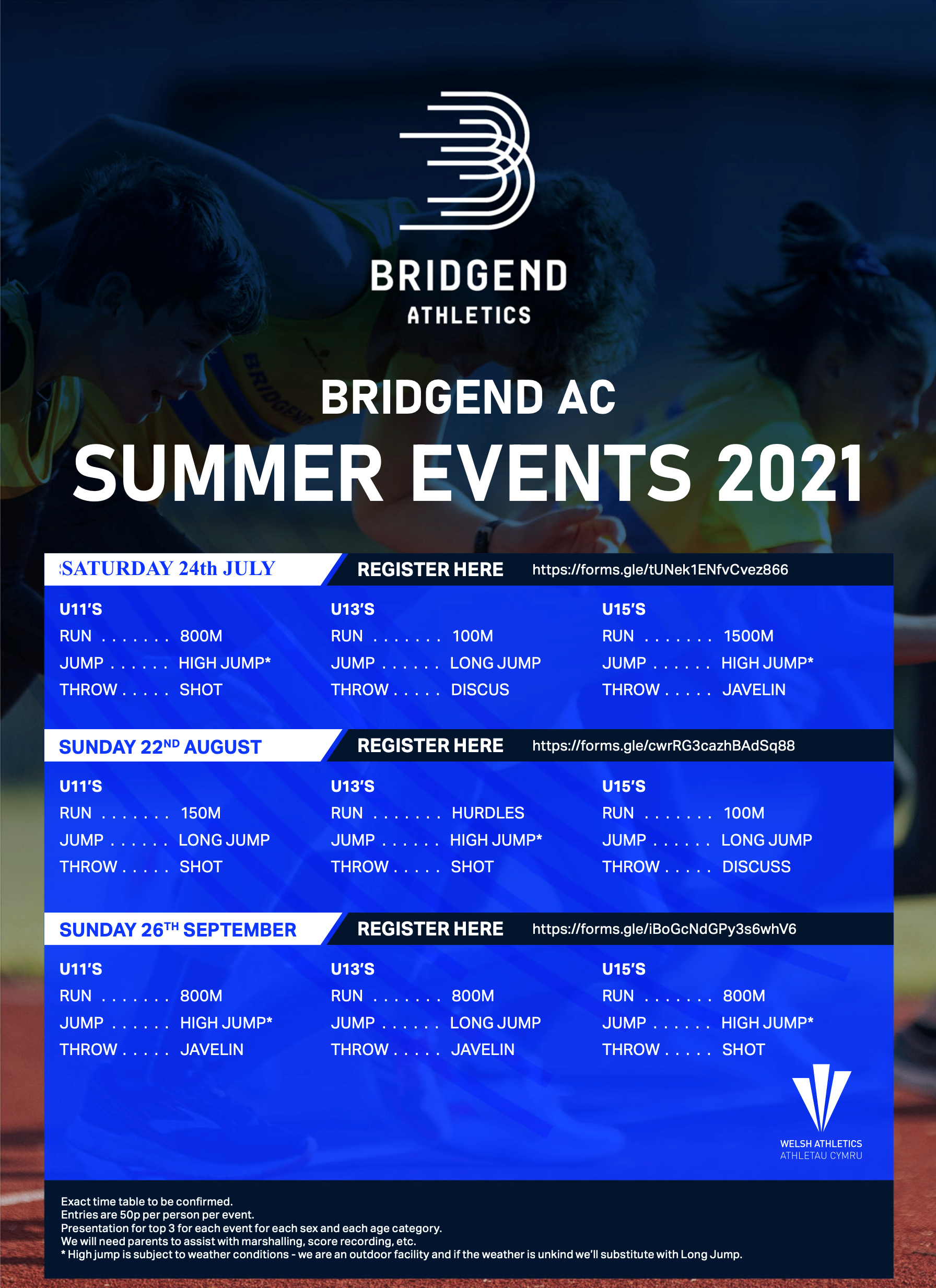 ---
For more information on this format and how to get involved please contact Chris Jeynes (chris@rockcommercials.co.uk) from Bridgend AC, who would be delighted to share results sheets and ideas about how it has worked so well for them. Bridgend are looking forward to a further 3 fixtures, please see poster for more information.