Lynne Brier
Name: Lynne Brier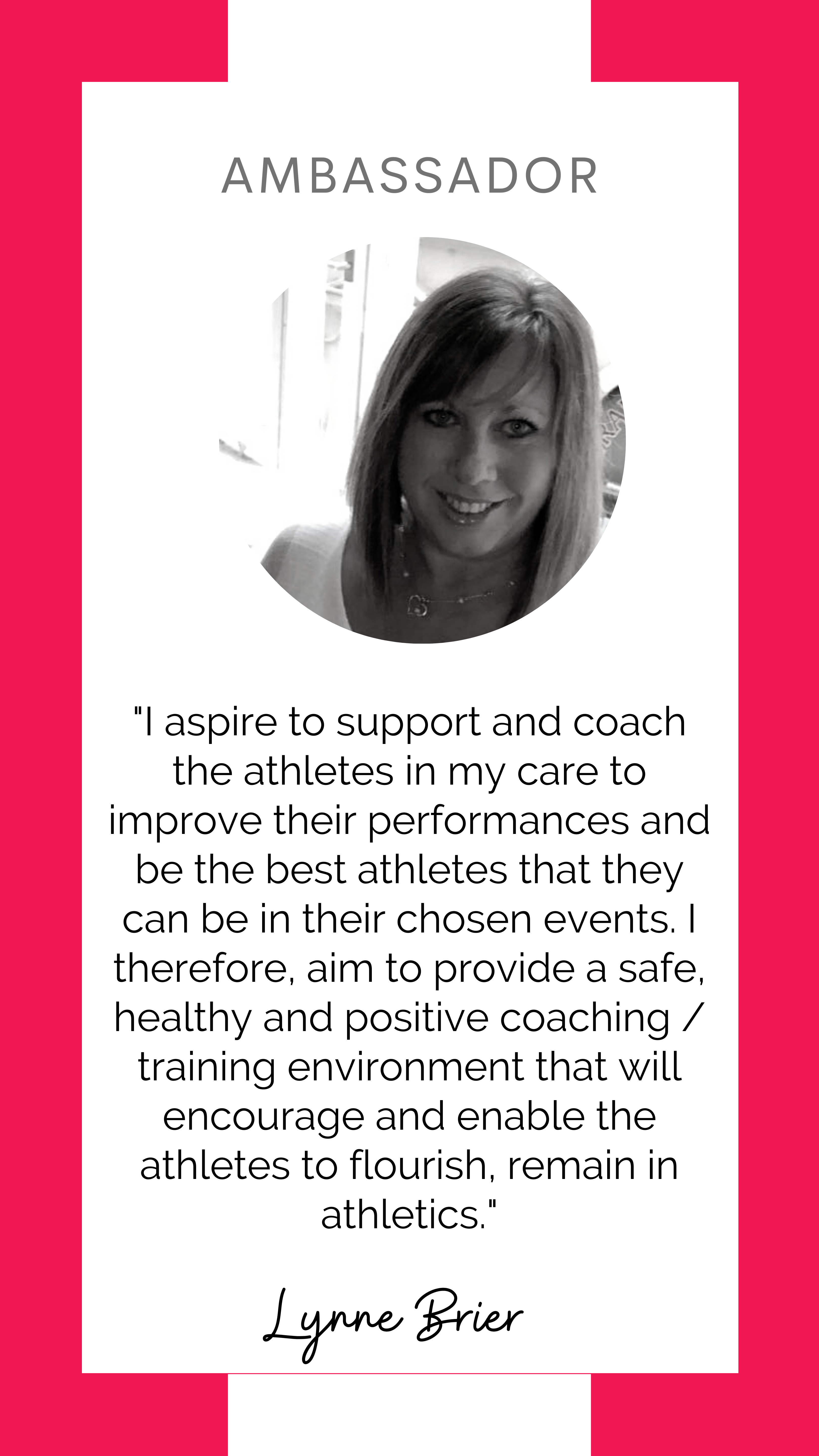 Age: 53
Club: Swansea Harriers Athletics Club
Event(s) Specialism: Sprints
Guiding principles as a coach: As I coach, I value the role that I play and appreciate the athletes as individuals with a diverse set of needs. I believe in the power of praise and constructive feedback, and aim to support the athletes to improve by offering both encouragement and advice. I feel that this is important if we are to create a healthy and positive training environment based on trust and mutual respect. I want the athletes in my care to enjoy taking part in athletics, improve their performances and be the best that they can be. I want them to develop from junior athletes having fun, to confident young adults who continue to enjoy what they are doing and remain in athletics. In order to achieve this, I constantly reflect upon my own performances as a coach and I am always looking for ways to improve my practice.
Coaching milestones: I started coaching athletics in 2007 as a parent volunteer with Swansea Harriers. I qualified as a Level 1 assistant coach in July 2007 and went on to qualify as a Level 2 speed coach in 2008. As a retired athlete myself, I was keen to give something back to the sport. I was attending the track on club nights with my own children and this provided me with the perfect opportunity to begin my own coaching journey.
I continued to help out twice a week as an assistant coach for many years. My work commitments were quite demanding and I didn't want the responsibility of my own group of athletes. I thoroughly enjoyed being a part of the coaching team at Swansea Harriers and continued to assist, even though my own children had moved away to university. However, I was always aware that to truly fulfil my own potential, I would have to work towards setting up my own group.
More recently, I began joint-coaching a group of junior male and female athletes, alongside another female coach at Swansea Harriers. This has suited us perfectly, as we are able to support each other. In order to extend our knowledge even further, we have both recently completed the event group sprints and hurdles course on line. This was our lockdown project.
I now feel that after many years of being an assistant coach, my own coaching journey has truly taken off and I am excited to continue on this pathway.
Aspiration as a coach: I have learnt a lot about coaching young athletes in the past year and absolutely love grassroots coaching. My aspiration is to keep on learning and become a better coach, with the ability to support talented young athletes from grassroots to elite participation. I would like to be able to coach at a higher level in the future and dedicate more time to coaching.
Featured links
Useful pages within this section you may like to consider visiting.