Chris Price
My Officiating Journey
I started officiating in athletics in August 2005 whilst watching my son, Marcus, compete in a Welsh Junior League match at the old track in Aberdare. Dave Lester asked me to help him run the High Jump competition as part of the Cwmbran Harriers club duties. At the time, Dave was helping me coach a Junior football team that our sons both played in, so I readily agreed.
Having enjoyed the first taste, I offered to help at the next match. This time we were looking after the Discus competition and I was hooked. Within weeks, Mary Jones (Cwmbran Harriers) had persuaded Dave and myself to take a short course to become Field officials. After a few evening sessions tutored by Lynette Harries, we sat the old Grade 4 exam. Having achieved a pass, I was qualified as a Technical official.
In the first few years I officiated only during the Summer season due to the ongoing commitment to the football team. After a couple of years Marcus changed football clubs and I gave up my role to concentrate on athletics, both officiating and joining the Cwmbran Harriers committee. Having no football commitments on winter weekends allowed attendance at more indoor meetings at NIAC. These proved to be a great opportunity to work alongside and learn from the various higher graded English officials who supported the events in Cardiff. Nick & Sally Higman, Roger Lee and Stuart Hodson, to name a few, have provided guidance along the way along with the 'senior' Welsh officials at that time, Dave Jessett, Derek Crowder, Lynette Harries and I'm grateful to them for their encouragement and advice.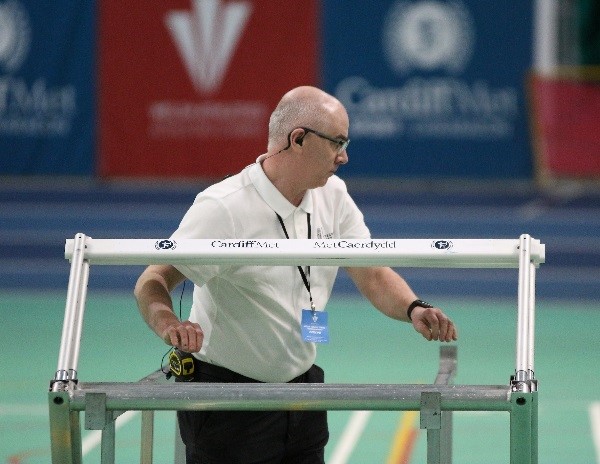 Picture by Owen Morgan (Dai-Sport)
After a few years, Marcus stopped competing, but didn't drop out of the sport as he had qualified as a Photo-finish Judge. Meanwhile, my daughter Amy had taken up the Javelin before suffering knee problems forcing her to stop competing.
Although my children no longer competed, I continued to officiate at meetings at all levels from local Open and league meetings to National Championships and this took me over a wide area including Wales, the Midlands and the West Country.
I have continued my development as an Official within Wales, mostly as a Field Judge but also with experience of the competition management roles of Field Referee or Technical Manager and again I thank the many officials that have provided guidance.
Subsequently, I've progressed through the Officiating grades and I'm now a Level 4 National Technical Official which means I'm eligible to judge at televised and other large meetings within the UK.