Weekend Round Up (26th/27th Feb)
27/02/2022 00:00, In Blog / Cross Country / Track & Field /
British Athletics Indoor Champs
With a place on the British Athletics team for the World Indoor Championships at stake, all eyes were on Birmingham this weekend.
Bethan Davies (Cardiff) warmed up for the World Athletics Race Walking Team Championships in Muscat by taking a emphatic win in the Women's 3000m race walk, walking herself to a time of 13:24.07. Claiming yet another British Title, Bethan will be looking towards the World Championships next weekend with great confidence.
After making light work of the semi final, Piers Copeland (Pontypridd) breezed to a win, his first national title and an automatic spot on the plane to Belgrade, closing superbly fast to stop the clock at 3:49.01. James Heneghan (Cardiff) ran a great race too, to finish 5th in 3:51.30 in his first British Championship final. Piers Copeland (Pontypridd) made qualifying for the final look very easy as he finished first in his heat in a swift time of 3:45.03. James Heneghan (Cardiff) also squeezed into the final with a small q, finishing 6th in 3:46.38 in the same heat. Remi Adebiyi (Newport) also competed but unfortunately his 3:50.94 and 8th place finish wasn't enough to progress to the final.
Leading the way in the Men's 60m, Jeremiah Azu (Cardiff) set a new personal best in the semi finals of 6.56s to go to the top the UK ranking list for 2021. He continued his fantastic form into the final, to make the podium and take home a bronze medal in the process, running 6.61s. Sam Gordon (Cardiff) was right behind Azu, running the race of his life in the final, to clock a personal best of 6.65s and a forth place finish. In the Men's 60m hurdles, Tom Wilcock (Northampton) raced himself to a fantastic 4th place finish, recording a time of 7.92s.
Hannah Brier (Swansea) made light work of the qualifying for the 200m final, running 23.69s, an indoor personal best. She went onto better that in the final, winning in 23.64s, securing her first national title!
In the Womens pentathlon, Lauren Evans (Cardiff) put together a string of fantastic performances to finish in 3rd place with 4020 points. After a 2nd place and 8.73s clocking in the 60m hurdles she set herself up well. With another 2nd place and a clearance of 1.76m in the high jump, she continued her impressive performances. In the shot, 10.86m was enough to come 4th but stay within the medals in the overall rankings. A personal best of 5.68m in the long jump ensured her an overall 3rd place going into the final event of day. With a massive personal best of 2:22.28 in the 800m, Evans secured a final place standing of 3rd and a new pentathlon personal best of 4020 points.
In the women's shot, recent Winter Olympian Adele Nicoll (Birchfield) threw a new personal best of 17.02m to come 3rd. This was also another Commonwealth Nomination Standard, as she seeks to go afer the Winter Olympics - Summer Commonwealths this year. Whilst Patrick Swan (Cornwall) set a seasons best of 17.09m to take home a fantastic bronze medal in the Men's shot.
The Women's 400m saw Amy Odunaiya (Wrexham) run a seasons best of 54.08s for 4th in the semi final, but unfortunately it wasn't enough to make the final. Sian Harry (Belgrave) also reached the semi final and ran the best race of the season, clocking 55.09s for 5th, but again, just shy of making the final.
Over 3000m, Beth Kidger (Brighton) ran a personal best of 9:14.95 to finish just outside the medals in 4th place. Just behind her was Cari Hughes (Cardiff) in a personal best of 9:18.93. Also inside the top 8 was Welsh 1,500m Champion Kate Seary (Cardiff), finishing with a time of 9:33.64 and in 8th.
After an impressive qualification, Rachel McClay (Bracknell) placed 6th in the women's 800m final in a time of 2:10.52.
In the Women's pole vault final, Carys Jones (Swansea) set a new personal best of 3.90m to place 8th overall. In the Women's long jump, Rebecca Chapman (Cardiff) and Emily Thomas (Cardiff) jumped a best of 6.30m and 5.93m respectively to finish in 6th and 8th place. For Rebecca this was her best jump of the season so far.
Other results include
Mica Moore (Cardiff) - 60m : 7.51s (4th SF)
Issie Tustin (Cardiff) - 60m : 7.86s (6th h2)
David Locke (Cardiff) - 800m : 1:51.10 (3rd h2)
Rachel McClay (Bracknell) - 800m : 2:08.52 (4th h2)
Ieuan Thomas (Cardiff) - 3000m : 8:08.21 (12th)
Osian Perrin (Menai) - 3000m : 8:24.10 (16th)
Grace Morgan (Cardiff Archers) - 60m Hurdles : 8.56s (3rd h1)
Owen Smith (Cardiff) - 400m : 47:38s (3rd SF3)
Full results can be found here
---
Winter Long Throws Championships
Away from Birmingham, just up the road in Loughborough, at the Winter Long Throws Championships, Osian Jones (Liverpool0 opened up his year in style, securing a win and posting a throw over 70m, recording a best attmept of 70.74m. Jac Palmer (Cardiff) was also in action, again throwing well for his seaons opener, finishing 4th with a best attempt of 66.20m.
---
Welsh Cross Country Champs
On a beautiful day in Pembrey, the Welsh Cross Country Championships returned after a hiatus last year due to COVID. A highly anticipated day of racing came up with the goods, with fantastic battles from all age groups.
James Hunt (Cardiff) retained his Welsh Cross Country crown, just inching ahead of Dan Nash (Cardiff) to take victory in 33:00 over the 10.3km distance. With just 6 seconds separating the two of them, it was a race right to the line, whilst Adam Bowden (Bridgend) cleaned up the remaining spot on the podium with a brilliant run for third.
Top five results; J. Hunt (33:00), D. Nash (33:06), A. Bowden (33:44), P. Matthews (34.16), M. Edwards (34:23)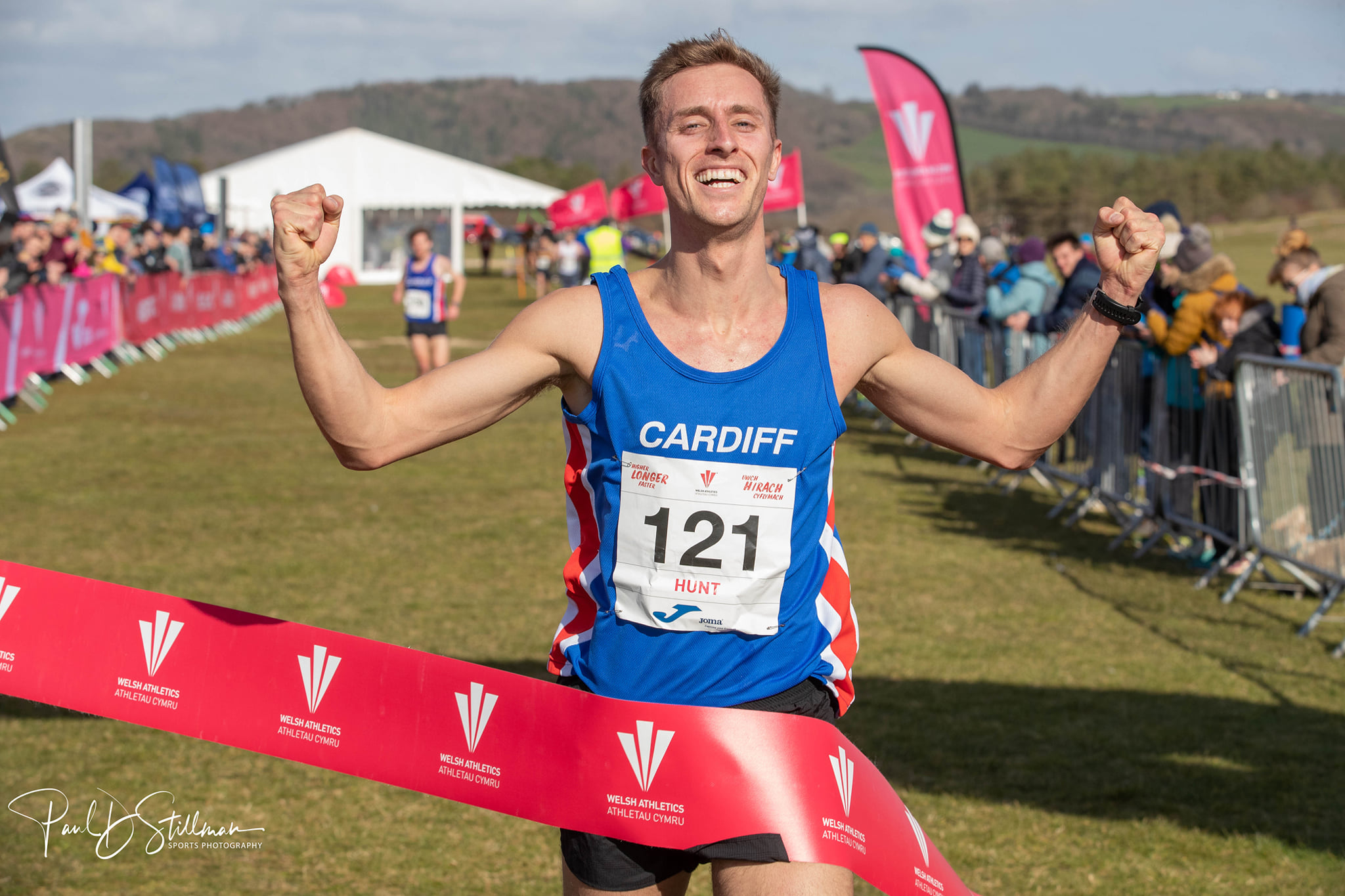 In the Senior Women's race, Lauren Cooper continued her great winter seasons to claim her first Welsh Cross Country title. After placing 2nd two years ago, Lauren was delighted to finally take home a clear victory, covering the 7.3km distance in 27:37. Welsh and Great Britain international Caryl Edwards (Jones) took silver, whilst Welsh Triathlon Champion Chloe Dooley (Pontypridd) added her first Welsh Cross Country medal to her resume.
Top five results: L. Cooper (27:37), C. Edwards (28:08), C. Dooley (28:36), K. Roberts (28:47), D. Morris (28:57).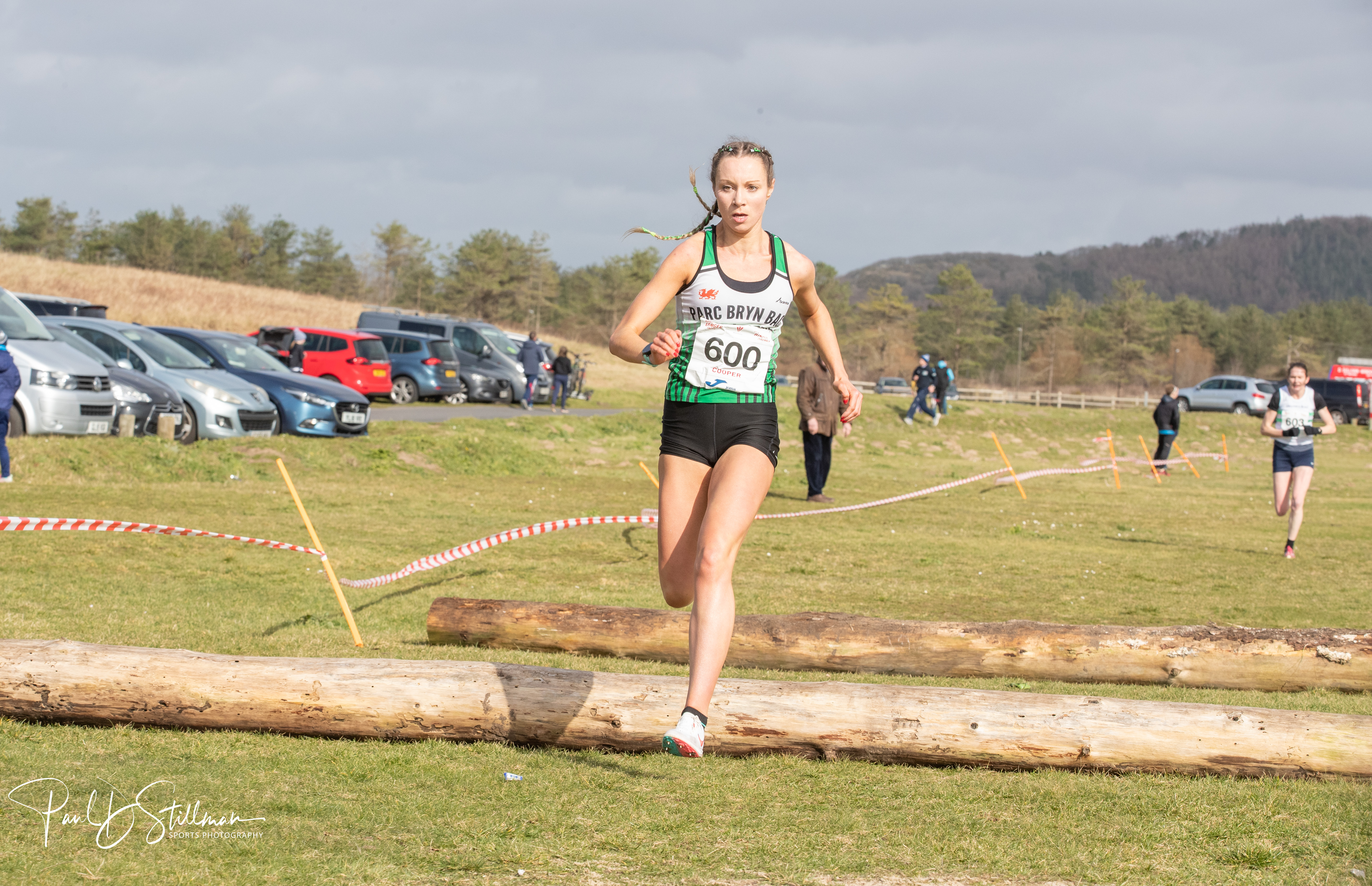 After running a 14:39 5km personal best a few weeks ago Jones Dafydd (Carmarthen) took a 20 second victory in the U20 Mens race. Ben Miles (Cardiff) and Lloyd Sheppard Brown (Cardiff) were 2nd and 3rd respectively after a great battle over the 7.3km distance.
Top five results: J. Dafydd (23:47), B. Miles (24:07), L. Sheppard Brown (24:21), J. Davies (24:47), O. James (24:47).
In the mixed U17 & U20 Women's race, it was Ellen Mary Kearney (Wirral). The 2021 Welsh Junior 3,000m Champion added her first cross country title to her name claiming a 50 second victory over the rest of the field. Moli Lyons (Cardiff) and Eden O'dea (Deeside) placed 2nd and 3rd in the U20 race, whilst 4th placer Ceri Griffiths (Newport) won the U17 Girls title. Caitlin Jones (Aberdare) and Sophie Knoyle (Cardiff Archers) cleaned up the U17 Girls podium.
Top five results (U20): E. Kearney (19:29), M. Lyons (20:19), E. O'dea (20:33), S. Harrison (20:51), B. Stratton-Thomas (21:62)
Top five results (U17): C. Griffiths (20:34), C. Jones (20:41), S. Knoyle (20:59), M. Griffiths (21:18), L. Williams (21:47)
In the U17 Mens race, Artie Savage Sewaine of Westbury Harriers took the national title, recording a time of 17:25 over the 5.1km distance. Jack Organ (Brecon) and Callum Morgan (Malydwn) had a fantastic battle for the remainder of the podium spots, with just 1 second separating the two of them - 17:41 to 17:42.
Top five results: A. Savage-Swaine (17:25), J. Organ (17:41), C. Morgan (17:42), A. Breeze (17:45), H. Evans (17:52).
Carmarthen cleared the top two spots on the podium in the U15 Boys race. Iwan Thomas just piped Finley Bruce to the gold, recording a time of 15:41, ahead of Bruce's 15:47. Jacob Welsh (Deeside) cleaned up the remaining spot on the podium in 15:55.
Top five results: I. Thomas (15:41), F. Bruce (15:47), J. Welsh (15:55), J. Murphy (16:02), M. Jenkins (16:06)
Welsh Schools Cross Country Champion, Beca Haf Bown (Menai) took a clear victory in the U15 girls race, finishing 40 seconds ahead of Millie Gold (Cardiff) and Josephine Hurst (Deeside).
Top five results: B. Bown (16:41), M. Gold (17:21), J. Hurst (17:31), R. Herdman (17:37), A. Davies (17:43)
William Coles (Carmarthen) took the victory ahead of Garyn Tough (Aberdare) and Alfie Shiland (Colwyn Bay).
Top five results: W. Coles (11:04), G. Tough (11:11), A. Shiland (11:23), A. Nathan (11:41), L. Salvage (11:45)
Welsh Age Group Record Holder over the 1,500m, Libby Hale (Swansea) ran away to victory in the U13 girls event, finishing 18 seconds ahead of Welsh Age Group Record Holder over 800m, Bryony Boyce. Just one second behind her was Madison Hughes (Maldwyn) in 11:49.
Top five results; L. Hale (11:20), B.Boyce (11:48), M. Hughes (11:49), O. Morgan (12:01), M. Pierce (12:06)
In the year 5&6 races, Jude Jenkins (Neath) claimed victory head of Osian Phillips (Cardiff) and Thomas Maclean (Swansea). In the girls equivalent, Ella Drew (Swansea) took gold, whilst it was Elinor Roberts (Cardiff) and Tabitha Curtis (Pembrey) who took 2nd and 3rd.
Full individual results from the day can be found here and team results can be found here.