Senior and U15 Welsh Championships Preview
09/06/2022 00:00, In Blog / Track & Field / Commonwealth Games /
June 11th and 12th will see the Senior and u15 Welsh Championships take place, and with entries now closed, there are some big match ups in the pipeline. With an opportunity for our Commonwealth hopefuls to see where their preparations are at and for others to compete for a Welsh title, it is set to be an exciting weekend of track and field action.
Action will kick off on the Saturday with the hotly anticipated Mens and Womens 200m, with Welsh and British Indoor Champion Hannah Brier (Swansea) and European Junior Champion Jeremiah Azu (Cardiff) set to line up. Olympic 400m runner Joe Brier (Swansea) is also down to race the half lap event, as is Sam Gordon (Cardiff), so watch out for a fast final!
Lauren Evans (Cardiff) heads the entries for the Women's High Jump, having vaulted a personal best of 1.80m indoors at the Welsh Indoor Championships. Aled Davies OBE (Cardiff) enters the Men's discus with many credentials to his name. The 2012 Discus and 2016 and 2020 Shot Paralympic Champion will look to take the Welsh Champion title.
Day two is set to be just as dramatic, with the Women's and Men's 1500m finals, amongst other events taking place. 2018 Commonwealth Games representative Ieuan Thomas (Cardiff), Lloyd Sheppard Brown (Cardiff) and Ben Miles (Cardiff) are all set to toe the line in what will be a great head to head for the Welsh title. The Women's race is set to be a match up between Welsh Indoor Champion Kate Seary (Cardiff) and Welsh Indoor Record holder Jenny Nesbitt (Cardiff).
The most heavily entered event is the Mens 100m, with 49 down to start. Jeremiah Azu (Cardiff), with a personal best of 10.16s heads the event, with Dan Beasley (Swansea) and Joshua Brown (Cardiff) also entered. Hannah Brier (Swansea) and Mica Moore (Birchfield) had a fantastic head to head over 60m at the Welsh Indoor Championships, with Hannah just edging out Mica, and they will look to go to battle again, this time over 100m.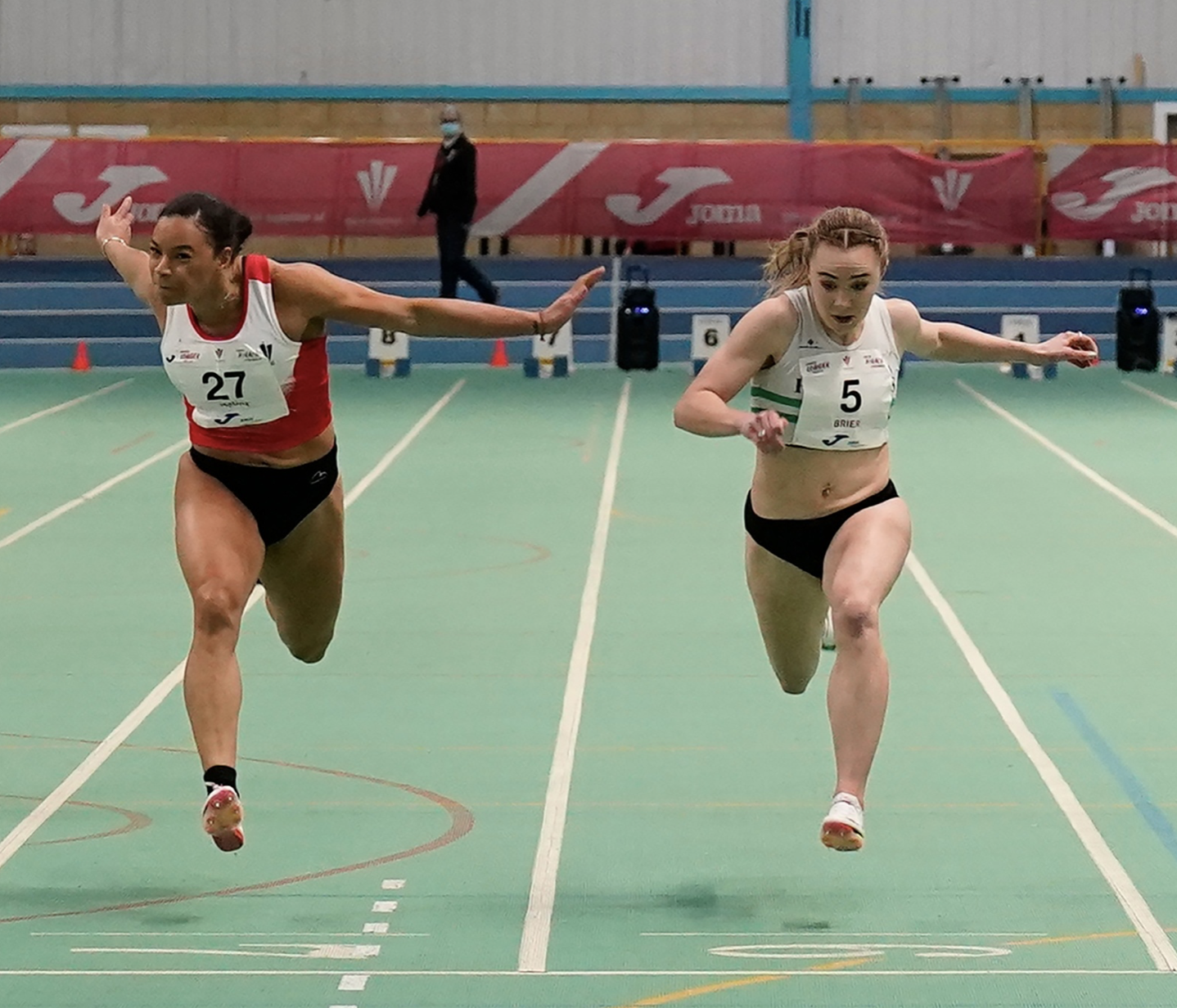 Hannah Brier and Mica Moore racing over 60m at the 2022 Indoor Welsh National Championships
The Women's race walk will see Bethan Davies (Cardiff) and Heather Lewis (Pembrokeshire) go head to head once again as they both come into this race in fantastic form. Heather took top spot in a recent 10,000m race with just over 90s on Bethan, but Bethan comes into the race with a faster personal best, so this could be the race to watch!
Rebecca Chapman (Cardiff) leads the entries for the Women's Long Jump, with a personal best of 6.54m. Whilst in form Amber Simpson (Deeside) heads the Women's hammer throw field. With a personal best of 65.85m it will be hard to look past her for the Welsh title. In the Women's Discus, Adele Nicoll (Birchfield) leads the entries and with a personal best of 48.71m will be looking to make a mark! She also leads the entries for the Women's shot and after setting her first Commonwelath Games Nomination Standard, a personal best and a distance that took her to second on the Welsh all time list.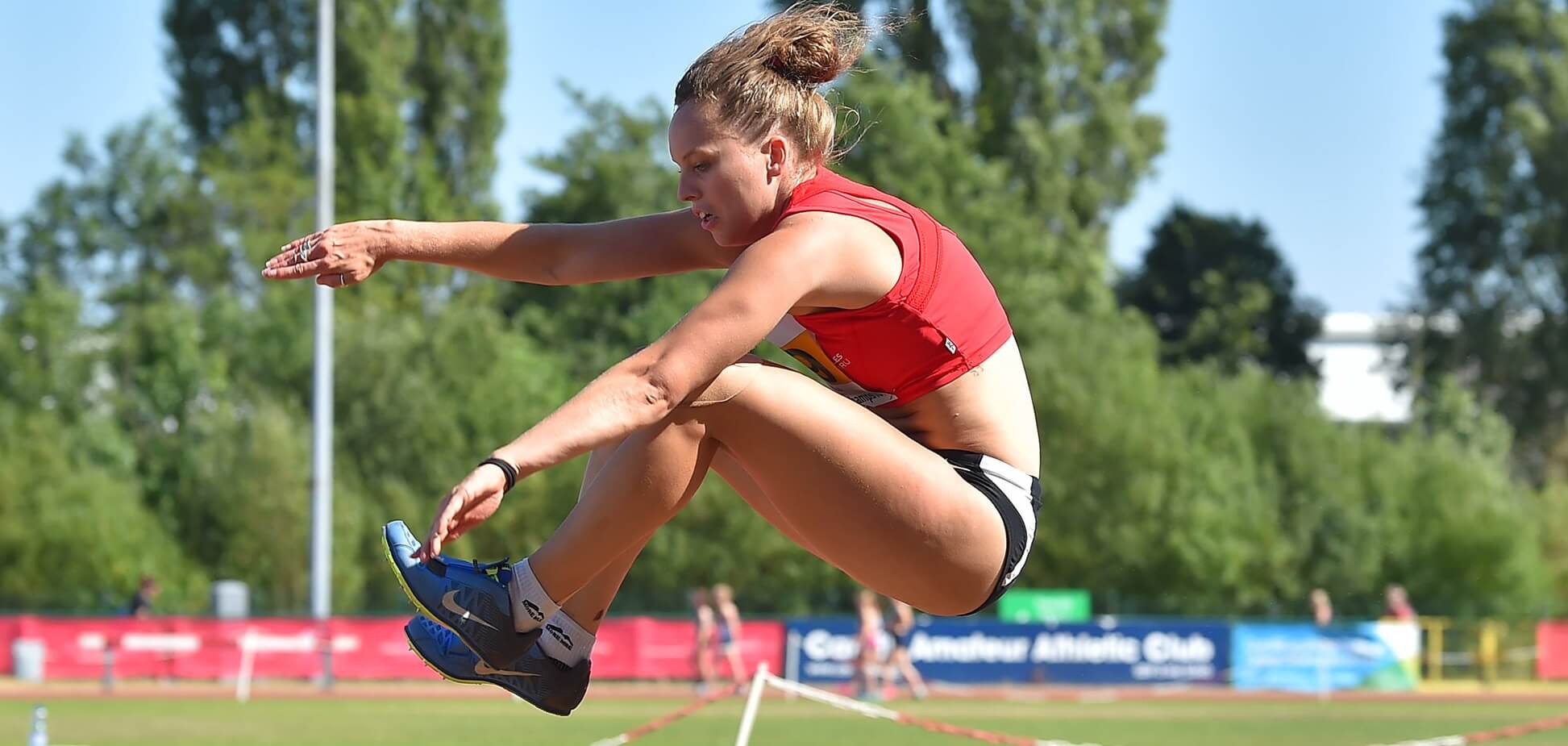 Rebecca Chapman
In the u15 Girls 3,000m Welsh U15 1500m record holder Libby Hale (Swansea) will go head to head with Cardiff's Millie Gold, who is currently sat at the top of the u15 3,000m rankings this year with a time of 10:10.12. Both girls are also entered in the 1,500m - so it will be interesting to see if they double up!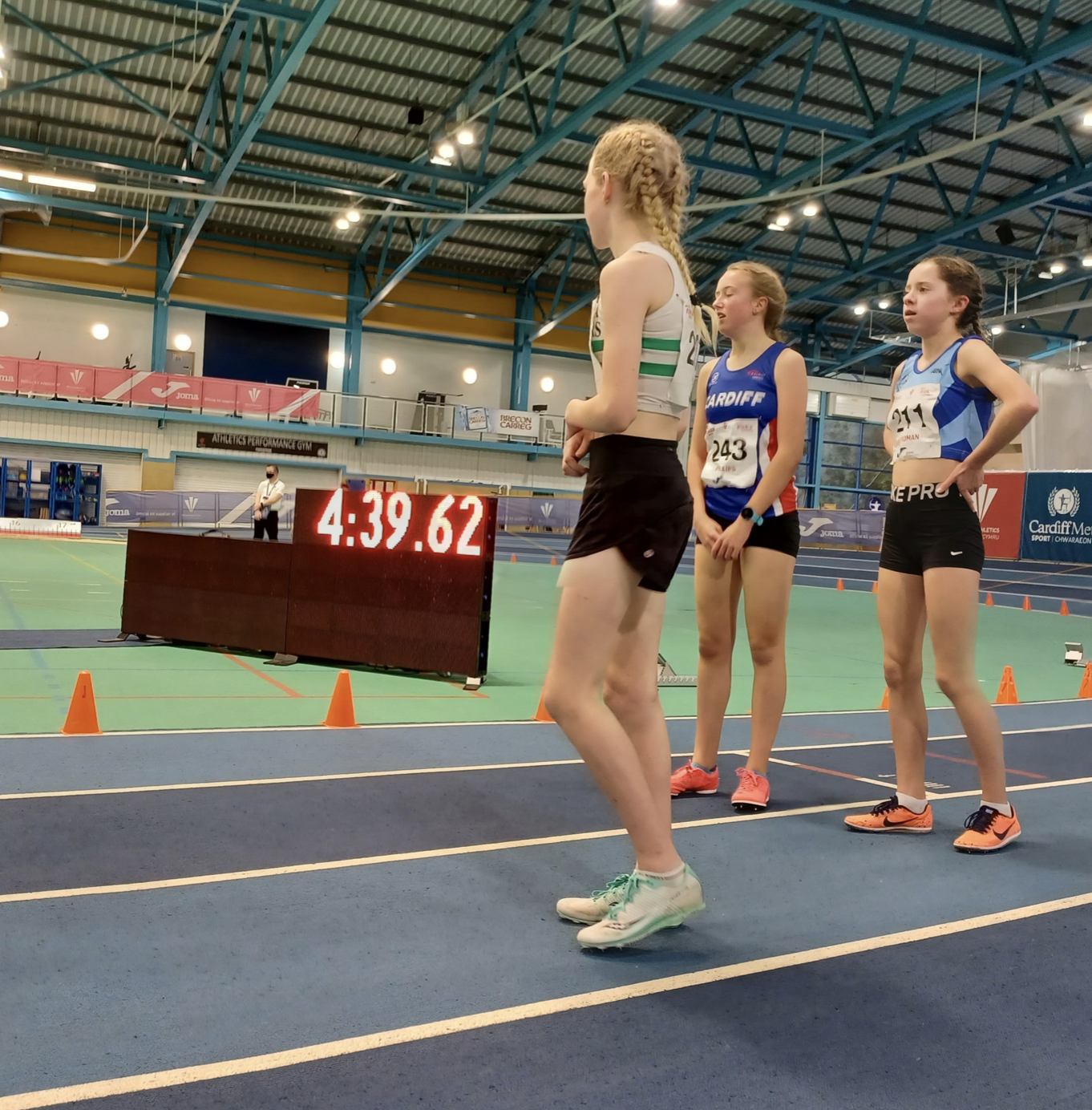 Libby Hale after winning the 1500m at the 2022 Welsh U15 Indoor Championships
With a time of 9:43.72, Miguel Jenkins (Menai) tops the u15 boys 3,000m rankings, and will come up against Alfie Osborne (Cardiff) and Kerby Beltran (Cardiff) who have run 9:53.62 and 9:52.69 a they race for the Welsh Championship title!
In the u15 girls 300m, Anais Shepperd (Cardiff) leads the entries with a time of 41.38s, but look out for Chloe Farmer (Cardiff) who will be giving her a run for her money! The boys event looks to be just as exciting, with Gethin Griffith (Menai) lining up against Jack Farrell (Cardiff) as they come into the race ranked fastest this year.
Timetable for the weekend can be found here
It is set to be a fantastic weekend of competition and there is still time for you to get your tickets!
If you can not make the event in person, VINCO sport will be steaming the event live!