Commonwealth Games 2022: Introducing our Sprint Athletes
27/07/2022 00:00, In Blog / Track & Field / Commonwealth Games /
This years 2022 Commonwealth Games in Birmingham starts this week! Welsh Athletics are proud to introduce the endruance athletes who will be making their way to Birmingham to represent Team Wales and compete in the sprints events.
---

From: Cardiff
Event: 100m
Coach: Helen James
Club: Cardiff AAC
Cardiff's Jeremiah Azu has a busy summer ahead if all goes to plan. He's hoping he'll be picked for the World Championships in Oregon (15-24 July) before jetting back to compete for Team Wales at the Commonwealth Games in Birmingham.
Already, the 21-year-old can boast a gold medal from the European Under 23 Championships in Estonia in 2021:
"It was massive for me, "says Azu. "Because two years before in the European Under 20s, when I was 17, I was injured in the final. So to come back from that and after the pandemic was really big."
Jeremiah winning the 2022 British Championships 100m. Owen Morgan.
This year, the sprinter is ranked no 1 for 60m indoors and he stormed to a bronze at the British Indoor Championships. Things are certainly looking good for the season ahead.
As for the Commonwealth Games? "I think I could make the final. And once you're in the mix, nothing ever goes to script. Obviously to come away with a medal would be amazing."
I've never been to a Commonwealths before. It's a big milestone. Obviously, its not just athletics, it's a multi-sport event so the atmosphere will be electric. I can't wait. It's close to the World Championships so it's a quick turnaround to adjust to the UK timezone but that will be a different experience for me and actually makes me look forward to it all the more."
Azu is a Christian and sings in church:
"My faith is massive for me. For me, it means athletics isn't the be all and end all. It helps me take the pressure off myself by knowing I've got God on my side. I know there's nothing to worry about."
Jeremiah will compete in the 100m round 1 on Tuesday 2nd August, with the final on Wednesday 3rd August.
---

From: Guildford (family from Cardiff)
Event: 100m
Coach: Aston Moore
Club: City of Portsmouth Athletic Club
Having Cerebral Palsy didn't stop Olivia 'Livvy' Breen from doing everything her adventurous twin brother Dad did when she was little.
She started out in athletics because he was doing it and she has gone on to win gold at the Commonwealth Games, World Championships and European Championships.
At the London 2012 Paralympic games where she raced in the T38 100m and 200m sprint and helped the Team bring home a bronze medal.
Birmingham 2022 will be her third Commonwealth Games. At Gold Coast 2018, she won a gold in the F38 long jump, claiming a Games record en route, and a bronze in the T38 100m.
Olivia celebrating F38 Long Jump victory at the 2018 Commonwealth Games. Mark Shearman.
In 2017, she was named Disability Sport Wales Female Athlete of the Year.
Olivia will compete in the T38 100m final on Tuesday 2nd August.
---

From: Neath
Event: 400m
Coach: Matt Elias
Club: Swansea Harriers
Making his Commonwealth Games debut this summer, Joe Brier will be able to turn to older sister Hannah – who competed at Glasgow 2014 - for some sage advice.
Yet Brier certainly has had a taste of a multi-sport event, competing at the delayed Tokyo 2020 Olympic Games. He has also racked up a bronze medal from the 2021 European Indoor Championships, a silver from the British Championships in 2020. a silver from the European Under 23 Championships in 2019 and a bronze from the World Junior Championships.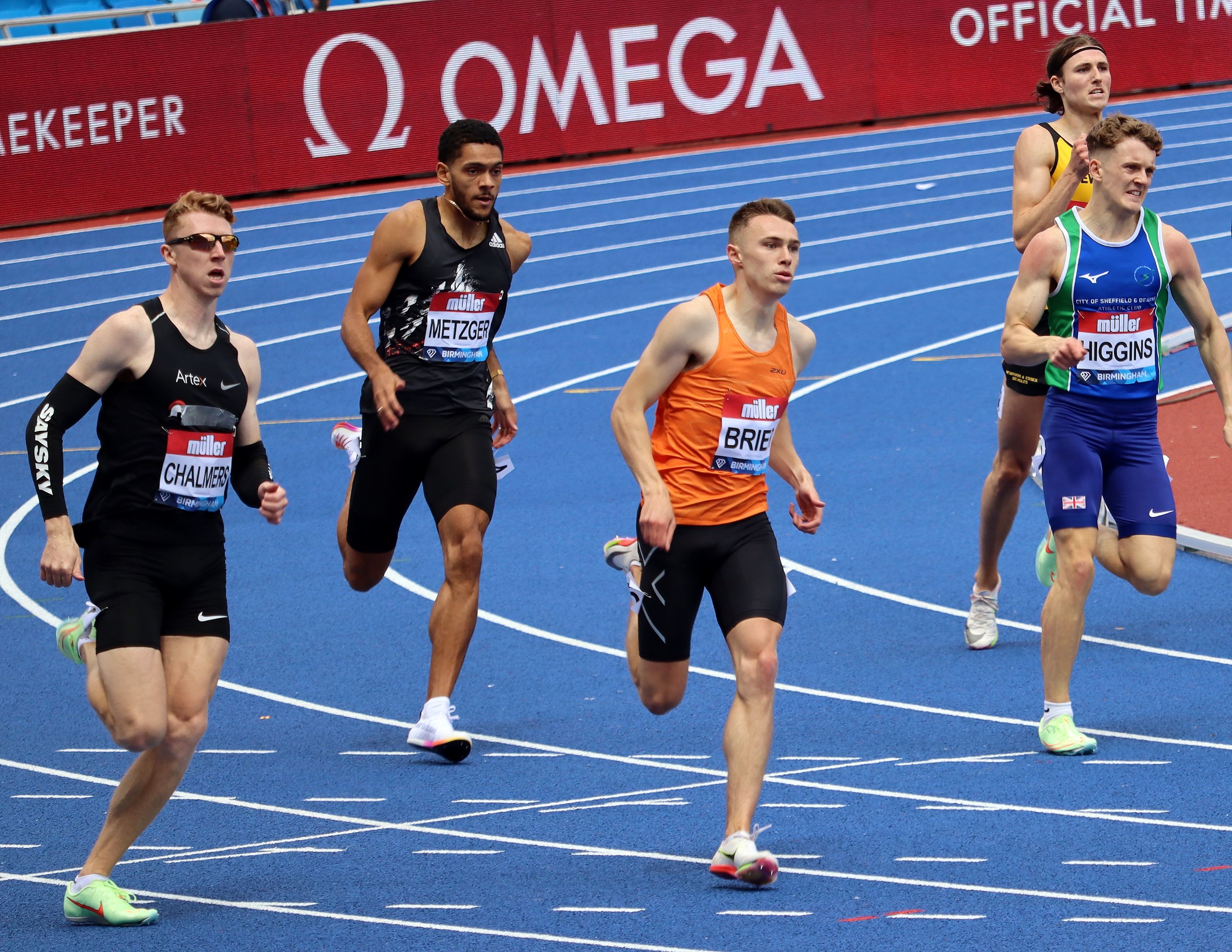 Joe on his way to victory at the Birmingham Diamond League earlier this year. Owen Morgan.
He is coached by Commonwealth Games medallist Matt Elias in Cardiff and is mentored by Jamie Baulch.
Joe competes in the 400m Semi - Finals on Friday 5th August, with the final on Sunday 7th August.
---

Place of Birth: Neath, lives in Cardiff
Event: 100m
Coach: Matt Elias
Club: Swansea
This will be Hannah Brier's second Commonwealth Games after she competed in the 100m and 4 x 100m relay at Glasgow 2014 when she was just 16 years old. She was Wales' youngest ever track and field athlete to compete at a Commonwealth Games. But this time around, there will be a very familiar face – her younger brother, Joe.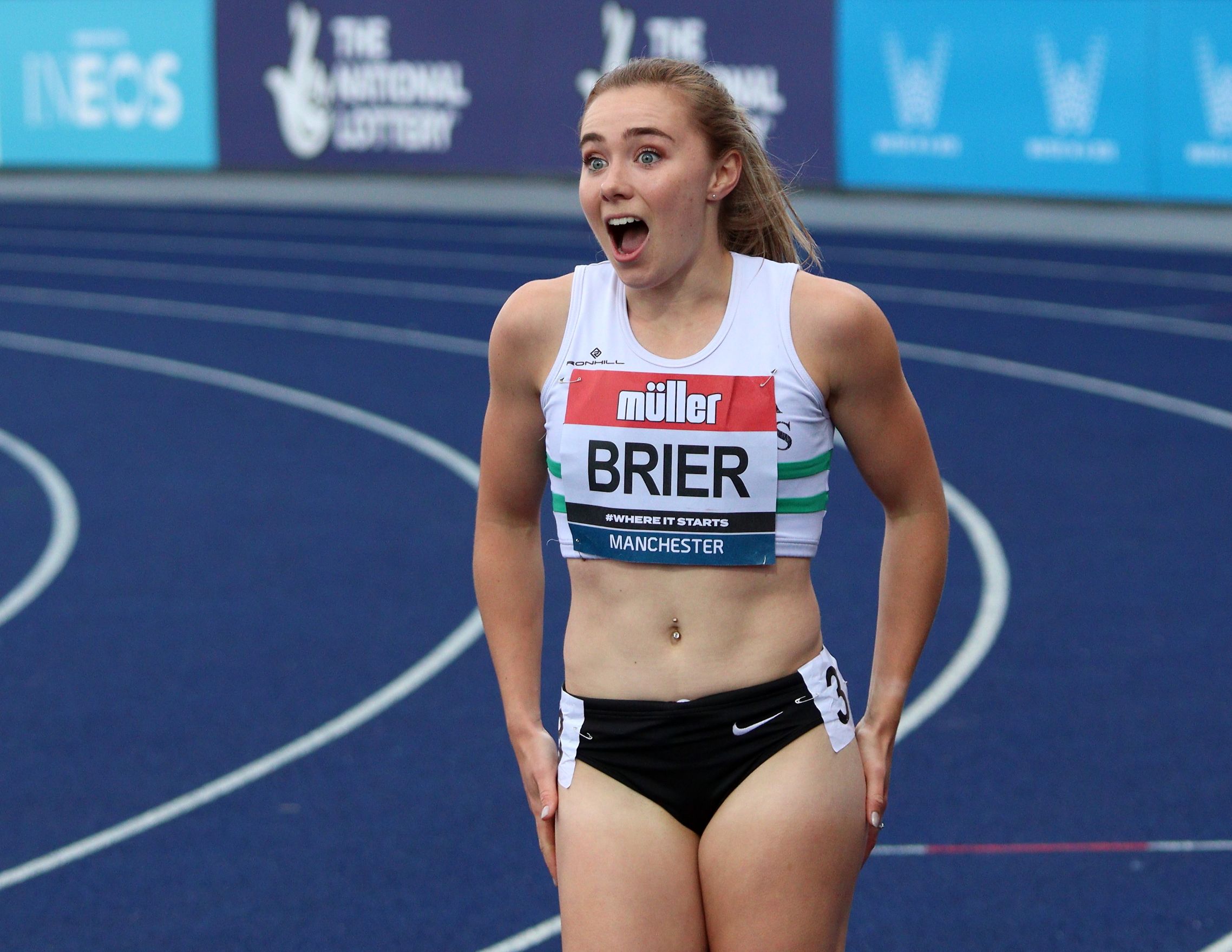 Hannah realising she has set a new Welsh 100m Record at this years British Championships. Owen Morgan.
The brother and sister sprinting duo have both earned selection for Team Wales in Birmingham this summer. The former ballet dancer currently holds 15 Welsh records for indoor and outdoor performances, and has also clocked up seven British age group titles.
She made a name for herself in 2015 when she represented Great Britain at the World Youth Championships in Colombia, running a personal best and ranking number one in the British and European Under 18 rankings and sixth in the World Under 18 rankings. A year later she competed at the World Junior Championships where she finished 6th in the final.
Hannah will compete in the 100m round 1 on Tuesday 2nd August, with the Semi - Finals and Final on Wednesday 3rd August.
---

From: Clydach Vale
Event: T38 100m
Coach: Kevin Williams
Club: Disability Sport Wales
Rhys Jones started athletics in 2009 and, just three years later, he was heading to the London 2012 Paralympic Games. Still only 18 at the time, the Welshman finished eighth in the T37 200m final.

Despite several injury problems in the years following London, Jones won bronze for Wales at the Commonwealth Games in Glasgow in 2014. Earlier that year, he had been selected to carry the Queen's Baton through Aberdare as it made its way to the Games in Scotland.
Rhys carrying this years Queen's Baton at his home track in Rhondda.

He went on to win another bronze medal on home soil at the European Championships in Swansea, a few miles from his home-town.

The sprinter was selected for the team to represent Great Britain at the 2015 World Championships in Doha, where he reached the 100m final.

He made his second Paralympic Games appearance in 2016 and finished sixth in the 100m. A year later he went one better, finishing fifth at the World Championships in London.

He added a silver medal to his collection when he finished second in the T37 100m at the 2018 European Championships in Berlin.
Rhys competes in the T38 100m Final on Wednesday 3rd August.