Derek Crowder
My athletics life by Derek Crowder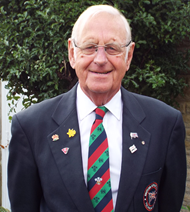 Full edition you can read HERE
In May 1981, I watched the televised first London Marathon and decided I would love to take part. I joined Bridgend YMCA running team and started to train properly for endurance events. I ran the first Cardiff Marathon in 1981 around the Barry and Vale course finishing in a time of 3 hours and 33 minutes. I trained even harder during 1982 and in the September, I paced the first placed Senior Lady, Sue Martin, to a finishing time of 3 hours and 4 minutes.
I ran the Derby Ramathon in 1983 and achieved a time of 2 hours and 59 minutes.
I applied for the 1984 London Marathon, was accepted and achieved a PB of 2 hours and 54 minutes. In 1985, I ran the London Marathon and achieved a time of 2 hours and 54 minutes and 11 seconds which was my final PB at the Marathon event. The members of the YMCA club formed Bridgend AC with Roy Anthony as its first Chairman, and I followed him in that capacity. Roy and I met members of Cardiff AAC and it was decided at the meeting to start the South Wales veterans track league which eventually morphed into The Welsh Masters. With my involvement in the new League, I became more and more involved with both Endurance and Track/Field events.
In 1985, I took the preliminary exams in Field, Track and Time keeping and progressed to a level 4 Official in each discipline. I had joined Swansea Harriers by this time, and not only officiated for them, I continued my running career also. I joined photo finish teams at Morfa Stadium and at Leckwith, Cwmbran and Wrexham Stadia. In 1989, a disability match was arranged in Cwmbran Stadium and I was photo finish Chief. In 1989 as a level 2 Official, I was asked to take on the role of Officials Secretary for Wales. I took the Advanced exam for field events, and on passing, was advanced to a Level 1 Field Official. In 1991 as a veteran 50/54, my wife and I travelled to America for a holiday and whilst there I ran in a 10k race. I finished 7th in the race and won both the V40/45 and V50/54 age group prizes.
My officiating had, by now meant I was travelling to all parts of Wales for all levels of matches including Championships, Welsh Games and league matches. At UK level, more and more I was travelling with Swansea Harriers to British tracks in the UK Mens league, and invitations to Young Athlete Finals in Birmingham. I was selected for UK Championships and being invited to other matches also. I was invited to Gateshead Stadium for a European Clubs Championship match.
Reports were needed from higher level Officials at that time to progress through the grading system. I needed a minimum of six good reports to achieve Level 1 Referee status. Thanks to the Referee level Officials who had reported on me, I was upgraded to Level 1 Referee status which was the highest level to be obtained at that time. Now at the new level, I could officiate at any match in Great Britain. My travels took me to Crystal Palace, Sheffield, Birmingham, Glasgow, Gateshead, Manchester, Edinburgh and all the stadia in Wales. At this level, I was also acting as Field Referee at matches and also Technical Manager. As a separate part of my duties, I was also tutoring and lecturing for new officials.
Indoor athletics were taking place in England, Scotland and Wales, and I attended Kelvin Hall in Glasgow, Birmingham and RAF St Athans. I was the only Field Referee to have officiated at a Welsh Championships in an Indoor arena in West Wales. As the 1990's progressed, computer photo finish was coming available and was obtained for Welsh Athletics. As part of the equipment, a theodolite was purchased and Edm became available for long throws and pit jumps. Indoor facilities were also being constructed in Sheffield, Manchester and Cardiff. In 1999, a number of Welsh officials were invited to inspect the new facilities at Cyncoed, Cardiff. As part of my duties there as Technical Manager, I set up the actual positions for the Pole Vault runners at the four points that would be available. During the year 2000, I was Technical Manager for all events during that indoor season. I also was tutor for Edm indoors prior to events.
A number of Senior Officials had been invited to previous Commonwealth Games and it was a great honour to be selected for the 2002 event in Manchester by the Welsh Commonwealth Games Committee. During the next few years, I Officiated, ran, did results and generally enjoyed athletics.I also became involved in Photo-finish in NIAC as well as Field events. The biggest challenge was to provide the equipment sites for multi-events for Championships. In the build up to the London Olympics, all officials were hoping to be selected for the Olympics and the Para-Olympics. It was my biggest disappointment not to be selected, and had to be a volunteer at both events. However, I have many memories of the Olympic events including the Golden Saturday. My biggest surprise was to be part of the technical team for the Para-Olympics tennis events and to work on the Final of the Women's Singles competition.
Whilst still officiating at a high level, my involvement in Athletics was concentrated in Wales. I had been involved as Officials Training Officer in West Wales Region from its inception. I was Welsh Athletics Officials Secretary four times, Training Officer and Equipment Officer prior to my retirement from Track and Field athletics in September 2018. I have been involved in Endurance events as an Official since 1983 and I welcomed the start of the parkrun series with the event in Porthcawl where I have bar code scanned, been a time keeper and also a tail walker. I have also been responsible for the results for the Bridgend County Running league and for the bar code scanning at Welsh Championship events. From 2012, there was a need for more Welsh officials in all disciplines and many training courses were held at Club level over the next four years. Similarly, there was a greater need to provide Photo finish at all meetings for UK Power of 10 ranking. As Technical Equipment Officer, I was responsible for Edm equipment, Photofinish Equipment and all ancillary equipment. Welsh Athletics invested heavily in the provision of this equipment over the years and put Welsh Athletics well ahead of other regions in Britain.
The Training of Officials has been central to my ethos as Officials Secretary etc, and it now gives me great pleasure to see so many of the current crop of Officials being selected in very high positions at UK and IAAF level matches. They will realise their full potential at the forthcoming Olympics or Commonwealth Games in Birmingham. Officials are still needed at meetings, but the problem for the future is going to be locating them and training them through to the top level. With the current restrictions in force, the chances are I will not officiate at any match in the future, but only time will tell. I can look back with pleasure at the experiences I have had, the friends I have made, and the chances to help people to achieve their ambitions.
Probably the most important race of my life in 1985
Cwmbran Stadium with the winner
I have many happy memories of my life in Athletics.
The competitors, club friends, Officials, staff and many friends too many to name.
Thank you to all of you and may you continue to make this great sport even greater in the future.
Derek
Dolenni diddorol
Tudalennau yn yr adran hon a allai fod o ddiddordeb.