Development and Performance
National Development Programme
WHAT IS THE NATIONAL DEVELOPMENT PROGRAMME (NDP)?
The National Programme has a targeted development curriculum and looks to create an Integrated performance environment for the Coach, Athlete, & National Talent Development Coordinator [NTDC]. Sessions will be led and delivered by the relevant NTDC
The National Development Programme will be an athlete invite programme based upon the agreed standards. Personal coaches will be directly invited to attend the NDP as the programme's aim is to develop and enhance the coach and athlete, and their bond and partnership.
5 pillars:
Technical, Tactical, Physical, Mental, & Lifestyle
Programme Aims:
To support talented athletes for a smooth transition from Junior to Senior level
To support implementing the right training at the right time
To promote lifestyle advice to support athlete training
To maximise retention in the U17-U20 age groups
To facilitate collaborative working and sharing of ideas amongst coaches
An invitation for both athlete and coach to attend National Development Camps / Days as identified by the National Talent Development Coordinators. These camps will be supported by Sport Wales Practitioners and will be underpinned by the National Development Programme Curriculum
Performance marker tracking by the National Talent Development Coordinator – monitoring of competition performance and lifestyle (nutrition, psychology) and physical preparation markers
Subject to Annual Review Athletes and Coach can be retained on the programme for up to 3 years.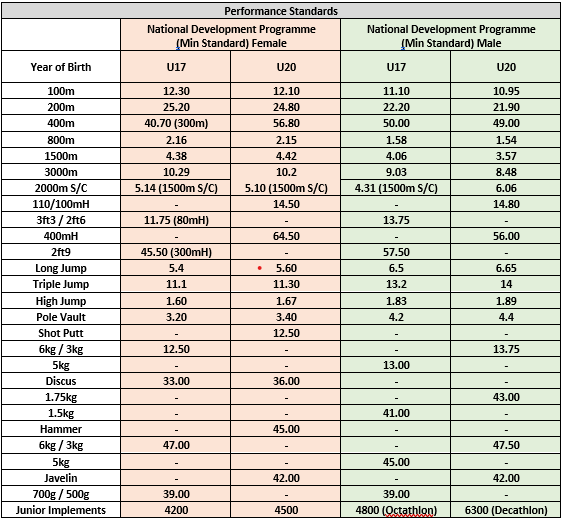 *NDP Days will be one day events, however there may be the opportunity to attend camps subject to a financial contribution by each athlete – the level of contribution will be confirmed ahead of each camp.
*NTDC Endurance has the discretion to invite athletes that have represented GB in Fell Running.
In order to move up to the Futures programme, developing athletes will need to have registered a performance within the tolerances laid out in the table on pages 10 and 11 of the Athlete Developement Programme.
Please note whilst having a performance registered within the tolerance table, Welsh Athletics are limited in the number of spaces we can offer on this programme each year. Therefore, places will be subject to an application process, reviewed by the performance team and there will be no appeal process for this programme.
Featured links
Useful pages within this section you may like to condsider visiting.