Weekend Round Up (2/3rd April)
04/04/2022 00:00, In Blog / Road / Track & Field /
From America, to Berlin to the UK, it has been a very busy weekend for our athletes! Here is a round up of the latest action!
Stanford Invitational, Palo Alto
A group of 6 athletes headed for the Californian sunshine to put down some early season markers over the distance events. First up were Jonny Hopkins (Swansea) and Ieuan Thomas (Cardiff) who lined up for 7.5 laps and multiple barriers as they took on the 3,000m Steeplechase. Jonny made the race his own, and bravely took it out from the start, mainly front running his way to 8:34.7 and 2nd place, agonisingly close to the Commonwealth Games nomination standard of 8:34.3. Unfortunately, Ieuan had an upset stomach, but heroically lined up to give it his best shot, but had to drop out shortly after a kilometre.
James Heneghan (Cardiff), competing on American soil for the first time, ran in the 1,500m to finish in 3:42.4 and 6th place.
The dynamic duo of Charlotte Arter (Cardiff) and Jenny Nesbitt (Cardiff) were next up in the 5,000m as the sun set on a beautiful Californian evening. After a steady opening 3000m, the race heated up for a fast finish. Jenny closed hard to finish 2nd in an outdoor personal best, and second Commonwealth Games standard of 15:24.5. Charlotte fought hard, and closed in the second fastest lap of the night, to narrowly miss out on the Commonwelath Games nomination standard, clocking a time of 15:30.3 and a 5th place finish.
To round out an exciting evening of distance running, Beth Kidger (Brighton and Phoenix) took on 25 laps of the track, to run a time of 33:01.1 to finish 3rd in the 10,000m.
Full results can be found here.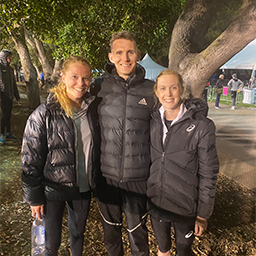 ---
Gold Label Race Walking Tour, Podebrady
Heather Lewis (Pembrokeshire) continues to show her form and progression in the race walks, recording a new personal best of 94:02 over the 20km distance. This performance placed her 16th overall in the World Tour event and 5th on the British All Time, as she looks towards the Commonwealth Games in the summer.
---
Berlin Half Marathon, Berlin
Clara Evans (Cardiff) made the trip over to Berlin to compete in the Generali Berliner Half Marathon. The 2:31 marathon runner made it a very worthwile venture, running an outstanding personal best, by nearly 2 minutes. Finishing 8th overall in a stacked event, Clara recorded a time of 70:17 to go to 2nd on the Welsh All Time List.
Full results can be found here.
---
Manchester Marathon, Manchester
Anna Bracegirdle (Salford) returned to the Manchester Marathon, an event in which she won last year. Although this year she didn't cross the finish line first, Anna had the race of her life, securing a Commonwealth Games Nomination standard of 2:34:20 to finish in 5th place, and take her to 7th on the Welsh All Time List.
Recent new dad, Dan Nash also had a 5th place finish, and a supuerb run. Recording a massive personal best of 2:15:34, he was agonisingly close to the Commonwealth Games Nomination standard of 2:15:30. Adam Bowden (Bridgend) also ran a superb race, clocking 2:17:18, a new personal best by nearly 3 minutes
Full results can be found here.
---
Florida Relays, Florida
The Sprints team headed to the Florida Relays this weekend to compete in the 4x100m relay. A team comprised of Hannah Brier (Swansea), Mica Moore (Birchfield), Shannon Malone (Thames Valley) and Amy Oduniya (Wrexham) clocked a time of 45.48s to finish 6th in their heat.
Mica Moore also ran in the Womens 100m, recording a time of 11.88s.
Full results can be found here.
---
Cherry Blossom 10 Miles, Washington
Rosie Edwards (Rotherham) was back in action this weekend, running over the lesser run distance of 10 miles. She had a fantastic race, placing 11th over all in a time of 54:48, a personal best by over a whole minute!
---
Anglo Celtic Plate 100km, Perth
The annual Anglo Celtic Plate 100k took place at Perth, Scotland on Sunday 3rd April. On a 42 lap, flat, park course, the competition was of a very high standard. Wales were dealt a blow before the event with the withdrawal due to testing positive for Covid of Simon Roberts and though there were no individual or team medals to take home, Wales can be encouraged with the debut performances of Samuel Richards (Pontypridd Roadents) and Gareth Pritchard (Vegan Runners) Samuel finished 15th overall in a time of 7:36:08 and Gareth 19th in 7:45:07. Welsh ACP record holder, Daniel Weston did well to finish 33rd in a time of 8:42:39 after suffering from a hip problem mid way with Jeremy Mower finishing 39th in 9:05:49. Jeremy's 17th consecutive ACP 100k finish. Andrea Rowlands was another to be hampered with hip issues and ran well to finish in 8:58:50 compared to her debut run in Ireland last year (9:24:39) Sanna Duthie unfortunately failed to finish due to an Achilles issue after leading the way early on and completed 27 laps, 64.2km in 5:12:36.