Weekend Round Up (20-21st August)
22/08/2022 00:00, In Blog / Road / Track & Field /
European Championships, Munich
The European Championships took place in Munich last week, with two individual medals being brought back to Wales. Jake Heyward (Cardiff) and Jeremiah Azu (Cardiff) won silver and bronze respectively in the 1,500m and the 100m.
A full report can be found here
---
Welsh Athletics U20 International, Swansea
It was a night of fantastic track and field action over in Swansea, as Welsh Athletics hosted the U20 International. With seven different teams participating, including England North, England South, England Midlands, Scotland, Northern Ireland and the Welsh Schools Association, some of the countries best U20 athletes went head to head.
Dafydd Pawlett (Pembrey) put together a fantastic throw in the mens shot put, taking it out to 17.12m. A big personal best by over 20cm ensured that Dafydd secured an emphatic victory.
There was a bronze medal for Lili Church (Carmarthen) in the high jump, as she managed to clear a height of 1.71m. Whilst in the mens high jump, Sam Davies (Swansea) was not to be outdone as he also picked up a bronze medal, with a best clearance of 1.92m. Harry Newton competing for the Welsh Schools team, also picked jump a bronze medal in the pole vault, with a best clearance of 3.82m.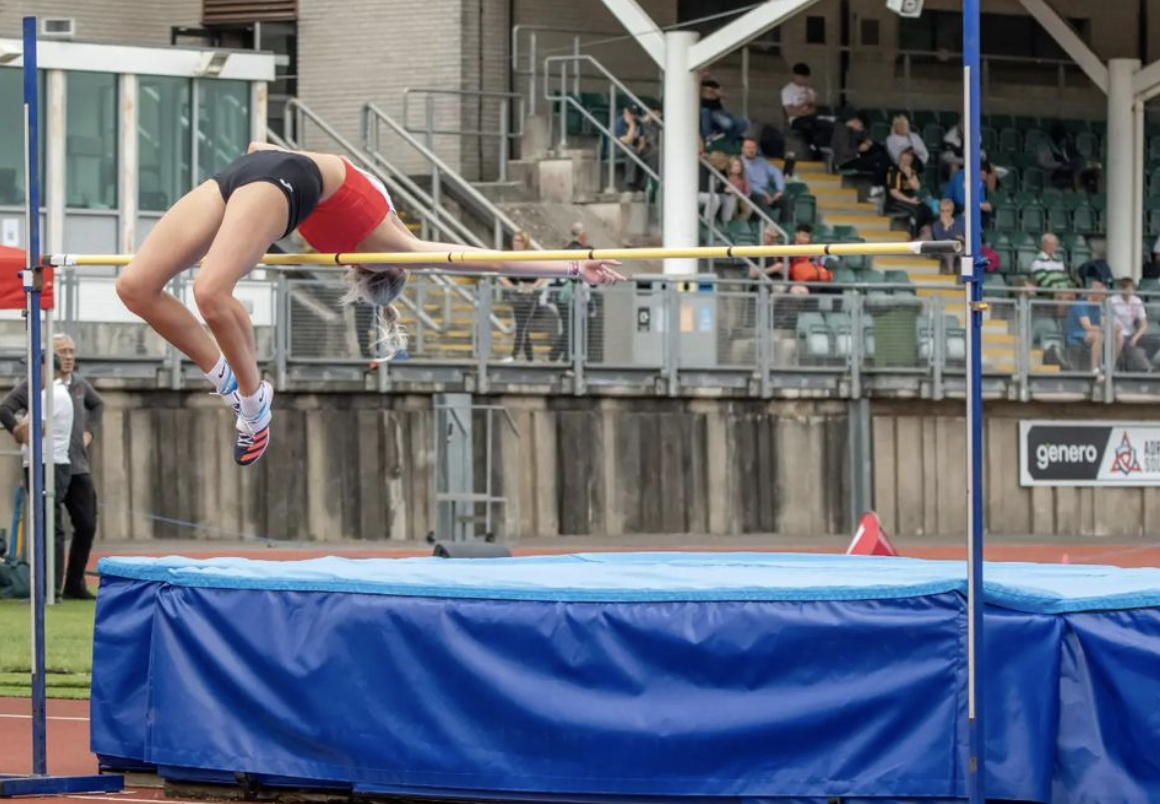 Michael Jenkins (Pembrey) was not far off his personal best in the discus, throwing a best of 46.16m, which was enough to claim a bronze medal, on an event won with a best throw of 49.62m. Whilst there was another bronze medal in the women's triple jump, as Reese Robinson (North Devon) leapt out to 11.50m.
In the short sprints, it was Kya Placide (Cardiff) who ran a new personal best of 12.49s to come home with a bronze medal in a very competitive race. In the male ambulant 100m, there was two podium finishes for Wales, with Corey Brown (DSWPA) and Tomi Robert-Jones (DSWPA) who finished in 2nd and 3rd respectively, running times of 13.11s and 14.57s. Katie Whittaker (DSWPA) also finished the night on the podium, placing 2nd in the women's ambulant 100m in a time of 18.74s.
In the women's 100m hurdles, Christina Griffith (Newport Harriers) had her best race to date to secure a bronze medal in a personal best of 14.67s. Zico Jones (Shaftesbury Barnet) made it another podium finish, as he also finished in third in the men's 800m, running a time of 49.97s.
In the longest event on the track, the 5000m walk, Gracie Griffiths (Pembrokeshire) walked a time of 25:43.00 to take the victory. There was a silver medal for Moli Lyons (Cardiff) who ran a personal best of 9:58.79 in the 3,000m, whilst Frank Morgan claimed bronze in the men's 3,000m, with a time of 8:28.81.
There were two Welsh teams on thee podium n the men's 4x100m relay. The Welsh Schools team secured 2nd place in a time of 41.47, whilst the Welsh Athletics team placed 3rd in 43.64s.
It was a night full of inspiring action for our athletes after a long season. For full results, click here
---
ASICS Home Nations 5km, Cardiff
Bute Park became a hub of action on Saturday night as the Home Nations and an array of other teams took to the 1 mile loop. Covering the lap three times, it made for an exiting spectacle of fierce racing.
Jenny Nesbitt (Cardiff) lead the way for the Welsh ladies, securing a second place finish with a swift change of gears over the last 100m. The race was won by Scotland's Anabelle Simpson in 15:51, whilst Jenny ran 15:53, and Georgie Grgec running for Sportshoes.
]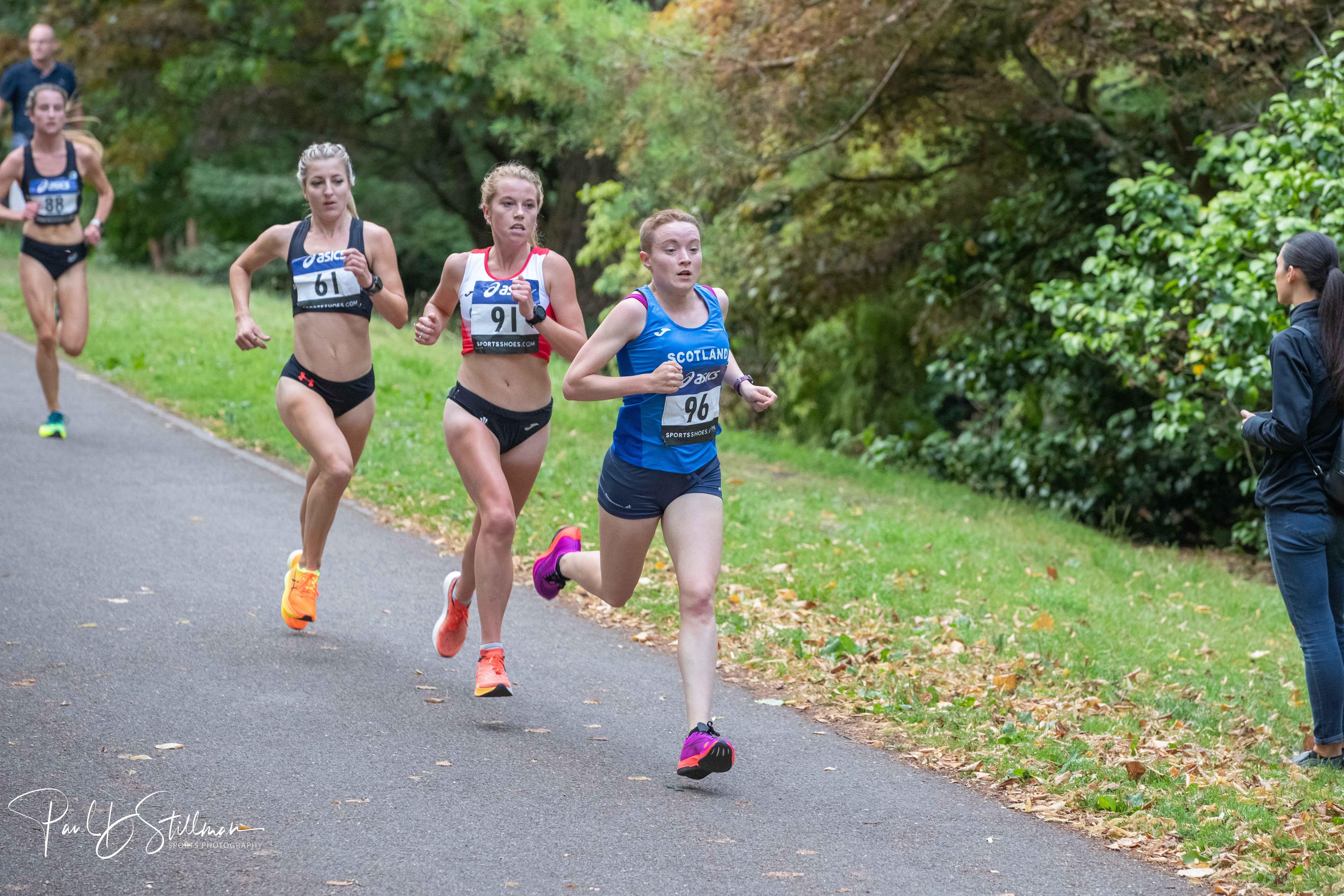 Also representing Wales was Olivia Tsim (Pontypridd) who finished 12th in 16:27, Sophie Harris (Herne Hill) in 19th with a time of 16:58 and Kate Roberts (Swansea) who finished in 22nd, running a time of 17:14.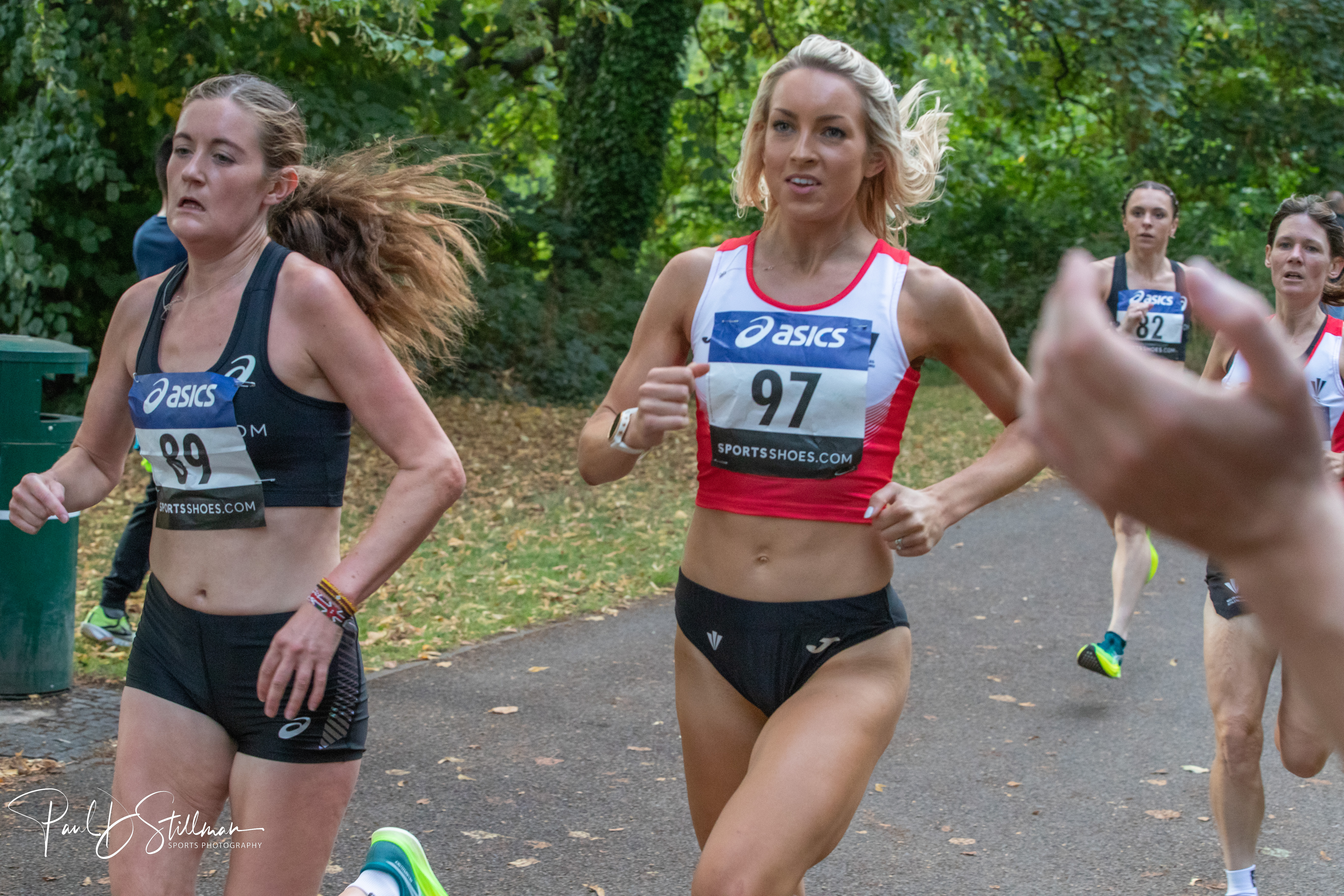 In the team standings, the Women finished in 4th overall with a cumulative time of 53:16, whilst England took top spoils in a time of 51:14.
In the men's race, local man Jake Smith (Cardiff) running for the Sunday Plodcast team took the race on and was rewarded with the victory and a time of 14:05. Richard Allen was second in 14:09 whilst running for Sportshoes, with Callum Elson rounded out the top three with a 14:10 finish, representing Puresport.
Representing Wales, Dan Nash (Cardiff) was first home in 9th overall with a time of 14:19, all whilst preparing for the World 50km Championships. Next home, Lloyd Sheppard Brown (Cardiff) in 13th place, ran a time of 14:29, followed by Jonathan Butler (Swansea) in 18th in a time of 14:40.
Full results can be found here.
---
NAL, Bedford
In the final match of the NAL, highlights include :
- Deana Kealy (Cardiff) : 1st 'B' High Jump 1.68m
- Harry Hillman (Cardiff) : 2nd 400m hurdles 54.39s
- Jack Houghton (Swansea) : 3rd 400m hurdles 55.66s
- Caryl Granville (Swansea) : 1st 'B' 400m hurdles 61:39
- David Locke (Cardiff) : 1st 'B' 800 1:51.62
- Megan Carter Davies (Cardiff) : 2nd 'B' 800 2:13.14
- Hannah Longden (Cardiff) : 2nd 100m 11.74s
- Patrick Swan (Swansea) : 1st Shot 17.05m
- Caryl Granville (Swansea) : 2nd 100m hurdles 14.26
- Rebecca Chapman (Cardiff) : 1st 'B' long jump 5.80m
- Osaze Aghedo (Swansea) : 1st 'B' triple jump 14.15m
- Nahbi Odeh (Cardiff) : 3rd triple jump 13.87m
- Seren Bundy-Davies (Trafford) : 1st 400m 53.83s
- Ffion Mair Roberts (Cardiff) : 3rd 'B' 400m 56.88s
- Megan Carter Davies (Swansea) : 1st 1500m 4:30.56
Full results can be found here.