Thursday 4th - Heyward, Simpson and Brier all qualify, New Record for Rogers
04/08/2022 00:00, In Blog / Commonwealth Games /
Images: Gary Mitchell & Getty for Birmingham 2022
The morning session was all about navigating qualification rounds for our Welsh athletes.
Deeside AC's Amber Simpson got day four in the stadium off to a great start, throwing close to her lifetime best in round two of the Women's Hammer Qualifying – 65.67m. This ranked her 5th out of 17 competitors and puts her comfortably through to Saturday evening's final.
"It feels amazing, I was very nervous coming in, but I embraced the opportunity and it got really close to my PB so, yea, i'm happy!"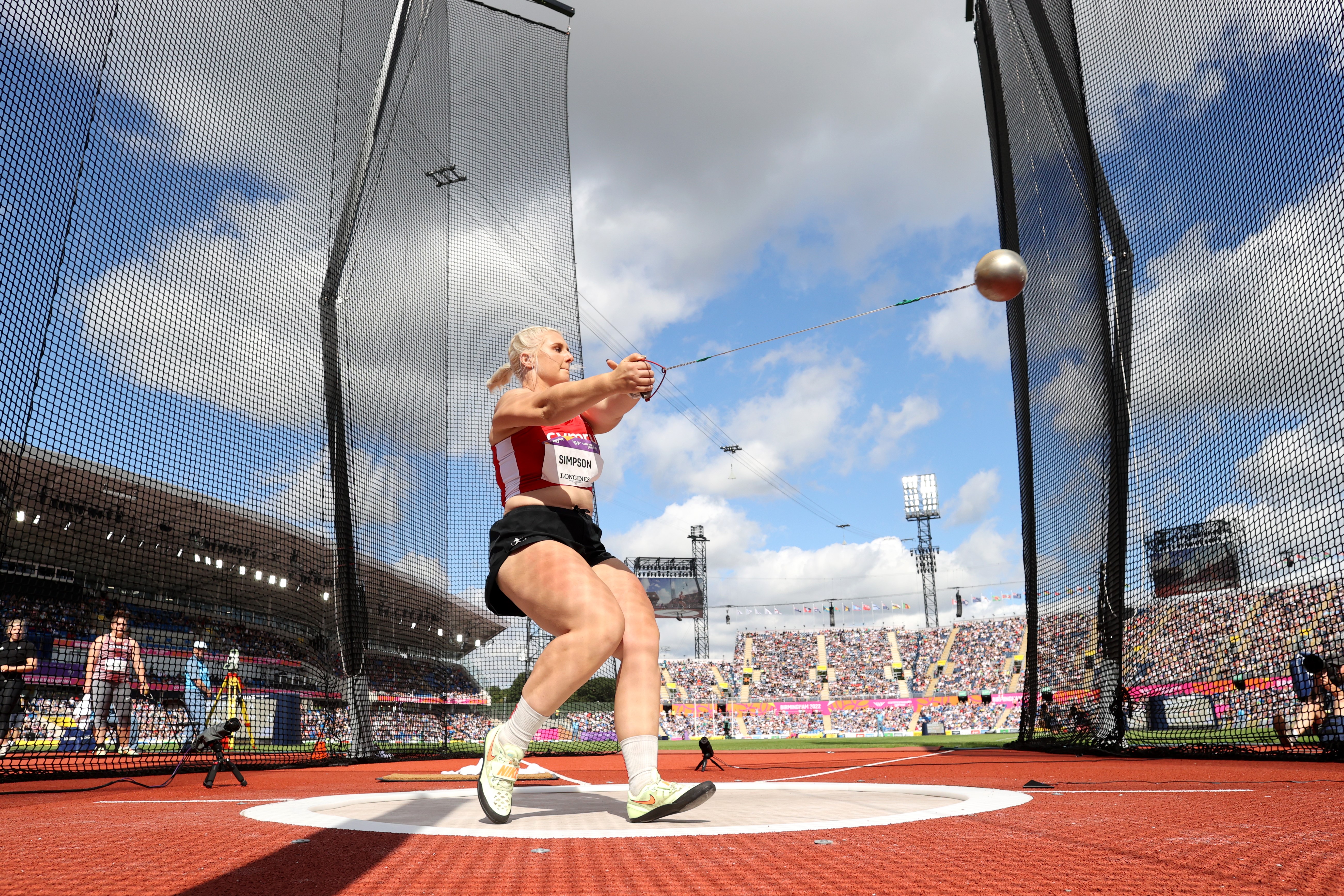 Next up was Hannah Brier, after a short recovery from her 100m semi-final last night, she was out in lane eight of heat three of the women's 200m. A good start and a strong bend put her in second coming into the straight and she was able to hold this position to the line, coming home second in 24.04 and securing her place in the semi-finals.
"After yesterday's atmosphere and not much sleep it was hard to get back up, but the aim today was to just get out and try and qualify. Lane 8 is difficult with all the faster athletes on the inside, but I ran well. The feeling stepping out on track with this crowd just doesn't change, it's amazing, i just want to do it again!"
The two 1500m semi-finals were up next and both fields were littered with global talent and medal winners. Jake Heyward went in heat one and made sure it was a decent paced race leading it through the bell. He was able to hold position as a group of five pulled away in the closing straight and finished third in 3.37.83 qualifying him for what promises to be one of the finals of the games. Jake reflected on a smart run race:
"I knew there was a few of us that were a bit stronger, so at least if I made it an honest race, it was the smart thing to do. I used the big screens to see how many were there at the end and was able to shut it down. It's probably the loudest cheer i've every had, it was really nice and got the adrenaline going."
In heat two, Piers Copeland positioned himself well at the bell, but up against a very strong field inclduing World champion Jake Wightman and having missed some training after falling and breaking his arm, he just didn't have enough in the home straight burn up at the end of what was a slower race than heat one. Finishing seventh, Piers was still happy with his performance given all he'd had to cope with to get here:
I placed myself well, I was where I wanted to be but just didn't have the legs at the end. I missed a bit of training with breaking my arm but i'm actually quite pleased with how I ran."
---
Evening session - European record for Rogers
Julie Rogers took to the arena in the Women's F42-44/61-64 Discus as the Welsh anthem rang out around Alexander Stadium with Aled Davies receiving his Gold medal and Harrison Walsh his Bronze medal. Throwing
in her first Commonwealth Games six years after sprinting for Team GB at Rio 2016, Julie threw a great discus series improving from 16.88m to 20.57m in round four and setting a new European & Games record for her classification in the process. Her Raza points total placed her 8th in the mixed classification field. Julie shared her thoughts on her comp;
"It was a great experience, I was really pleased to make it to these champs and proud to get out there, I reverted back to some old habits, but that's the pressure ofcompetition. I'm excited to push on from the progress i've made, and to be able to throw in competition what I know I can acheive."
---