Sat 30th July - Strong marathon performances in Birmingham for Griffiths, Evans & Cockram
30/07/2022 00:00, In Blog / Commonwealth Games /
The streets of Birmingham today played host to the Commonwealth Games Marathons and the three Welsh athletes, Dewi Griffiths, Natasha Cockram and Clara Evans had fantastic Welsh support along the route. Conditions were cool, but the course had enough hills to make it a tough challenge for all the athletes. The men headed off first and Swansea Harriers' Dewi Griffiths held position in a second group of runners through the first lap of the two lap course. As the groups broke up, Dewi found himself battling with Northern Ireland's Stephen Scullion, who ultimately finished just a head of Dewi who came in in 11th palce in 2:17:58.
"It's great to have my family and friends here. What's important to me is that I really enjoyed that and that i'm happy with the time." commented Dewi after his race.
(Dewi Griffiths at the start of Birmingham 2022 Marathon. Photo by SportingWales)
Next up were the women with Natasha Cockram, a member of Mickey Morris Racing Team, and Clara Evans, Cardiff Athletics (previously Pontypridd Roadents), representing Team Wales. The two are numbers one & two on the Welsh all-time list and were pushing along comfortably in the main lead group through the first 15 miles before it started to break up. With her parents and family watching on amongst the large Welsh cheering contingent, Clara was able to push on through the last few kilometres to finish in 9th place in 2:38:03 with Natasha close behind, coming home 12th in 2:40:18.
"It really helped the Welsh cheering. That really picked me up when I was struggling on the way back and all my family and friends were there. It was really nice to see familiar faces and then the crowd coming into the finish, I've never seen a crowd like it." Clara added at the finish line.
(Clara Evans and Natasha Cockram on the first lap of the Birmingham 2022 Marathon. Photo by GlennSports)
Congratulations to all three who ran season's bests, and thank you to all the Welsh supporters who made their way up to the streets of Edgbaston and rang their cowbells with such vigour!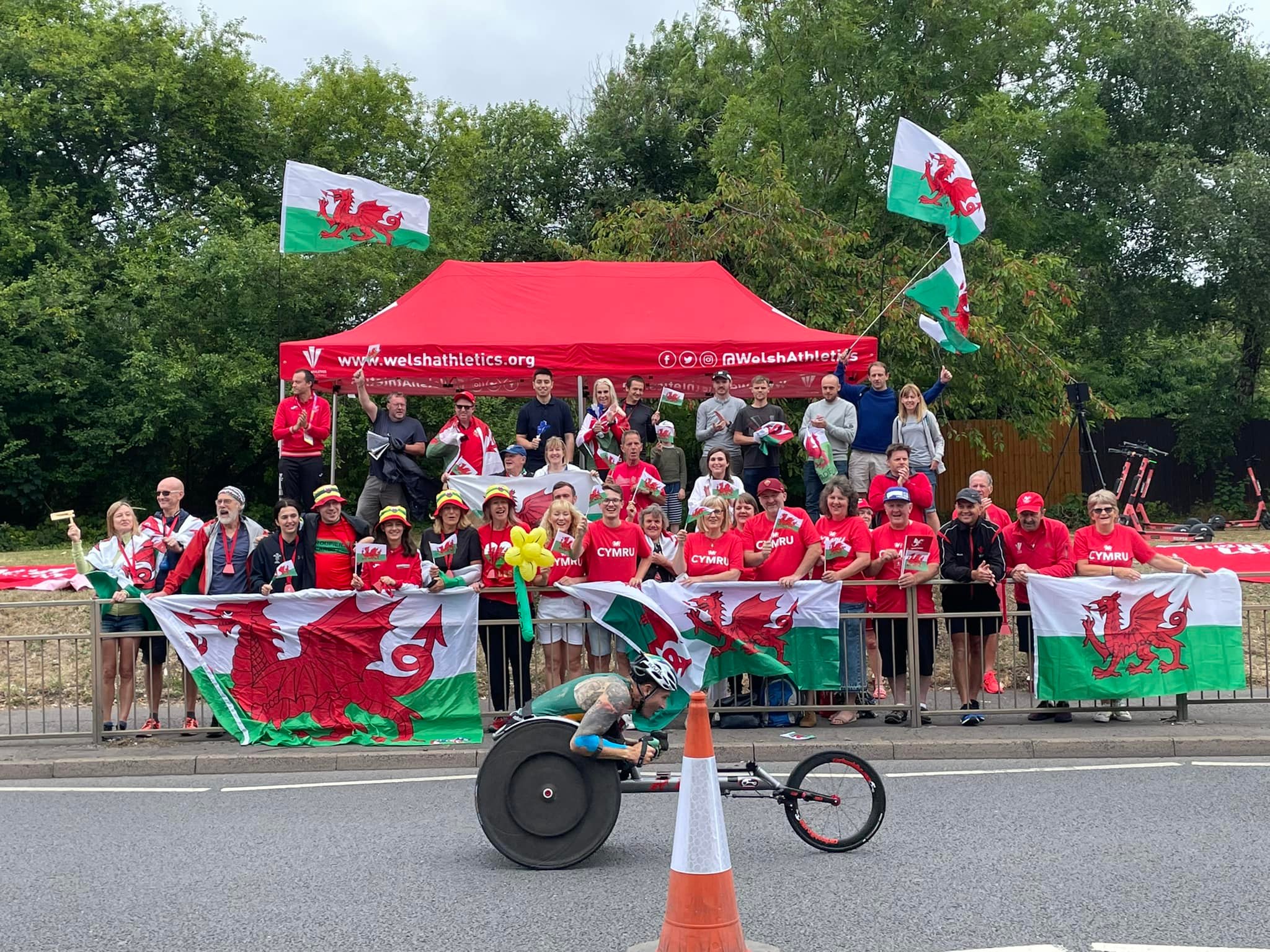 (Welsh supporters out in full force at the Birmingham 2022 Marathon)
Keep up-to-date with all the latest Commonwealth Games action on our Facebook, Twitter and Instagram pages.