Steve Jones & John Griffin receive Queen's Honours Awards
10/06/2019 00:00, In Blog /
Welsh Athletics would like to congratulate Steve Jones and John Griffin on being named in the Queen's Birthday Honours list for 2019.
John Griffin, Chairman of Les Croupiers Running Club, has been awarded a BEM - Medal of the Order of the British Empire - for 'services to Running in Wales'. As well as being a stalwart of his club, he is an integral part of the Welsh Castles Relays which took place this weekend, and an almost ever-present at Cardiff parkun handing out the finishing tokens each Saturday morning. In addition to his contribution to the running community in Wales, he spends many many hours volunteering and fundraising for Velindre Cancer Hosptial in Whitchurch, Cardiff.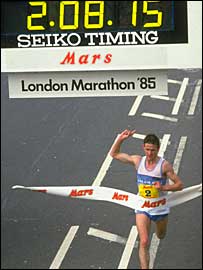 Marathon legend, Steve Jones, who claimed the World Record in the 1984 Chicago marathon clocking 2:08:05, has been awarded the MBE - Member of the Order of the British Empire - for Services to Sport. He reduced his marathon time to 2:07:13 which still stands today as the Welsh record. His British marathon record stood for 33 years until Mo Farah beat it in 2018.