Sospan Road Runners
10/02/2022 00:00, In Blog / Club Notice Board /
"The friendliest running club in Wales"
Sospan Road Runners is a local running club from Llanelli, South Wales who prides itself on giving everyone a very warm welcome and providing members with a range of training options. They are inclusive and cater for all abilities and never push for members to compete unless they are happy to... most do enjoy racing but some prefer the social aspect of club running!
Their membership fees are currently set at £35 for the year which includes the individual's WA fee.
Sospan Road Runners offer 3 club nights a week - Mondays, Wednesdays & Thursdays. There is a recovery group run on a Monday (3 x ability group options), on Wednesday it is beginners night (with 2x ability group options) and on Thursdays their WA club coach offers a speed/hill session - as challenging as the individual wants to make, it as it's open to all!
There is a LiRF (Leader in Running Fitness) for each ability group and during the pandemic they started to use the 'My Running Club' App - initially to book members in so they could plan and comply with track & trace requirements - but it has proved so useful (e.g. ICE details readily available to all leaders) that they have kept up the subscription on it and will continue to use it going forward.
Currently they have 14 LiRF's with at least one other member about to embark on the course in March.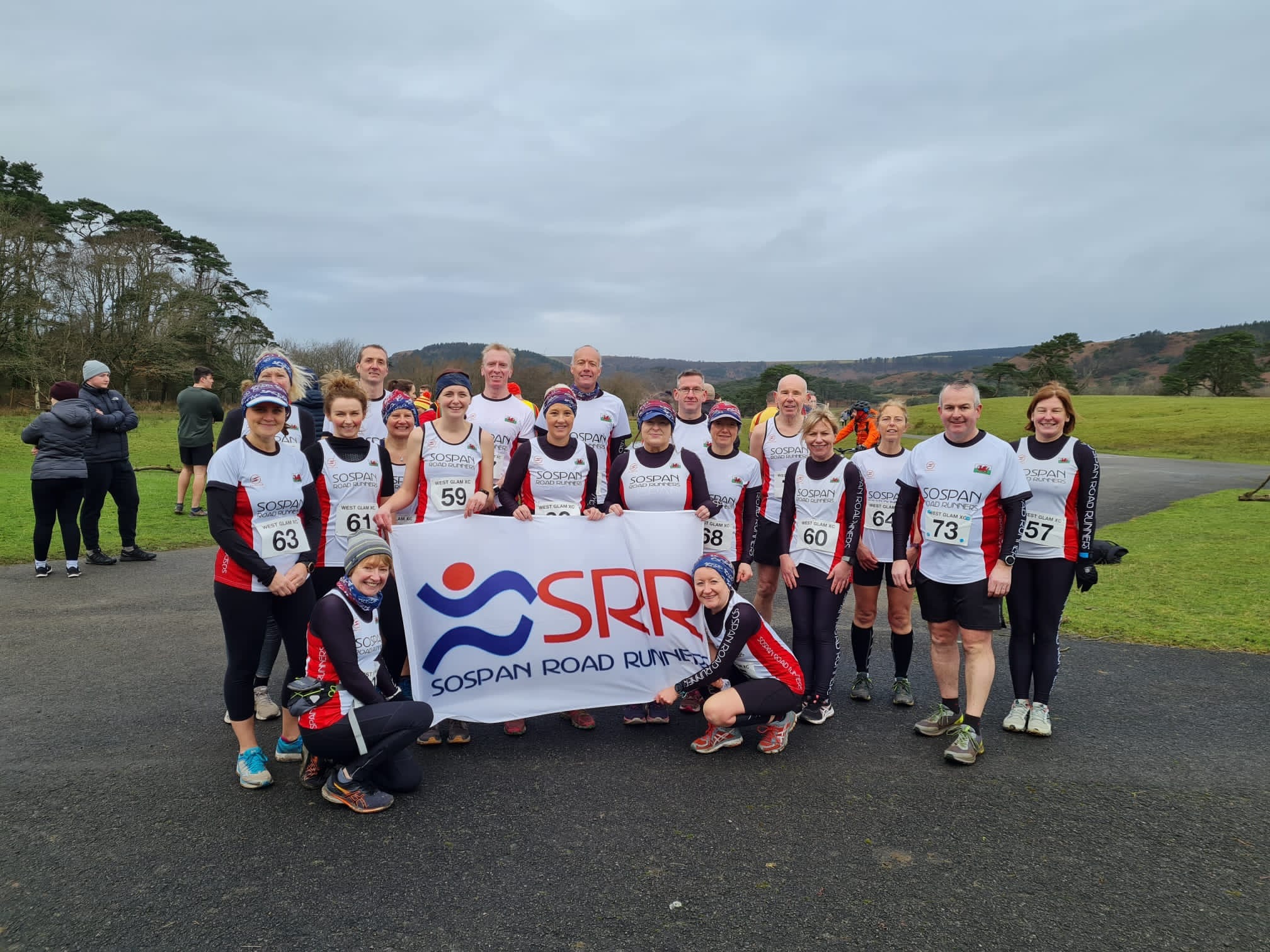 But what makes Sospan Road Runners so special?!
Sospan Road Runners host an annual multi terrain race, which is held at Pembrey Country Park/Forestry (MT10) and currenty it is in its 37th year. This race really brings members together during its organisation and on the day itself! They have also hosted a 10k race on the coastal path - pre COVID, and the 2019 event saw an 80s theme which added a great fun element! Entrants for both races are encouraged to 'bring a tin & drop it in' - for a collection for a local Foodbank - a wonderful iniative and fantasitc oppertunity to give back to their local community.
Their generous giving doesn't stop there though, every year the money made from their races is donated to charity, and they ask members to suggest smaller/local charities that mean something to them. Previous recipients include various wards at our local hospital, Welsh Air Ambulance, Guide Dogs, and 2WishUponAStar.
2019 also saw the club being shortlisted to the final 3 in the Team of the Year category of Actif Carmarthenshire's Sports Awards.
Sospan Road Runners like to travel around the world too, giving their memebers the chance to take trips. Over the years thay have provided and organised many trips - from London to Newcastle, Loch Ness, Dublin & Mallorca! The members love a Sospans road trip!
If you are the sort of person who likes to get invovled in the club racing scene then you will have plenty of oppertunity to do so also. The club are huge supporters of local races (entering & marshalling!) of all distances, including their local parkrun, the West Glam XC League and some members even dabble in the world of triathlon!
The most rewarding initiative Sospan feel they have managed to get involved with though was during the very early days of lockdown where they helped to deliver prescriptions to residents for a local pharmacy…by foot obviously!
They have always come together in trying times and COVID has been no exception. The friendly running club didn't let lockdown stop them, and provided virtual races, challenges and charity fundraising meaning that they actually increased their membership over the pandemic! WA even sent Sospan a virtual gold star!
They also hold the Bronze Ribbon award for Disability inclusion.
Sospan feel they have been very fortunate to have a fabulous group of members over the years that have really given back to the club!
Sospan Road Runners has something for everyone!
If you want to read more about the club and find out about how to become a member, click here!