Senior and U15 Indoor Championship Round Up
30/01/2022 00:00, In Blog / Track & Field /
The long awaited return of the Senior and U15 Welsh Indoor Championships was worth the waiting for, with championships best performances broken, intense photo finish waits and personal bests smashed!
Over a weekend of fast flowing, energetic and thrilling action, all athletes took to the start lines, runways and throwing circles with sportsmanship and a tenacious desire to produce their best performance.
One of the highlights of the weekend came late on day one, in the women's 60m final. After qualifying for the final with the two quickest times, Hannah Brier (Swansea) and Mica Moore (Birchfield) left the whole arena on the edge of their seats awaiting the photo finish results. The gold medal was eventually awarded to Brier in a time of 7.42s, with Moore continuing her string of personal bests, running a time of 7.44s to come second. Brier went on to take down the championship best perfromance over 200m the next day, clocking a time of 24.15s, bettering Melissa Roberts (Birchfield) 24.37s from 2019. She didn't start the final, so it was Roberts who became Welsh Champion, running 24.73s in the final.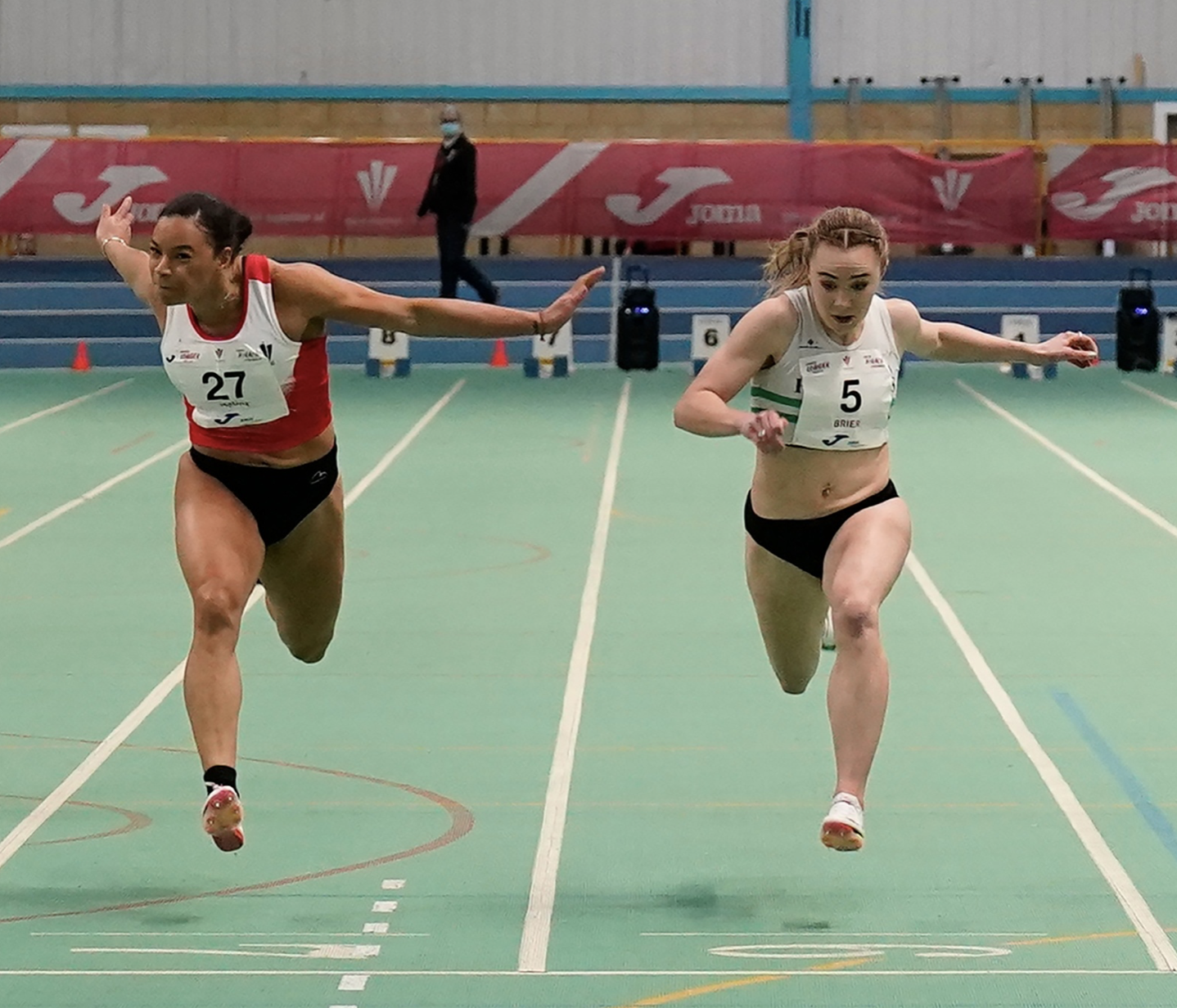 Dewi Hammond (Cardiff) made winning the men's 60m final look slightly easier, stopping the clock in 6.81s, ahead of Daniel Brooks (Yate) and Zachary Price (Menai) in 6.88s and 6.92s. Scarlett Cargill (Newport) had the race of her life in the U15 girls 60m hurdles, running 9.50s to become Welsh Champion.
In the hurdle equivalent, 400m hurdle specialist, Caryl Granville (Swansea) ran 8.46s to take the win and upgrade her silver medal from the 2020 Champs, just shy of her personal best. In a very close finish for the remaining podium spots, training partners Grace Morgan (Cardiff Archers) and Lauren Evans (Cardiff), finished neck and neck, with just 0.01s separating them - 8.65s to 8.66s.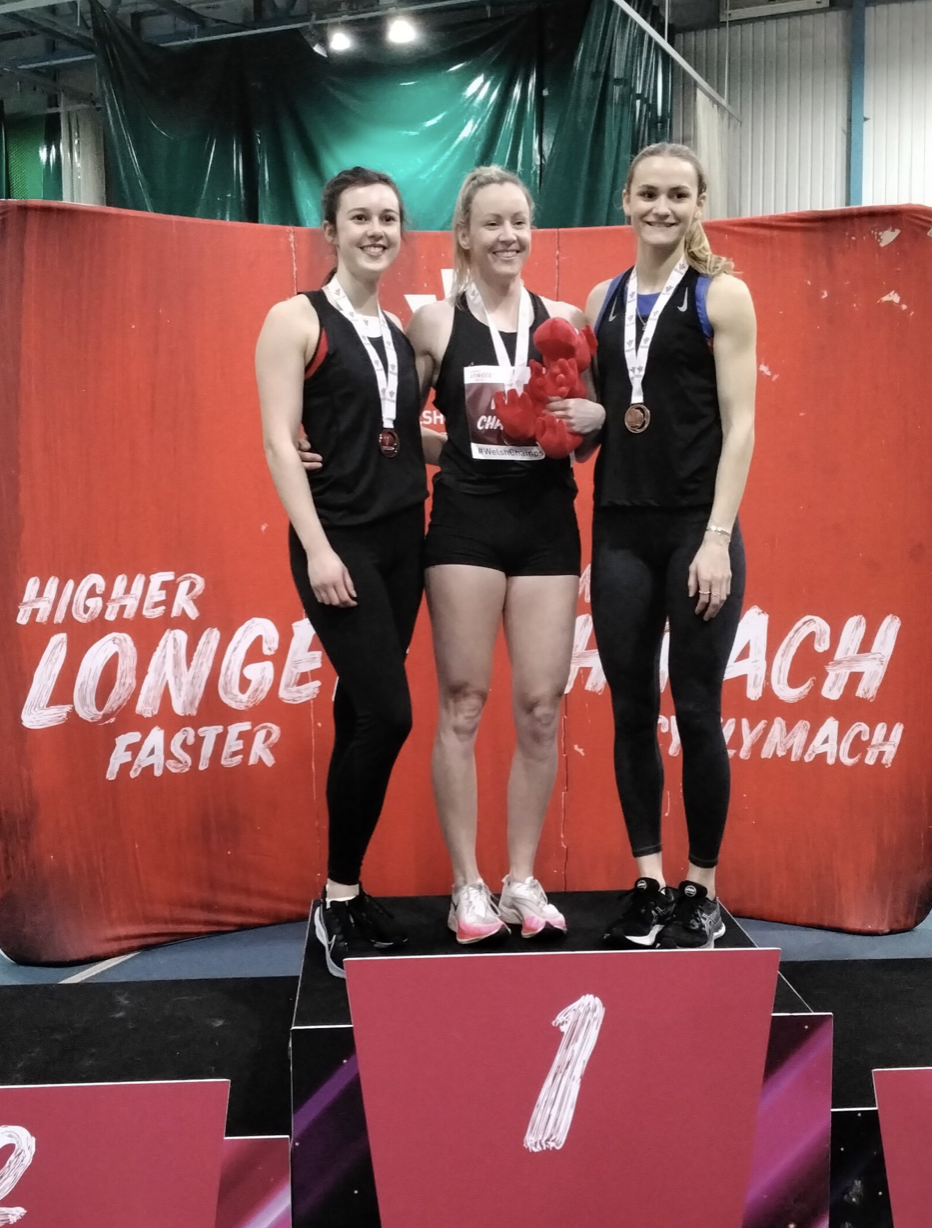 In the women's 400m, DNA bound Sian Harry (Belgrade) improved on her season opener from last weekend, clocking a time of 55.56s to become Welsh Champion ahead of Ffion Mair Roberts (Cardiff) who ran a new personal best of 55.84s. In the mens event, Reece Middleton (Coventry) ran away with the victory in 50.07s.
The women's high jump was a close affair, with both Kate Anson (Liverpool) and Lauren Evans (Cardiff) clearing 1.80m. But with Anson being a guest, it was Evans who was crowned Welsh Champion, a just reward for a new personal best in the event. Over in the men's shot put, Patrick Swan (Crnwall) showed he was rounding into good form ahead of next weekends DNA event, winning by over a meter, ahead of Curtis Mathews (Cardiff) - 16.59m to 15.23m. Rebecca Chapman (Cardiff) showed her class in the women's long jump, leaping 6.12m, and recording 4 jumps over 6m. Emily Thomas of Cardiff Archers came second (5.81m).
Known for its strength in endurance running, the longer lap events didn't disappoint. The stand out performance came in the U15 girls 1,500m, where Libby Hale (Swansea) ran away to victory in a time of 4:39.62, a new personal best, Welsh age group record and a championship best performance! Ruby Herdman (Brecon) and Mabli Phillips (Cardiff) also had fantastic races, running 4:49.69 and 4:50.91 to clear up the podium. Hale did it again one day two, taking victory in the U15 girls 800m, recording another impressive performance of 2:19.54 ahead of Ella Davies (Wrexham) who ran 2:23.61.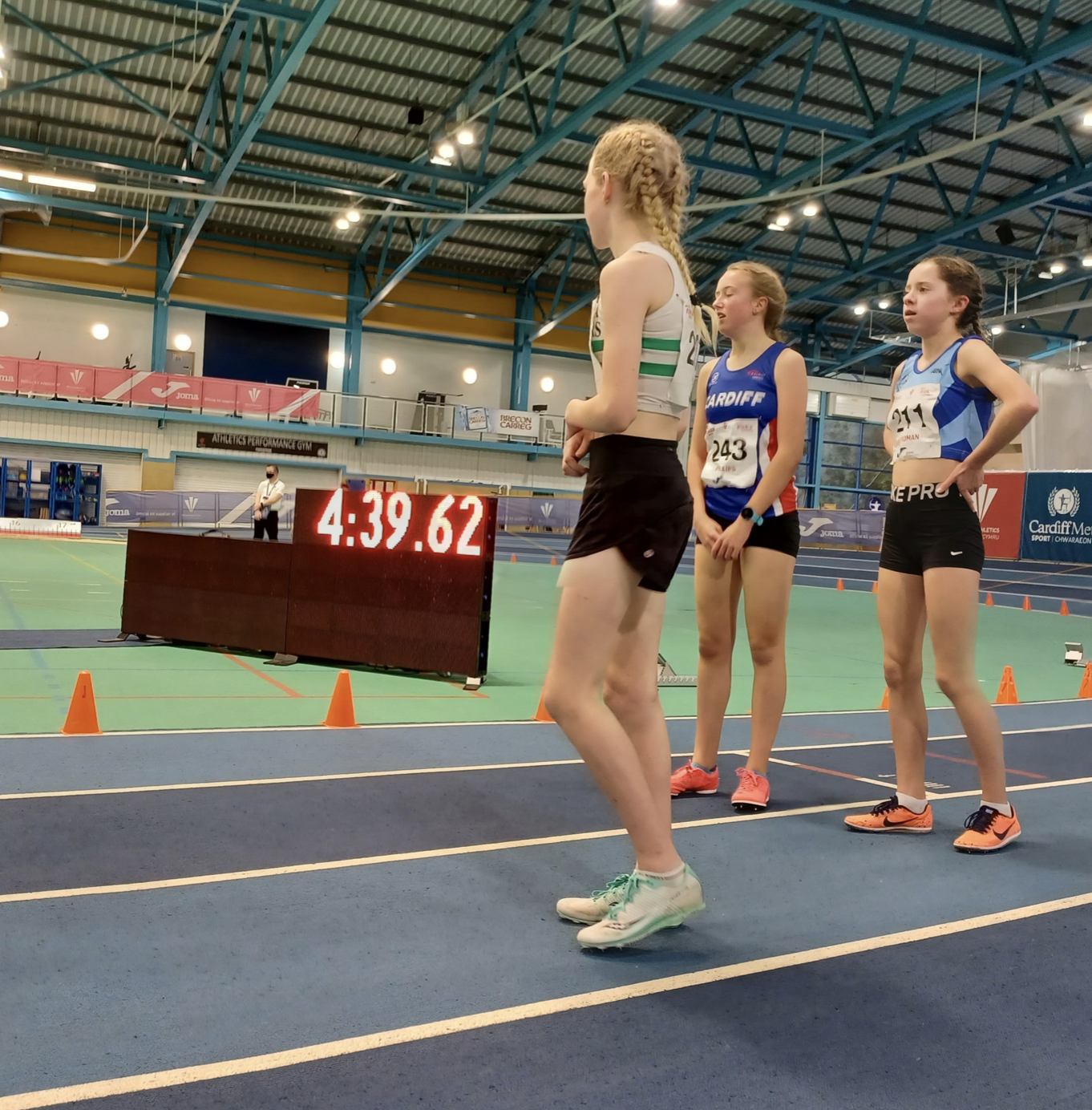 In a flurry of 1,500m races, the U15 boys race was won by Kerby Beltran (Cardiff) in 4:34.21, moving ahead of Miguel Jenkins (Menai) who ran 4:35.25 in the final couple of laps. It was a cagey first half in the senior women's 1,500m with a couple of near falls, but Kate Seary (Cardiff) showed her class, moving away from the field over the last 400m, running 4:31.90 to be crowned champion.
It was Remi Adebiyi (Newport) who edged out Oliver Barbaresi (Thames Valley) in the male equivalent - 3:50.17 to 3:50.48 - but sweet consolation for Barbaresi is the small personal best he recorded! Rachel McClay (Bracknell) warmed up for next weekends DNA event too, running over 800m and running away from the field. Stopping the clock in 2:12.09 she was in a class of her own. Cari Griffiths (Newport) was second in 2:21.45 and Jemima Benson (Cardiff) was third in 2:26.09.
James Heneghan (Cardiff) demonstrated his ability to perform over the 800m after a good race in the World Indoor Tour over 1,500m last weekend. His time of 1:52.53 was enough to secure victory ahead of Oliver Capps (Exeter) who ran 1:56.69.
In a weekend full of action, at the beginning of a year full of championships, it was fantastic to see so many athletes supporting the Welsh Championships. Congratualtions to all athletes and coaches, and thank you to all staff and volunteers! For full results click here.a