On This Day in 1969
11/05/2020 00:00, In Blog / Track & Field /
On This Day in 1969
In the absence of new results and competitions to bring you each Monday, we're replacing our Weekend Round-Ups with some stories from the archives. A full history of Welsh Athletics can be explored here and Athletics Stats Wales provides a comprehensive set of statistics for the sport.
---
Clive Williams recalls what was happening in Welsh athletics around this time 51 years ago...
Cardiff AAC in first ever British League match
This past weekend 51 years ago, newly-formed Cardiff AAC headed to the very first fixture of the new British Athletics League - or National League as it was called then - in Twickenham on 10th May 1969, confident of making a good impression amongst Britain's top clubs.
The club, formed from the amalgamation of the two Cardiff clubs Roath and Birchgrove Harriers the previous November, were a powerful force. They could call on Olympic and Commonwealth medallists and numerous Welsh title holders and were expected to challenge for the division one league title in the three match series that year.
Cardiff had taken its place in the top division after a pilot league in 1968 in which prior to the amalgamation, Birchgrove Harriers had performed creditably. But the three divisions comprising of six clubs each of the new league had been decided on the performances of the two leading athletes in each event in each club in 1968. And it was on this basis that the Welsh club took their place amongst the elite of British clubs in the top division.
But alarm bells began to ring after that first match on a cold blustery and dismal day in Twickenham - now called The Stoop, the home of Harlequins RFC - as they could only finish 4th of the six teams. Birchfield Harriers, then as now, one of the giants of UK club athletics, won narrowly from hosts, Polytechnic Harriers with Brighton & Hove third.
However, there were some fine individual performances from Cardiff as the Welsh club's athletes won five A events and two B events in the face of very stiff competition from the countless British international athletes competing for their clubs.
Cardiff's star man was the late John Walters who took both the shot and discus events with 15.32m and 45.40m. He was closely followed in a starring role by the 1964 Olympic long jump champion Lynn Davies who took the 200m in a slow 22.6 on the loose cinder track, also adding a second in the 100m in 11.3secs behind the winner, Polytechnic's European indoor 60m silver medallist, Bob Frith.
Lynn also ran an excellent leg in the sprint relay to help secure the runners-up spot for his team. There was disaster though for the previous year's AAA youths (15-17) 100 yards champion Adrian Thomas in the B 100m - he false started twice and was disqualified. Said Thomas, the current non-executive director of Welsh Athletics:
"I really learned a lesson that day and never false started again. I was a bit overawed having an Olympic champion as a teammate"
he continued. Unlike today when it's one false start and you are out, in those days you were allowed two.
Cardiff's long jump strength was such that they won both the A & B long jump competitions without their Olympic champion Lynn as former Welsh Athletics non-executive director Gwyn Williams took the A event with 7.08m and Russell Church the B with 6.53m.
Cardiff's other A string winner was Welsh record holder Dave Lease in the pole vault with 4.25m. Dave who became the Scottish National Coach after retiring would be a dominating competitor for Cardiff in their halcyon years including when the club won the league for three successive years between 1972 and 1974, as was John Walters. Future Welsh marathon record holder and current Welsh Athletics non-executive director Bernie Plain won the B 1,500m with 3:54.6.
So all-in-all not a disaster for Cardiff, but great disappointment that they were not able to finish closer to the top of the table. Said team manager, the late Dave Williams at the time:
"with a full team and a bit more luck we could have finished second, but we were not overawed by the strength of the competition."
Other Welsh athletes competing for their clubs that day were reigning Welsh 880 yards champion Bob Adams who won his speciality for Polytechnic (1:51.1) and Welsh hammer record holder Laurie Hall, the winner of a record 10 Welsh titles at the time, who won his event with 64.76m.
---
Team placings after first match:
1, Birchfield 239 pts: 2, Polytechnic 229: 3, Brighton and Hove 221; 4, Cardiff 194: 5, Thames Valley 190; 6, Blackheath 177.
In future On This Day articles, we will see how Cardiff recovered to go into the final match of the 1969 season at home at Maindy Stadium poised to take the division one crown, only to be thwarted by a bit of skulduggery!
Welsh athletes played prominent parts for their clubs in division two and division three matches on May 10th. Welsh international steeplechase Gareth Bryan-Jones of Edinburgh Southern Harriers won both the 5,000m and 3,000m steeplechase in the division two match at Sale and Bob Roberts took the 800m for Bristol in the division three match at the West London Stadium.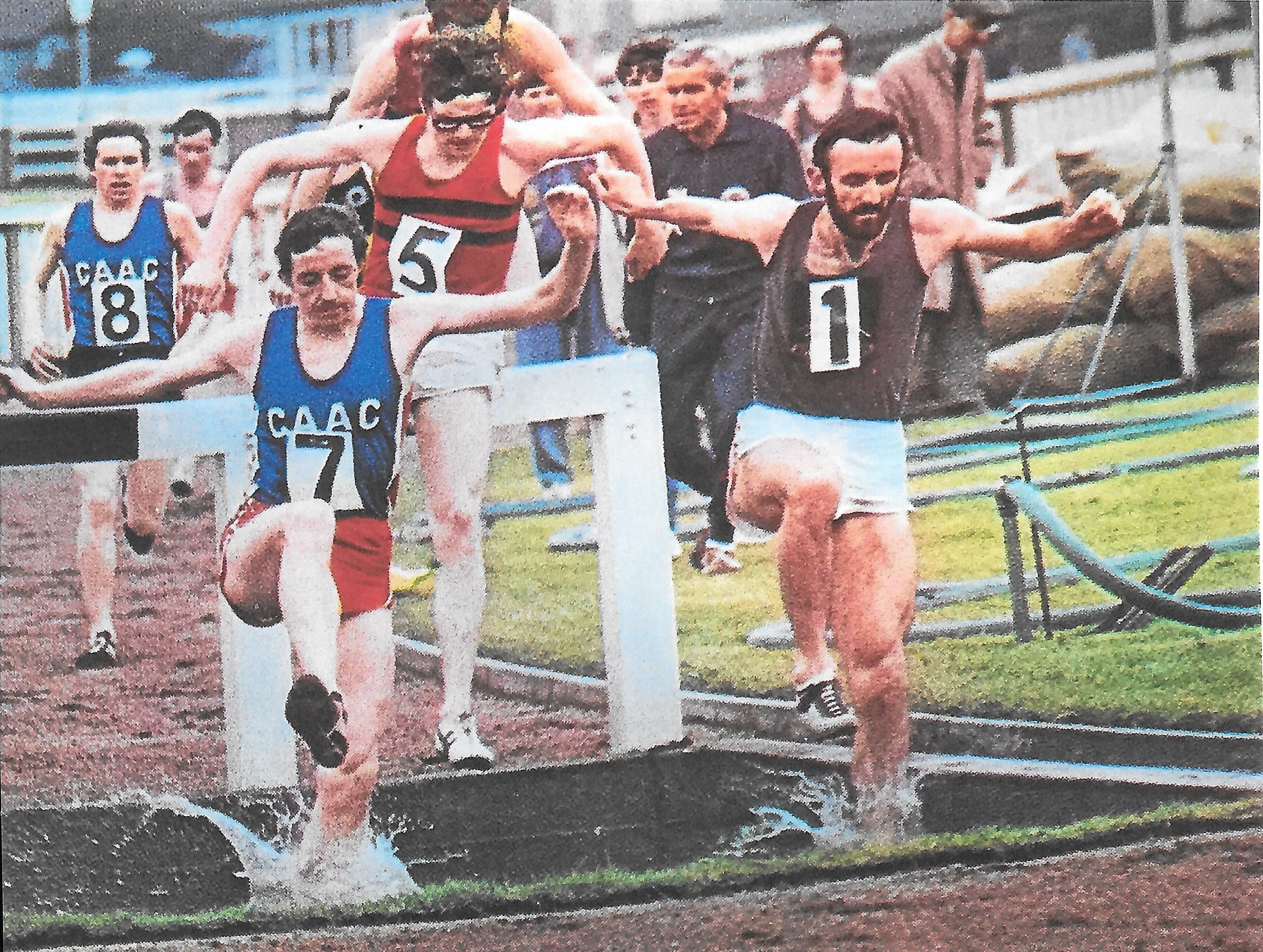 Photo: Bernard Hayward (7) & Dennis Fowles (8) in the NAL Twickenham 1969
---
In other results from this period in 1969:
April 20th: 1966 Commonwealth Games decathlon silver medallist Clive Longe of Roath Harriers won both the pole vault (3.50m) and discus (43.40m) for Loughborough College in their win over a number of other universities at Loughborough. Other Welsh winners were Keith Lowe (Cardiff) in the long jump with 6.94m and future Welsh champion Peter Lance in the high jump with 1.83m.
April 26th: Mike Rowland (Newport H) and Paul Darney (Cardiff) ran-in together to win the Cardiff 20 miles road race in 1:47.46. Both were racing more than 7 miles for the first time and both beat the course record set eight years earlier by Ken Flowers of Gilwern Harriers. Rowland went on to represent Wales in the 1970 and 1978 Commonwealth Games, whilst Darney won five Welsh titles at 3 miles and 6 miles between 1966 and 1968. Both Rowland and Darney became top coaches on retirement with Rowland becoming one of the country's top marathon gurus and Darney had two athletes in Britain's 2000 Olympic team in Sydney.
April 26th: Carmarthen's Fred Bell was second in the BMC mile at Carshalton in 4:22.2 with Tony Harris, the first Welshman to beat 4 minutes for the mile (3:58.96) in 1965, back in 5th place.
April 30th: Britain' Olympic captain at the 1968 Olympics, Ron Jones wins the 100 yards for the Southern Counties (of England) in their match against Oxford University.
May 3rd: 1970 and 1974 Commonwealth Games athlete, Phil Lewis sets a track record when winning the 800m in an inter-colleges meeting at Cyncoed in 1:51.0. In the 1974 Christchurch Games, he set a Welsh record of 1:46.26. Other top performers that day were Lynn Davies who held off outstanding junior Adrian Thomas to win the 100m, both clocking 11.0 in the dismal conditions and Gwyn Williams who won the long jump with 7.15m
May 3rd: Russell Pullen of Neath and Brian Penny of Swansea both took two events each at the West Glamorgan Championships at Port Talbot. Pullen took the 400 and 800, whilst Penny won both shot and discus.
May 4th: In the Bowthorpe trophy meeting, former Carmarthen Harrier, John James, a four time winner of the Welsh title took the javelin with 65.08m for his club Crawley. Reigning Welsh champion Janet Eynon finished second in the 400m for Croydon in 59.3.
May 7th: 1970 Commonwealth Games athlete and reigning AAA indoor champion Gwynne Griffiths of Carmarthen runs a personal best of 47.5 secs to win the 400m for the AAA against Birmingham University. Bob Adams, Wales' outstanding 880/800 performer of the period took the 800m for the AAA in 1:52.1. Bob took the Welsh title five times in succession between 1967 and 1971. Peter Lance took the high jump for the AAA in a personal best of 1.93m.