Officially Representing Wales
07/03/2019 00:00, In Blog /
Sue Maughan, Jane Dakin, Dave Jessett and Amy Price returned home on Tuesday after a busy and successful four days of competition in Glasgow at the European Indoor Championships. As part of a respected team of UK officials who work at major events all over the world, they took on a range of vital duties to ensure the success of the Championships.
"Once again I was delighted to have been selected to judge on the world stage, this time taking on the added challenges of Combined Events Referee and leading on all the duties and the many challenges faced by the field team. I'm proud to have played a key part in the event and in receiving the re-affirmation and recognition from European Athletics that we are the best officials in the world. A Championships to remember personally for the many challenges myself and my co-combined events referee faced and in the fact that we still came out smiling (though very tired!) at the other end." commented Sue.
The four officials performed these roles in Glasgow:
Dave Jessett - NAtional Technical Delegate (NTD)
Sue Maughan - Combined Events Referee
Jane Dakin - Field judge
Amy Price - Call Room steward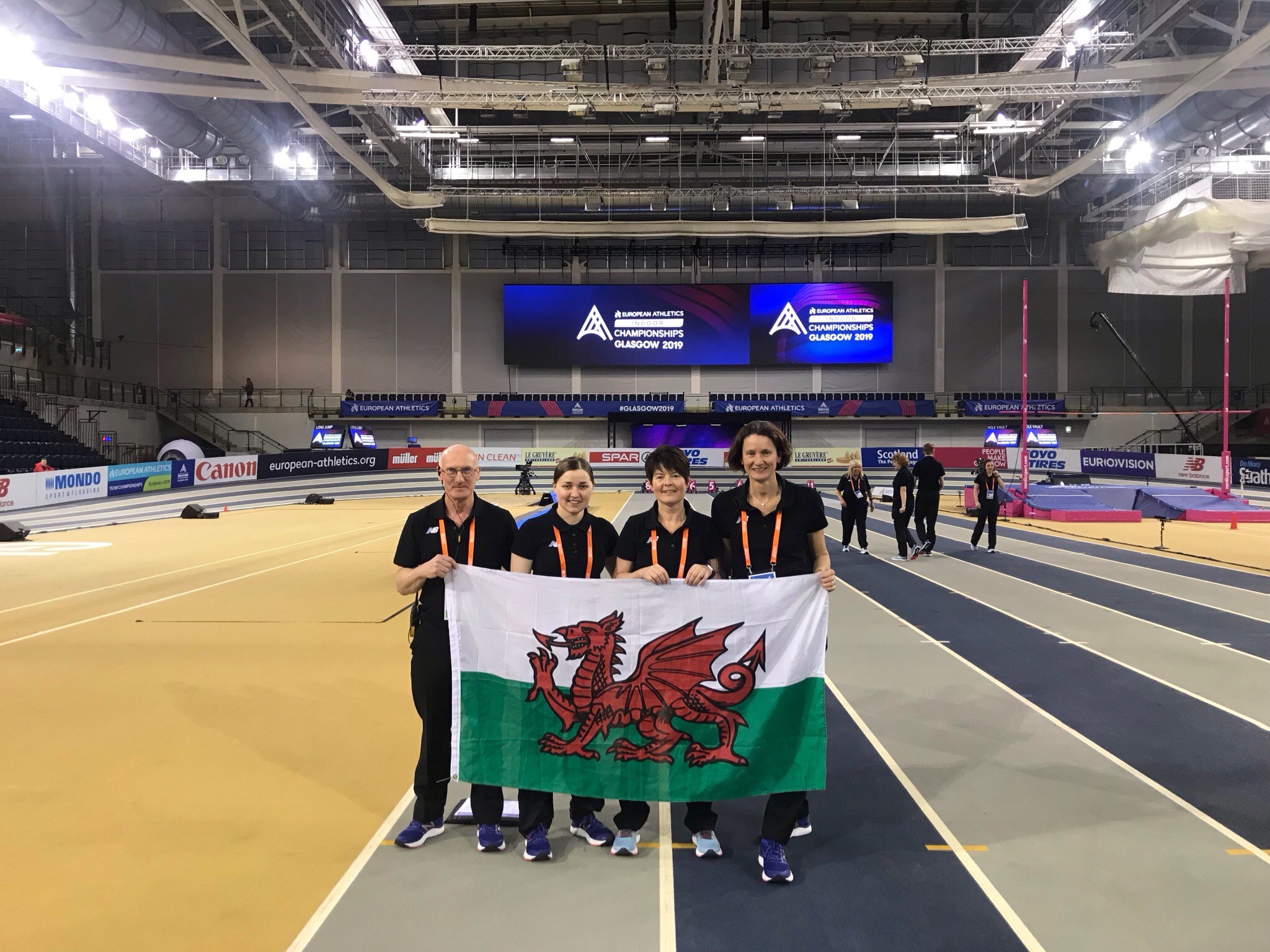 There is always a need for new or existing volunteers to train and develop as officials to be the team behind the teams of athletes as they compete, the future success for all levels of competition in Wales depends on having officials in place. From your local club to the Regional Athletics Council, there is a need for newly qualified officials to join the existing official workforce, to support the current competition calendar and to ensure the future of athletics in Wales.
Whether you would like to help rake a sandpit during an U13 League match, develop as a high level official and lead teams at Welsh Championship and UKA competitions or even progress to the Commonwealth or Olympic Games, there is an opportunity for you! Dave as one of our most experienced official will be travelling to France, Switzerland, Italy and Dubai over the coming months as a technical delegate at a range of both able bodied and para-athletic events.