Meet the Coaches: Lynne and Wendy
01/04/2022 00:00, In Blog / Club Notice Board /
Members of Swansea Athletics Club, Lynne Brier and Wendy Slade are sprint coaches, who look to create fun, positive environments where athletes feel comfortable asking questions and focus on the process, rather than the outcome. They coach as a team and are both part of the Female Coach Initiative. This year, Wendy also received the Service to Club Development Award.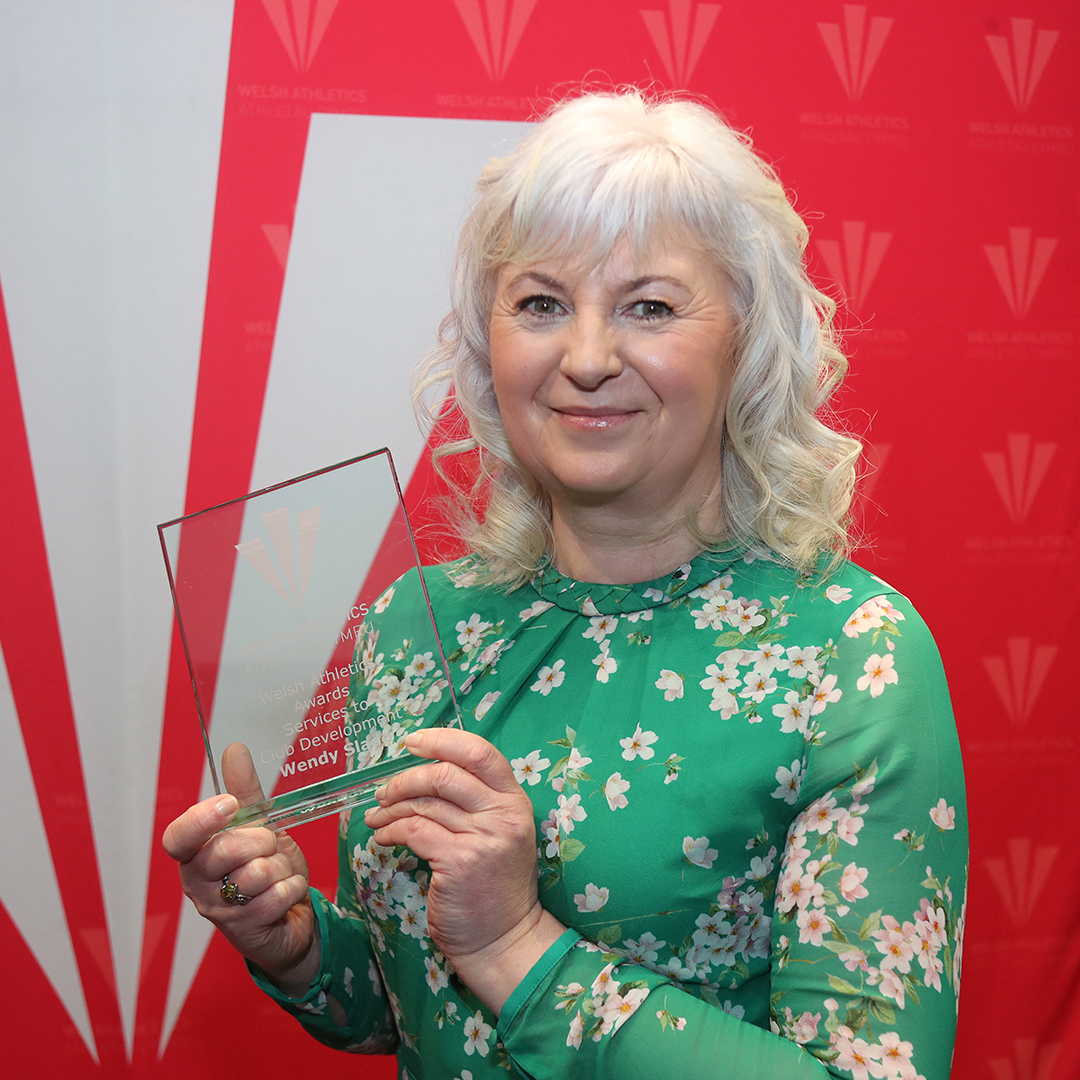 Wendy Slade receiving her Service to Club Development Award
Aside from coaching, both Lynne and Wendy also juggle work, study, sport and family life, like a lot of our coaches do. When asking how their job and personal life have shaped their approach to coaching, they are quick to remind us that it isn't just the coaches that have a lot to juggle.
" Juggling work, study, sport & family life serves as a reminder that the athletes I coach will also be trying to balance their own commitments so coaching the individual was an important consideration. Having an awareness of sport psychology steered me to appreciate the value of building an athlete-coach relationship and an environment which is anchored around enjoyment and autonomy where the emphasis is put on effort and process, rather than the outcome of a race".
Both Lynne and Wendy say that the most challenging thing about coaching has been the time involved in session planning, but they reflect upon the opportunities and knowledge they have gained by working with Laura Turner Alleyne.
"The past 12 months we have gained significant knowledge by working with our mentor, Laura Turner-Alleyne. As a result we have re-written our annual plan which has taken a huge amount of time and effort. It's an ongoing project but increasing our understanding of this process and having this framework for future years will benefit all our athletes".
Speak to any coach and they will tell you that the pride and sense of reward that comes from coaching can turn any hard day into a good one. This is no different for Lynne and Wendy when they refer to the most rewarding things about coaching, highlighting the importance of the athlete - coach relationship.
"Achieving that positive athlete-coach relationship and playing a part in shaping young athletes become resilient and confident is one of the most rewarding things. Seeing the group achieve Welsh team selection, podium finishes, Welsh & club records & PB's is also great but as rewarding for me is the technical improvements they have all made along the way."
And away from athlete performances?! Asking Lynne and Wendy what their greatest successes as coaches are, they are quick to recognise the things they have learnt and how this has enabled them to become better coaches.

"Our absorption of information, regular reflective practice and willingness to question other coaches has resulted in a vast increase in our knowledge and understanding of coaching practice".
Ending our conversation with Lynne and Wendy, I asked what being involved in the sport meant to them and from a coaching perspective. Athletes are always quick to reinforce the importance of their team, and coaches play a fundamental role in that, so hearing what Lynne and Wendy have to say really puts into perspective their passion for what they do.
" I've been involved with athletics for 11 years and all 3 of my children received coaching from volunteer club coaches so coaching allows me to give something back to the sport. Friendships have been forged from my involvement, I have travelled around the UK and had some great experiences".
Zoe Brown (Coach Development Coordinator) closes with:
"Supporting young people to enjoy our Sport is more complex than knowing how to develop their athletic abilities. More and more we are realising just how important it is to understand the person behind the athlete and support them to navigate life on and off the track.

Lynne and Wendy work tirelessly to continue to develop themselves as coaches, to shape and create the most effective and supportive training environments where young people can explore their potential in the Athletics, whilst juggling the pressures of school, multi-sport commitments and transitioning to adulthood."
Want to find out more about coaching? Click here.