Commonwealth Games 2022: Introducing Our Throws Athletes
24/07/2022 00:00, In Blog / Track & Field / Commonwealth Games /
This years 2022 Commonwealth Games in Birmingham kick off in less than a week! Welsh Athletics are proud to introduce the throws athletes who will be making their way to Birmingham later this month represent Team Wales and compete in the throws events.
---

From: Bridgend
Event: Discus
Coach: Ryan Spencer-Jones
Club: Cardiff Athletics
Triple Paralympic Champion Aled Davies is throwing everything he's got to compete for Team Wales at the Commonwealth Games this summer.
He won gold in the F42 discus at London 2012, the F42 shot putt at Rio 2016 and the F63 shot putt at Tokyo 2020. But it's back to the discus if Davies wants to compete in Birmingham:
"I've been a professional shot putter solely since 2016, dabbling in discus but it (discus) was my first athletics event, it's where my heart lies. I'm back training and feeling good," Davies told Team Wales.
From a sporty family, he was a keen sportsman from a young age, representing Wales at swimming as a child and racking up multiple podium finishes at the IWAS World Junior Championships.
Aled celebrating Shot Put Gold at the 2016 Paralympics.
In 2005, he was invited by Disability Sport Wales to try out athletics with a group of elite Paralympians and picked up a shot putt and discus for the first time. Finally, feeling like he'd found the level playing field he'd been striving for, the sky really was the limit for Aled.
He has gone on to become a triple world champion and three-times Paralympic gold medallist.
Outside of athletics, Davies has taken part in the Channel 4 TV series Celebrity SAS: Who dares wins (series 3). He is also father to a two-year-old daughter.
Aled will compete in the F42-44/F61-64 Discus Final on Wednesday 3rd August.
---

From: Bangor, lives in Cardiff
Event: Hammer
Coach: Carys Parry
Club: Liverpool Harriers
It was at the Manchester 2002 Commonwealth Games that Osian Jones was first inspired to represent Wales:
"My parents took me to watch the Games in Manchester. It was the first time I had ever seen an athletics competition and I fell in love with the sport. I knew from that moment that I wanted to be an athlete and represent Wales at the Commonwealth Games."
Selected for Birmingham, this will be his third Commonwealth Games, having represented Wales at Glasgow 2014 and Gold Coast 2018.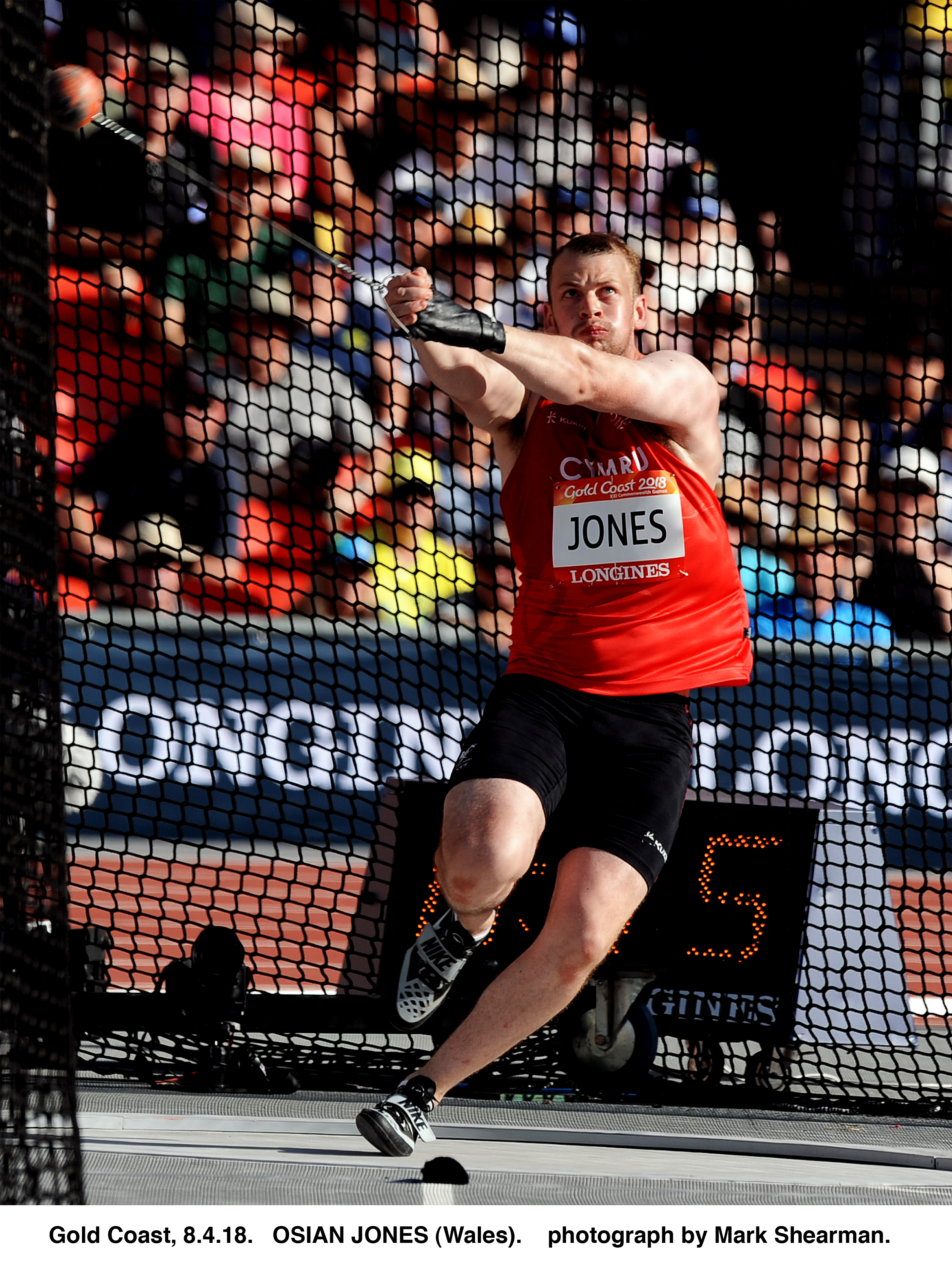 Osian competing in the Hammer at the 2018 Commonwealth Games.
After completed a Masters in Pharmacy, Jones moved to Cardiff and started working with five times Commonwealth Games legend Carys Parry. And in 2017, he broke the Welsh record which had stood for 33 years. He became the first Welshman to throw more than 70m.
The hammer thrower was born in Bangor and joined the Menai Track and Field Club:
"My love for the sport meant I dabbled in most events, with the hurdles and hammer being my favourites."
Osian competes in the Hammer Throw Qualifying Round on Thursday 4th August, with the Final on Saturday 6th August.
---

From: Welshpool
Event: Shot putt
Coach: Ryan Spencer-Jones
Club: Birchfield Harriers
From a small town with a big ambition, Welshpool's Adele Nicoll has certainly got drive. After representing Britain in the bobsleigh at the 2022 Winter Olympics in Beijing, she is now gearing up for her next challenge: the Commonwealth Games.
The shot putter can now pack her bags for Birmingham, following her selection by Team Wales:
"I've won a silver medal in bobsleigh at the World Cup and I've been to an Olympic Games but one of my proudest moments has got to be that day when I first threw the Commonwealth Games A standard."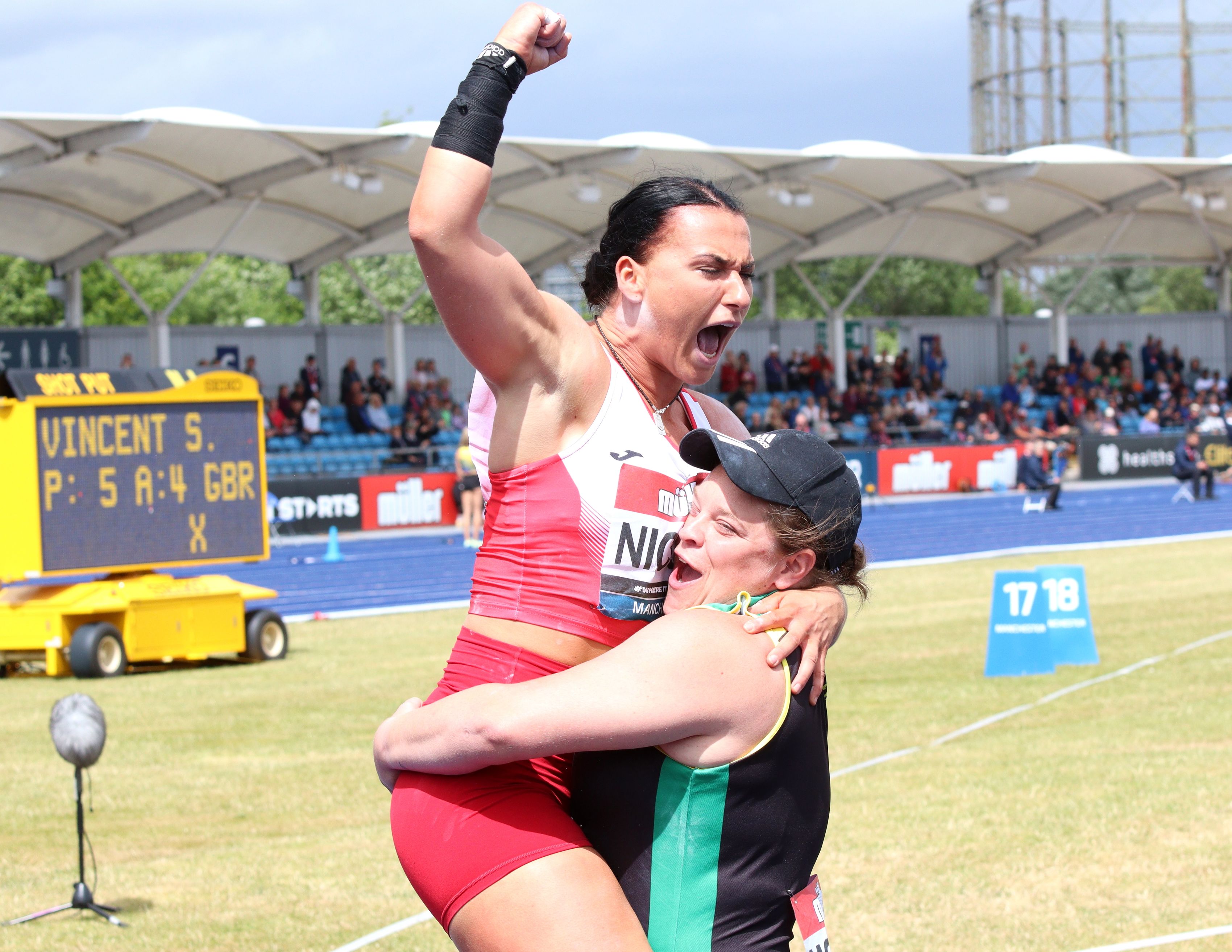 Adele celebrates Shot Put victory at the 2022 British Championships. Owen Morgan.
She is also aiming to make a return to the Winter Olympics in 2026 – but this time as a bobsleigh driver. The 25-year-old jetted off to the United States earlier this year, putting herself through bobsleigh driving school in Lake Placid:
"My life goal is to do the Winter Olympics in 2026 as a bobsleigh driver, a summer Olympics in the shot putt and then a third sport internationally or professionally before I retire. I don't know what that third sport is but it will be something power related. The obvious route is rugby but I'm really leaning towards doing some sort of martial arts potentially MMA or UFC. That would be my third and final sport."
Adele competes in the Shot Final Wednesday 3rd August.
---

From: Deeside
Event: Hammer
Coach: Kevin Robinson
Club: Deeside
Being bullied at school led Amber Simpson to athletics. Bullied for her appearance, for being tall and for being strong, her step-dad decided to buy her a brand new pair of running shoes.
Discovering running, she also found drive and determination. And the times she was running was when she was at her happiest during a dark period in her life. She soon decided to try a local athletics club and, as soon as she spotted the group throwing on the infield, she switched events.

She started devouring YouTube videos of hammer throwing, glued to the screen, with her step-dad beside her. She describes him as one of the most influential people in her life:

"My step-dad — he pushed me every single day. He's seen me at my worst and still managed to help push me through any adversity I faced. There were clearly times when I wanted to just give up, whether it was due to something physical in the sport or emotionally from the constant bullying. I can honestly say he saved me. And that's no exaggeration."

Her persistence paid off and she was rocketing up the European Junior rankings. Soon, American colleges came calling with scholarships and she is now a college athlete in Memphis.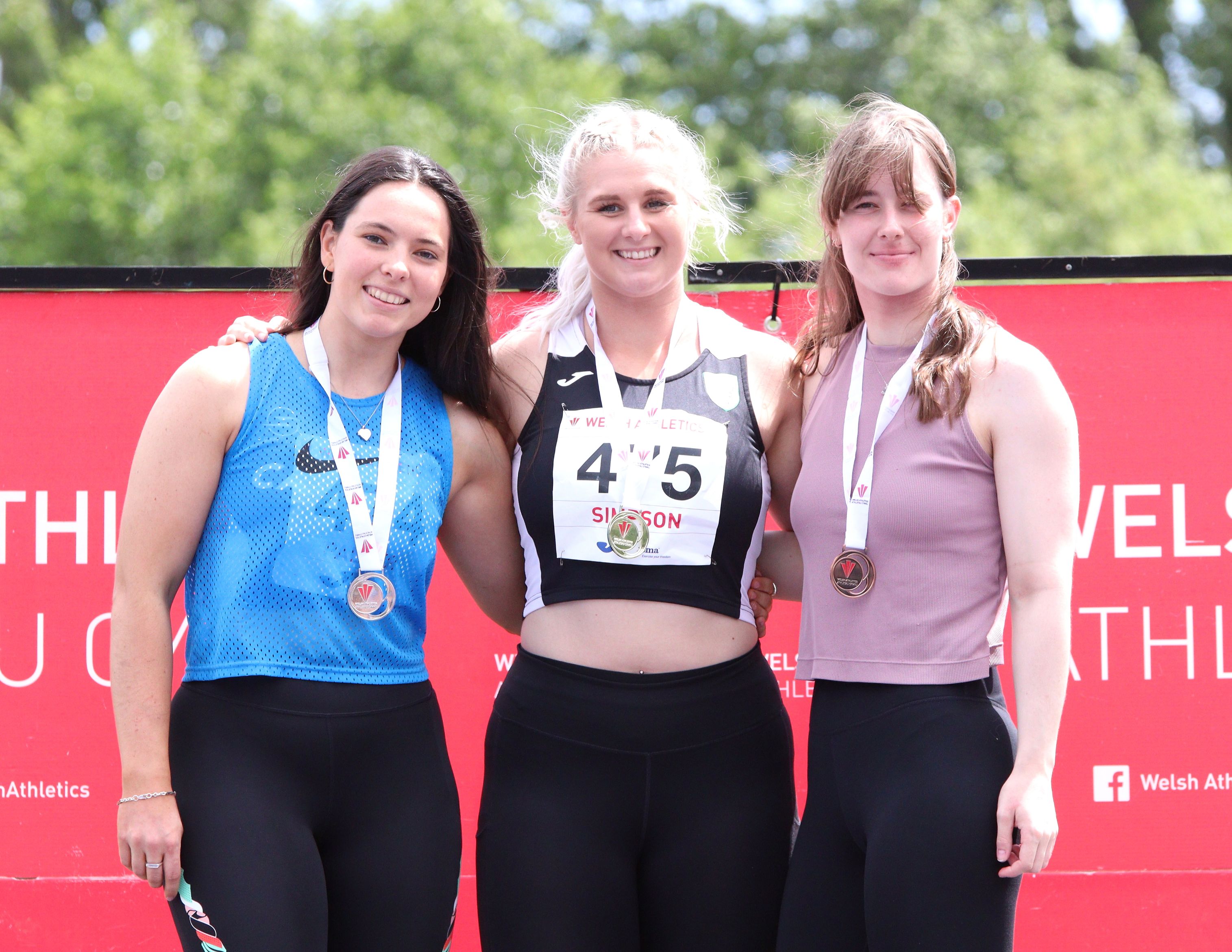 Amber celebrates Hammer Gold at the 2022 Welsh Championships. Owen Morgan.

From being bullied to landing a scholarship offer in the States to being selected to represent Wales at the Commonwealth Games, Simpson now wants to be a role model for young women.

"I feel like a lot of people quit before they even try. That's especially the case when people are picking on you or making fun of the way you look. It can be so hard to stay driven in those sorts of situations. I want to help empower other women to know they can rise above the physical and emotional abuse from bullying."
Amber competes in the Hammer Throw on Saturday 6th August
---
From: Swansea, lives in Cardiff
Event: F44 Discus
Coach: Nathan Stephens
Club: Disability Sport Wales
Ospreys rugby player turned Paralympic discus thrower Harrison Walsh from Swansea has been named as part of Team Wales' athletics contingent competing at the Commonwealth Games this summer.
Walsh spent his youth climbing the Welsh rugby ranks. A professional rugby player for the Ospreys, the prop had played for Wales' under 16s, 18s and had been selected for the under 20s. But his dreams were dashed in a career-ending injury at the age of 18 in 2015.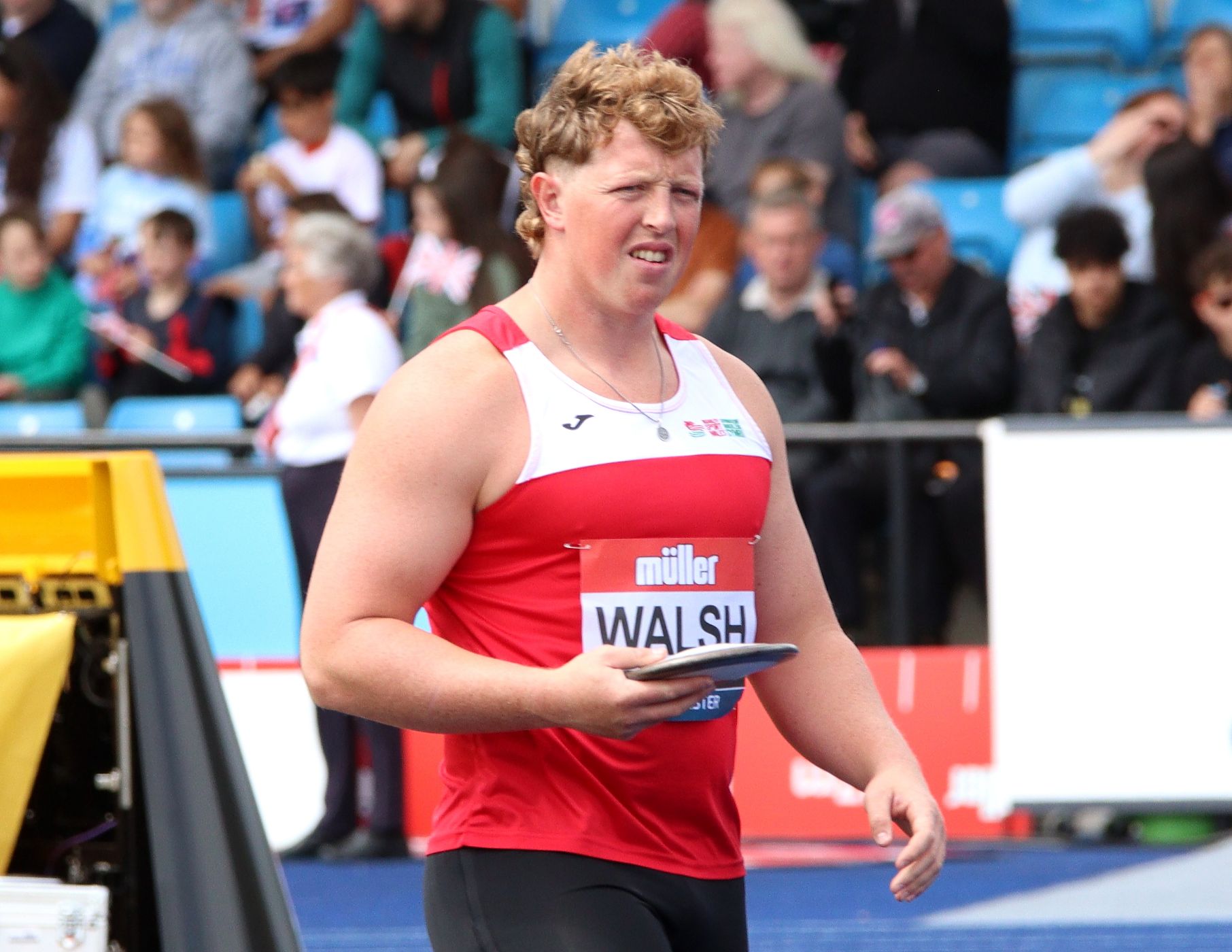 Harrison competing at this years British Championships. Owen Morgan.

But since discovering athletics, Walsh has won bronze at the European Championships in the discus and holds the world record in the shot. And after just four years of training, he was selected for the Tokyo Paralympics:
"My time in rugby was cut short so I didn't achieve my success in but I feel it is bubbling now and that my time is coming. I love throwing. Athletics has given me so much; it's the best thing to ever happen to me. If I could only say to that scared 18-year-old, you'll find a real passion and you'll be ok."
Walsh is also a keen artist and his work has recently featured in an exhibition at London's Zari Gallery:
"My work is in pen and ink and I tend to sketch when I'm away at training camps. It was a bit surreal to be part of an exhibition but I felt really honoured to be part of it."
Harrison competes in the F42-44 / F61-64 Discus Final on Wednesday 3rd August
---
From: Caerphilly, lives in Cardiff
Event: Hammer
Coach: Adrian Palmer
Club: Cardiff Athletics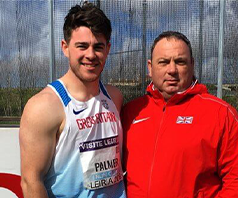 Jac wth his Father and Coach Adrian
Jac used to have a lucrative grass cutting business to support my athletics between the ages of 15 and 20, but now currently working as a biomechanist at Cardiff Met. Jac grew up in Caerphilly and attended Ysgol Gyfun Cwm Rhymni secondary school. He cites Paul Jensen as his first coach, and is now coached by his dad, where he has had a very succesful year, throwing a new personal best and a Commonwealth Games Nomination Standard.
Jac competes in the Hammer Throw Qualifying Round on Thursday 4th August, with the Final on Saturday 6th August.
---
From: Bedford, lives in London
Event: F63 Discus
Coach: Ryan Spencer-Jones
Club: Disability Sport Wales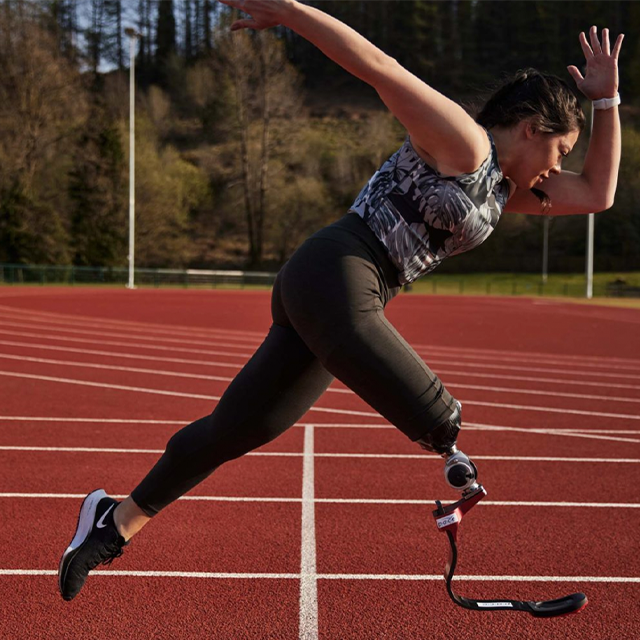 Julie in sprint mode
Incredibly, Julie Rogers – who is based in London – competed at the London 2012 Paralympic Games in seated volleyball at the age of 13.
Switching to athletics after London 2012, she became one of the fastest female Paralympic sprinters in the UK, climbing to the world's top five in the T42 rankings:
"The opportunity to apply my power from sprints to the discuss throw was as exciting one when Commonwealth Games presented the event for my classification."
Julie competes in the F42-44/F61-64 Discus Final on Thursday 4th August.
---