Commonwealth Games 2022: Introducing our Race Walkers
26/07/2022 00:00, In Blog / Track & Field / Commonwealth Games /
This years Commonwealth Games in Birmingham starts this week! Welsh Athletics are proud to introduce the race walkers who will be making their way to Birmingham to represent Team Wales and compete in the 10,000m race walk.
---

From: Taffs Well, Cardiff
Event: Racewalking
Coach: Andi Drake
Club: Cardiff AAC

Four years ago, Bethan Davies won bronze at the 2018 Commonwealth Games in the Gold Coast and she's now hoping to make a return to the podium for Team Wales in Birmingham this summer:
"Representing Wales at the 2018 Commonwealth Games meant more to me and my family than we ever imagined. Pulling on the red vest of Wales really was a sense of pride like no other."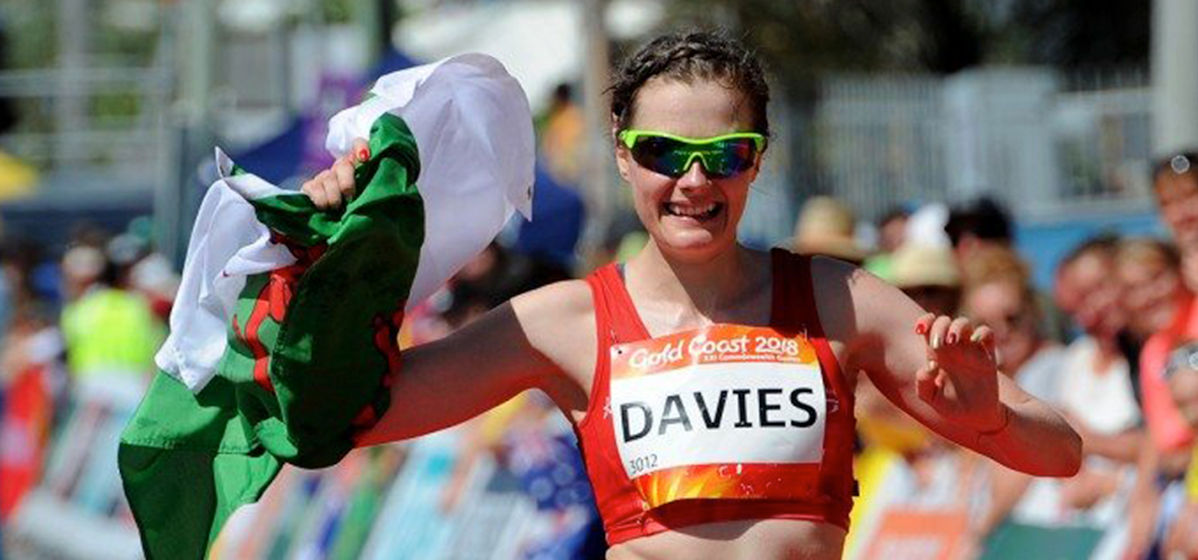 Bethan celebrating Bronze at the 2018 Commonwealth Games.

Things will be a little different this year. Commonwealth Games organisers have opted to make the racewalk a track-based 10,000m as opposed to a 20k or 35k.
Davies started out as a cross-country runner. Not getting picked for her secondary school team in Year 7 made her more determined than ever to succeed. Two years later, she was walking for Wales.
Davies is currently ranked no 1 in Britain over the 35k distance. She is a keen knitter and collects teapots.
Bethan will compete in the 10,000m Race Walk on Saturday 6th August.
---

From: near Haverfordwest, Pembrokeshire
Event: 10,000m Racewalk
Coach: Chris Jones/ Pete Freeman
Club: Pembrokshire Harriers

Pembrokeshire racewalker Heather Lewis, 28, can't wait for the Commonwealth Games in Birmingham – because, for once, her family – who run a farm and adventure park – will be able to come and watch.
Heather competing at the British Championships
Lewis made her Commonwealth Games debut on the Gold Coast in 2018, finishing seventh. Passionate about her sport, she says:
"Racewalking is a bit unique and different but then so am I! I got into it through Pembrokeshire Harriers. My club asked if I'd do the racewalk for a local club event. I said yes because it would help the club win points. I ended up having a great time. It turned out that I had a natural technique."
Career highlights to date include earning a Great Britain vest at the 2018 European Championships in Berlin and becoming British 20km Champion in 2021.
Heather will compete in the 10,000m Race Walk on Saturday 6th August.