Busy weekend of development activity
25/03/2019 00:00, In Track & Field /
National Relay squad, Day 3, NIAC [Saturday]
After a successful indoor season with a host of individual PBs, Wales' top senior and junior sprinters came together for the third time this winter to continue the process of team and skill building. National Sprints & Relay lead, Neil Wheeler, delivered the session Glyn Hawkes, Dave Norton and Jason Quirke.
.The session was supported by Sport Wales staff, with analyst Carys Jones leading testing of acceleration over 30m, athletes took part in workshops on nutrition with Felicity Hares and on managing behaviour around team selections with Chris Beaumont. Thanks to all the athletes, coaches and staff who made it another positive and productive day.
Throws development day, NIAC [Sunday]
A national throws day led by Ryan Spencer Jones and Rob Eales took place outside at NIAC with 15 invited athletes8 Personal coaches attending - the best uptake so far.
The day involved an open morning throws session – promoting conversation and engagement from coaches across the events, and an afternoon Pilates/Yoga session - content here.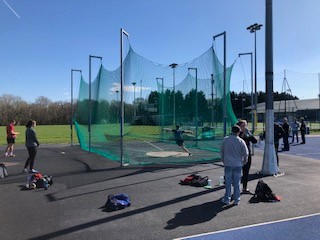 Open Javelin open training session, Swansea [Saturday]
There was another good turnout at the final event of the winter series with 9 athletes and 1 coach in attendance.
We closed the open session with a mini competition in which 4 of the athletes threw PBs . We would like to thank all the athletes and their parents who attended and the coaches ,we hope to be able to offer the same next winter.

Richard Tidball
Jumps day, NIAC [Saturday]
Long Jump and High Jump development sessions took place in NIAC on Saturday organised by National Jumps Coordinator, Stephen Bailey.
There was also another edition of the ever-popular LiRF course delivered in Swansea by Chris Moss & Fyn Corcoran.