Amber Simpson breaking Welsh records for fun!
07/07/2023 00:00, In Blog / Club Notice Board /
It's been the perfect start to a new season for Welsh hammer thrower Amber Simpson. Since representing Wales at the Birmingham Commonwealth Games almost a year ago, Amber has been breaking Welsh Records just for fun.
Athletics is a real family affair in the Simpson family, with her dad Gareth also being her coach when she is in the UK.
Amber shared:
"I started athletics when I was in high school, I wanted to join a gym, but I was too young. So, someone recommended the local athletics club to me. I started running, and while I was dying running around the track, I would always look at the people throwing in the middle of the field, and I thought I would give it a go.

"The next night I went and tried throwing and the rest was history! Soon after I started working with my discus coach, John Parkin and later he introduced me to hammer throwing."
In 2019, Amber moved to America to study at Memphis University and had to get used to a new way of life and training. After making the move to America, Amber had her eyes set on making the Welsh team for the Birmingham 2022 Commonwealth Games.
"Moving to America was definitely a culture shock. I was worried about leaving my family and friends, and working with a new coach, especially since I was working so closely with my dad. Although it was scary, I was also so excited and was the best decision I have ever made."
Amber Simpson and Father/Coach Gareth Simpson pictured at the 2023 Welsh Senior & U15 Championships.
Amber was selected to represent Wales at the Birmingham 2022 Commonwealth Games in the hammer throw, in what was a once in a lifetime moment.
"Birmingham was my first experience at a high-level competition. And what made this so special to me was that I was able to represent Wales. I was so honoured to represent my home country and it meant something extra special since it was in the UK."
Amber qualified for the final and finished in fifth place throwing a distance of 66.52m.
"One moment I cannot forget was my first throw in the qualifiers round. For what felt like minutes to me, was only actually seconds, I entered the circle and realised that there were thousands of people watching me and everything I had worked for boiled down to this very moment.

"I had never been exposed to a moment like this. I just told myself that I had to trust myself, and I delivered. Having my parents there to support me was a highlight, my teammates and the staff were brilliant as well. It was great sharing this memory with them."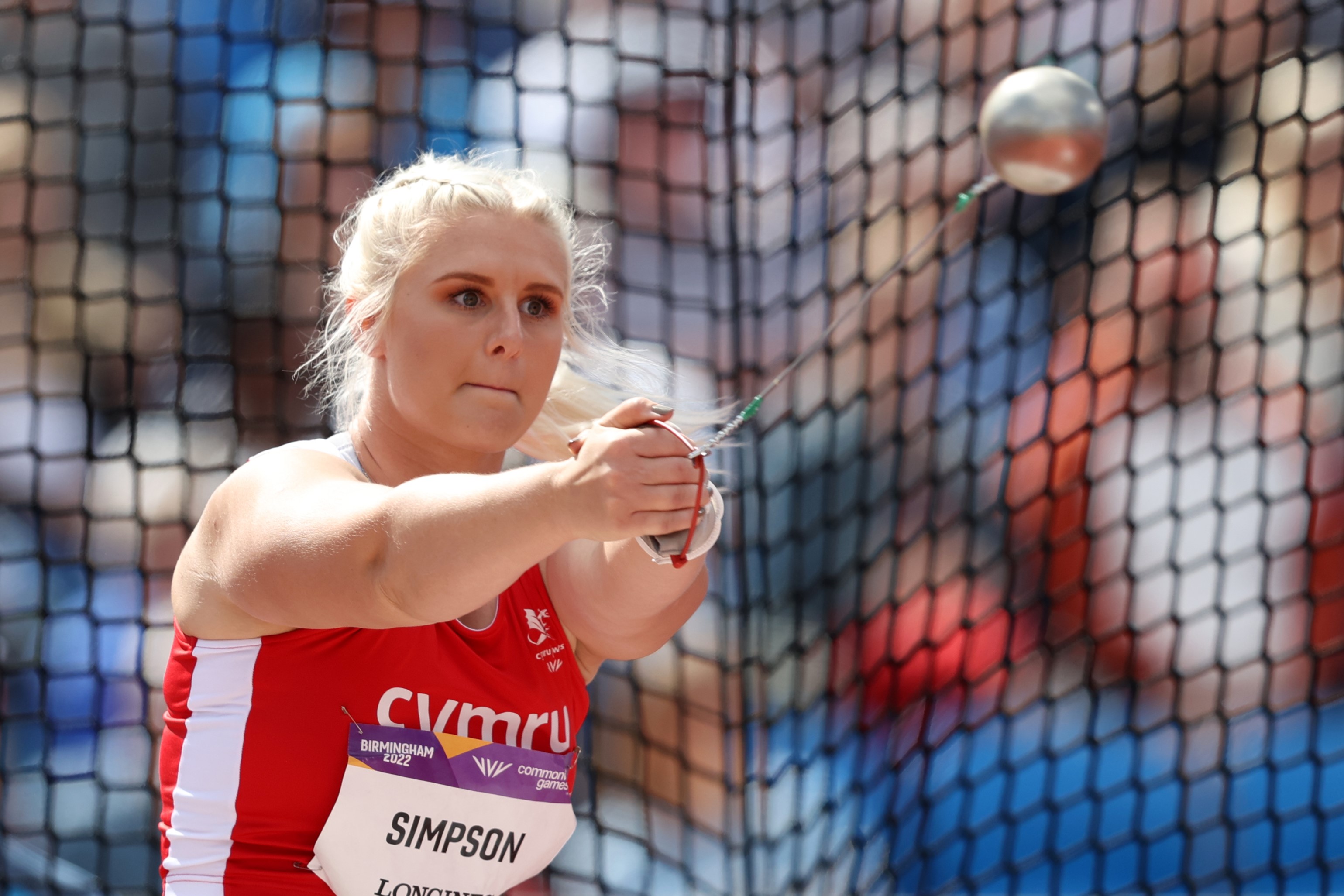 Amber Simpson in action at the 2022 Birmingham Commonwealth Games.
Amber has had an incredible start to her outdoor season, having broken three Welsh records since January.
"Training has been going very well, I have gone back to basics and have built a solid foundation to push for the rest of my long season.

Breaking the Welsh record multiple times already this season, along with my school record and conference record has been thrilling. I have always strived to keep improving for myself, anything that I achieve with it, is an extra bonus, for which I am so thankful."
Amber threw a distance of 67.08m earlier this year in March to break the Welsh hammer record. A record that had stood since 2014. Since March, Amber has been pushing closer to reaching a huge distance of 70m.
"My next big goal is to push for 70 metres. Once I am done with my American season, I aim to keep the pace and have a great season in the UK, while working with coach and dad Gareth Simpson!"
After retaining her Welsh title just a few weeks ago, Amber will be in action at this weekend's UK Athletics Championships in Manchester where she is hoping to continue to push for 70m throw.
Don't miss out on what is set to be a great weekend of Athletics! Read the weekend preview here!