2023 UK Athletics Championships Round-up
10/07/2023 00:00, In Blog / Track & Field /
It was a great weekend in Manchester for the 2023 UK Athletics Championships, which saw 5 Welsh medals, a Welsh Record, and a number of personal bests.
Jeremiah Azu became the fastest Welshman of all time, running 10.08 in the 100m heats to break Christian Malcolm's record. Adele Nicoll reclaimed her British shot put title, Heather Warner took the 5000m race walk title whilst Bethan Davies finished in silver position, Melissa Courtney-Bryant took bronze in the women's 1500m and Patrick Swan equaled last year's performance to take bronze.
Day 1
Jeremiah Azu stole the headlines as he broke Christian Malcolm's 22-year-old Welsh 100m record on the first day of the UK Athletics Championships in Manchester.
The Cardiff sprinter blasted his way to the title of Wales' fastest man as he clocked 10.08 finishing just behind British record holder Zharnel Hughes in the 100m semi-final where both men exchanged stares in the closing stages.
Azu's time lowered the existing record of 10.11 set in Edmonton, Canada, back in 2001 by Christian Malcolm, who was watching from the stands in the home straight.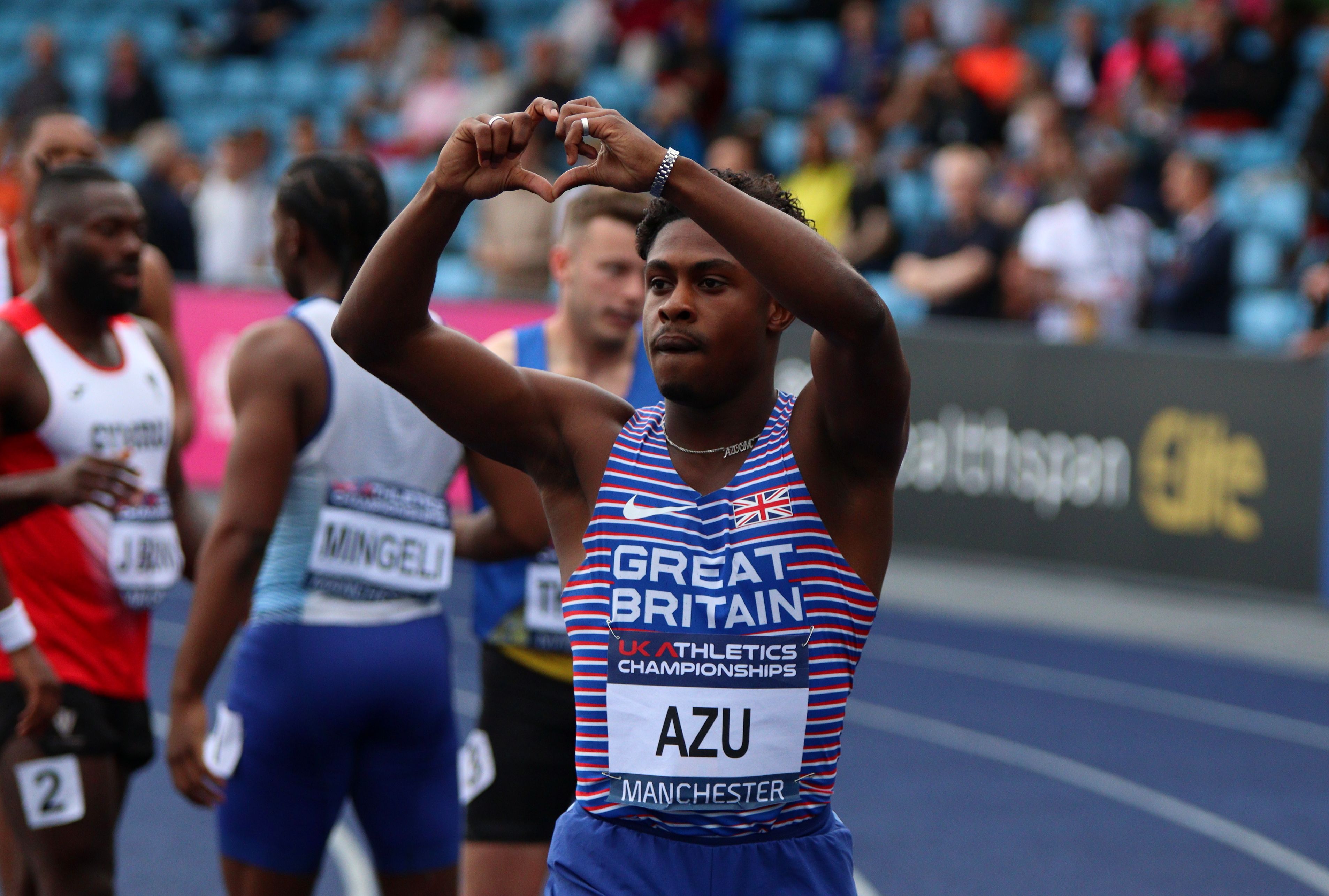 Jeremiah Azu celebrates breaking the Welsh Record.
However, it turned out to be a bittersweet day for the Cardiff sprinter as he finished fourth in a dramatic 100m final.
As if the prospect of a showdown between reigning champion Azu and Hughes wasn't enough, the skies over Manchester darkened then flashed with lightening as the heavens opened just before the gun.
In horrendous conditions Hughes powered away from the rest of the field in the closing stages to take the crown in 10.03 ahead of Reece Prescod and Eugene Amo Dadzie.
Azu crossed the line in 10.28 before falling to the sodden track clutching his leg in pain. After receiving attention the young sprinter was thankfully able to walk from the arena.
Azu may have missed out on a place on the podium but there was a Welsh medal to celebrate on the first day of the championships.
Fresh from his win at the Welsh Senior Championships two weeks ago, Patrick Swan was competing in the men's shot put final.
The Cornwall AC athlete, who won bronze at this event last year and at the UK indoor champs earlier this year, matched those achievements with another bronze medal here.
Swan threw a best of 17.59 in the second round to ensure his place on the medal rostrum.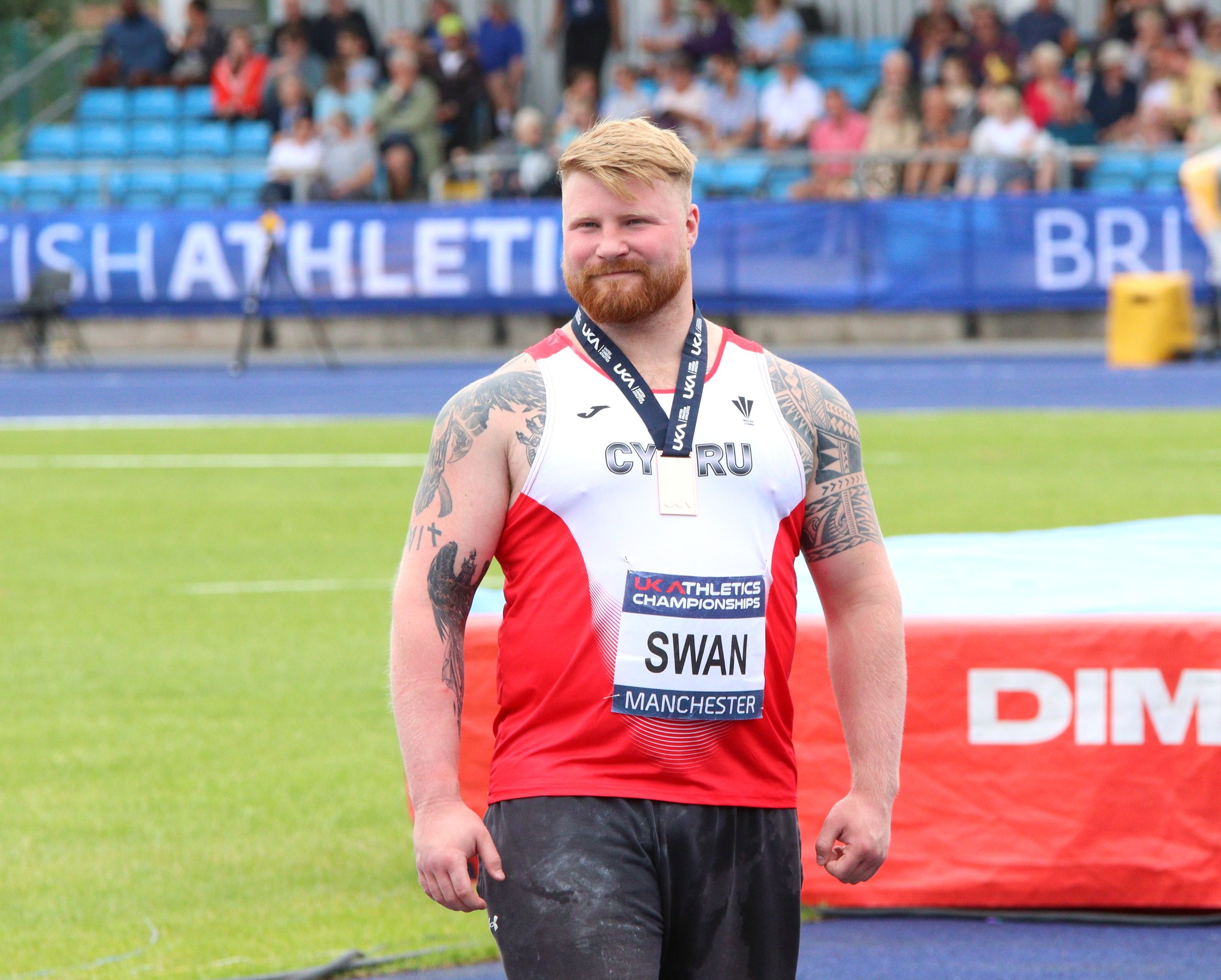 Patrick Swan celebrates winning bronze in the Men's Shot Put.
There was further Welsh success in the 1500m heats which saw World Championships hopeful Melissa Courtney-Bryant start her campaign to reach Budapest.
The 2018 Commonwealth Games bronze medallist, who has the World Championship qualifying time, cruised into Sunday's final with an impressive display which saw her win her heat in a time of 4:15.61.
The men's 1500m heats saw Piers Copeland and James Heneghan also flying the flag.
Both joined Courtney in Sunday's finals with Copeland doing so by winning his heat in equally comfortable fashion, clocking 3:47.55 ahead of the much-fancied Neil Gourley.
Fellow Pontypridd Roadent Heneghan won through by virtue of finishing fourth in his much faster heat in a time of 3:42.93.
The men's and women's 400m saw Swansea Harriers brother and sister Joe and Hannah Brier, who had won their respective titles over the distance at the Welsh Championships, taking to the track.
Joe confidently booked his place in Sunday's final with a dominant display in his heat, which he won in 46.78.
Hannah, running in a stacked heat, bowed out as she finished sixth in 54.99. Olympian Seren Bundy-Davies, of Trafford AC, just missed out on qualification as she finished fourth in her heat in 52.94.
Earlier in the day, the championship got off to a busy start for the Welsh contingent with a number of athletes involved in the men's 100m heats where Azu had been given a bye as one of the field's fastest men this year.
Unfortunately, Cardiff's Makoye Kampengele fell foul of the starters in the very first heat of the day when he was disqualified after a false start.
Club-mate Dewi Hammond fared better in the second heat as he finished second to Bracknell AC's Adam Thomas in a time of 10.51, which saw him through to the semi-finals. Swansea Harrier Daniel Beadsley finished fifth in the same heat in 10.67.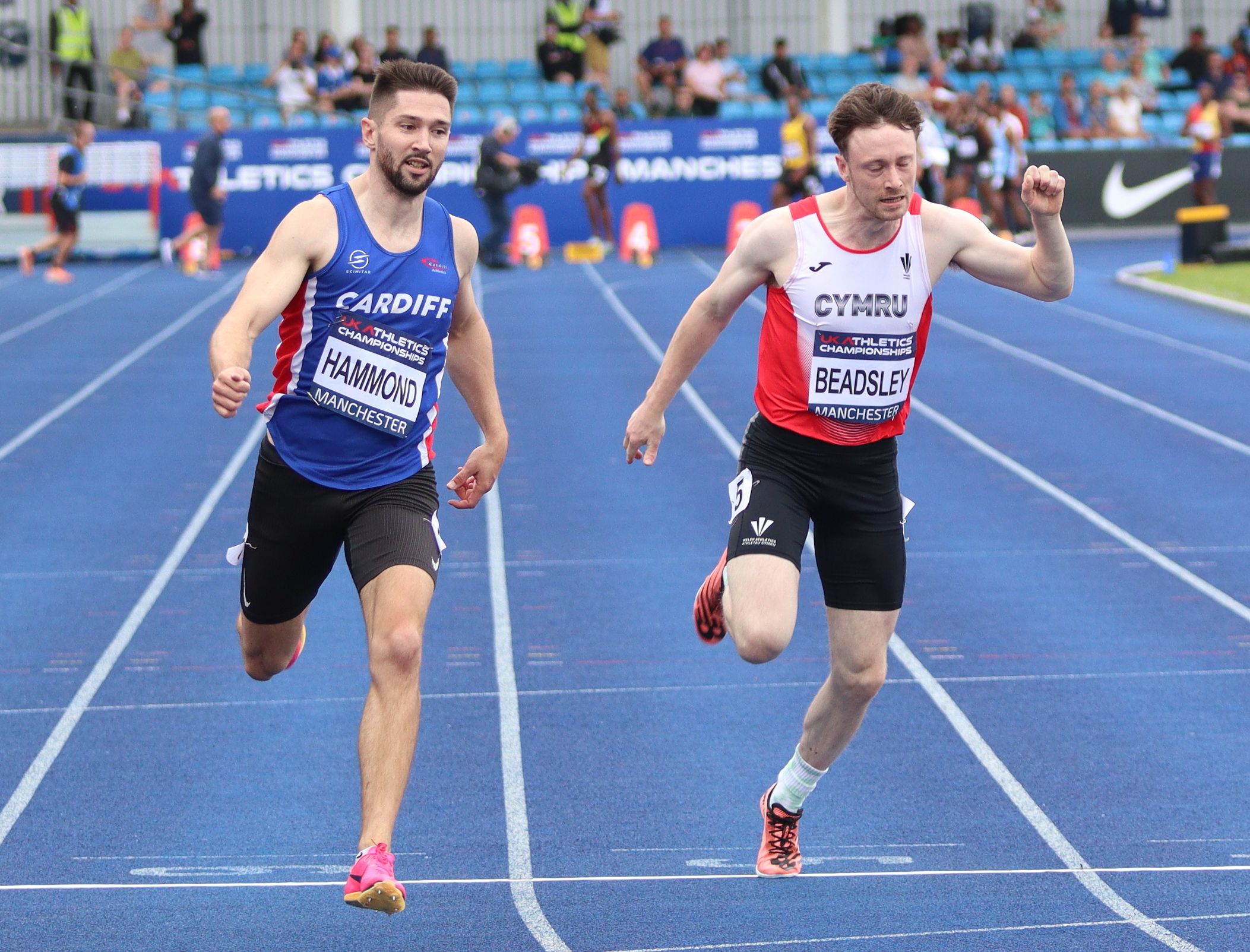 Dewi Hammond and Daniel Beadsley both cross the finish line in the 100m heats.
In the final heat, Cardiff's Josh Brown saw the athletes either side of him disqualified after a false start.
But despite the protests around him, Brown showed great composure to finish second to Daniel Offiah, of Thames Valley Harriers in 10.46 and book his place in the semi-finals.
Both Hammond and Brown's challenge would end in the semis where both finished seventh in their respective races. Hammond clocking 10.62 and Brown posting 10.70.
Staying with the short sprints, there were two Welsh multi-eventers in action in the women's 100m hurdles.
Cardiff athlete Lauren Evans finished fourth in her heat in a time of 14.04, while Cardiff Archer Grace Morgan also finished fourth in her heat, but produced an excellent run to clock a new personal best of 13.92.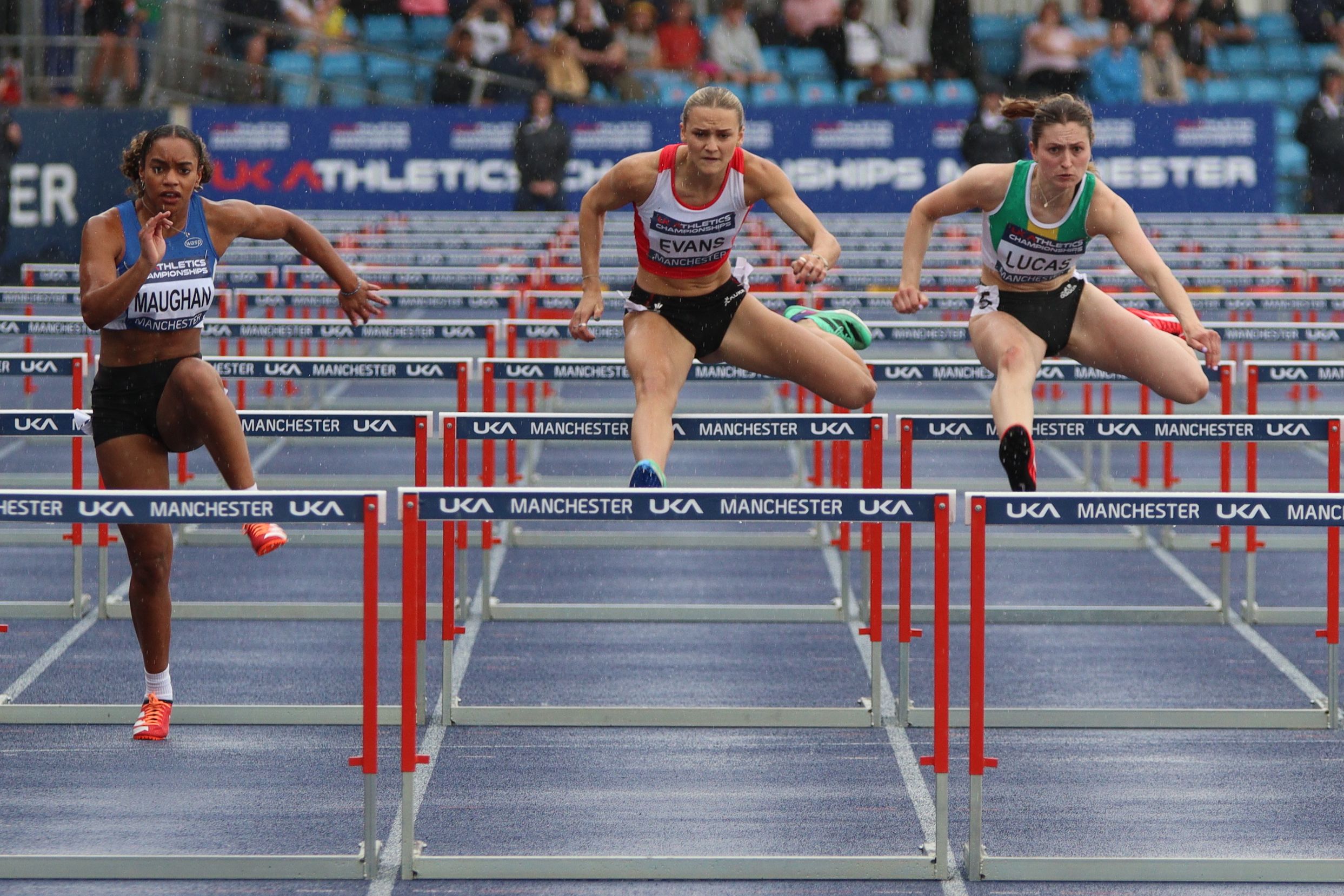 Lauren Evans competes in the 100m Hurdles.
Evans also competed in the women's high jump final where she finished tenth with a best height of 1.63m.
Back on the track, Rhiannon Hawker, of Cardiff AC and Bracknell AC's Rachel McClay were involved in a hugely competitive women's 800m heat which involved the likes of Tokyo Olympics silver medallist Keely Hodgkinson, who won in 2:01.16.
Hawker finished fourth in 2:05.27, while McClay recorded a season's best 2:05.95 to cross the line in fifth.
In the field, Commonwealth Games athlete Amber Simpson, of Wrexham AC, was hoping to continue the excellent form which has seen her extend her PB in the hammer to 68.13m this season.
Throwing first, the USA-based athlete launched the hammer out to 64.74m but was unable to improve on that as she eventually finished in fifth place.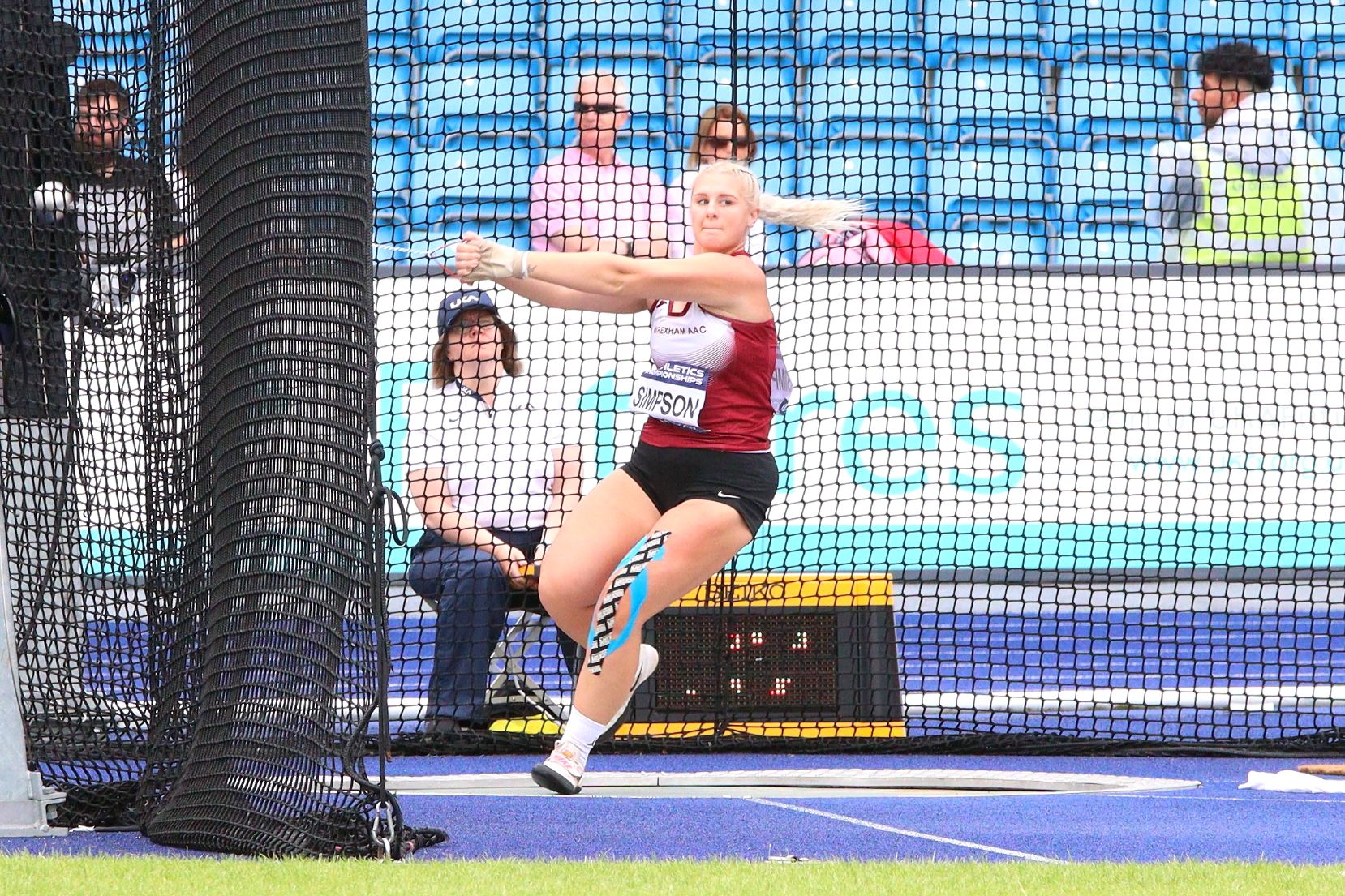 Amber Simpson competing in the women's hammer throw.
Another Welsh thrower taking part on Saturday was James Tomlinson in the men's discus.
The Birchfield Harrier, who set a new personal best of 57.30m last month, couldn't reproduce that kind of form as he finished fifth in a high class field with a best of 55.37m.
Following his bronze medal at the UK Indoor Championships earlier this year, Osian Perrin lined up in the 5,000m final.
The Menai Track and Field athlete ran a measured race and defied the worsening conditions towards the end of the first day to run a brilliant new PB of 13:47.07.
Day 2
Four more medals – including two golds - were won by Welsh athletes on day two of the UK Athletics Championships in Manchester on Sunday
Pembrokeshire Harrier Heather Warner and Cardiff's Bethan Davies made it a Welsh one-two in the 5000m race walk – the day's first track event.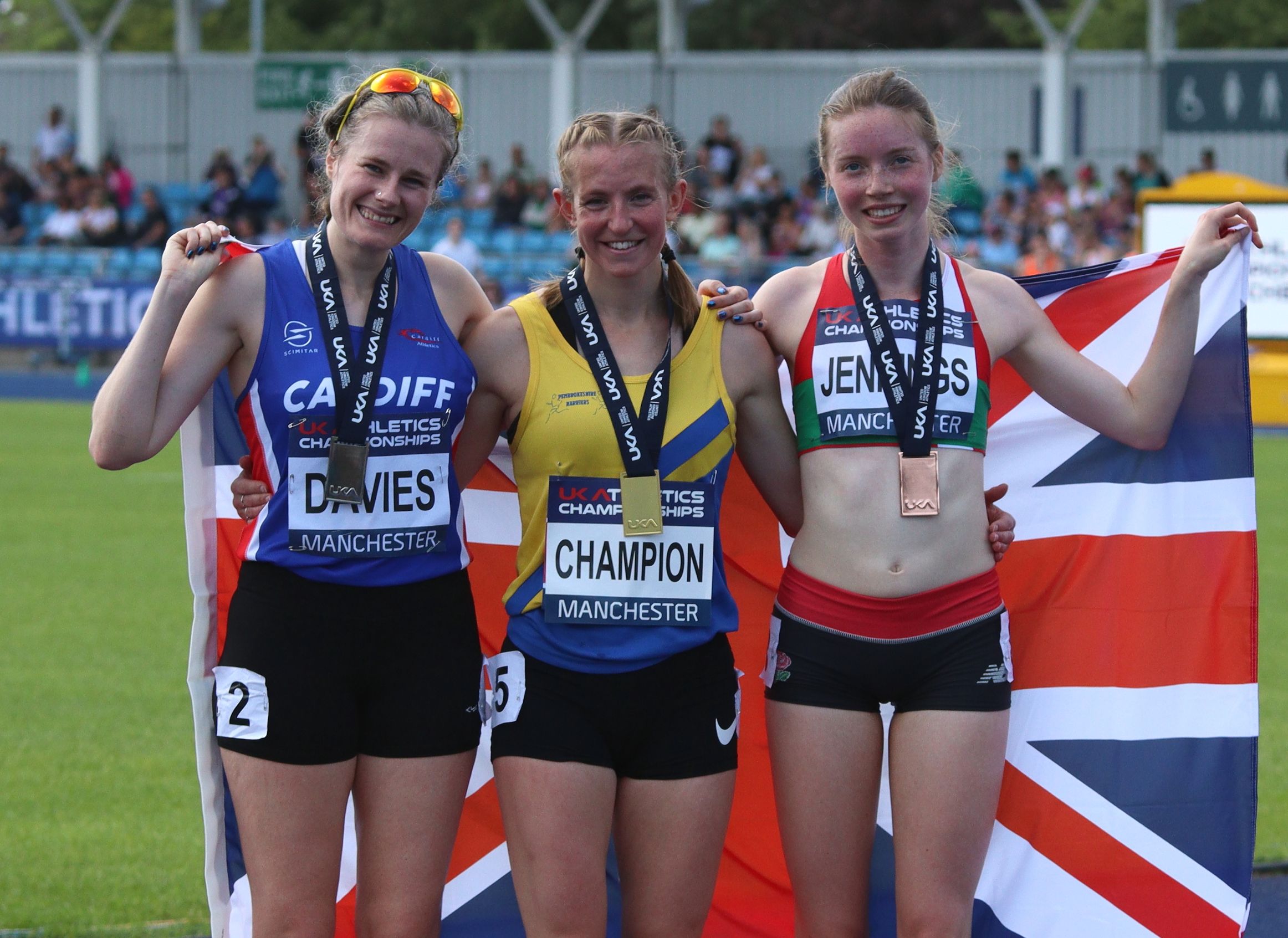 Heather Warner (Gold) & Bethan Davies (Silver) celebrate following the medal ceremony.
In fact, Wales narrowly missed out on a clean sweep on the podium as Gracie Griffiths missed out on a podium place after serving a time penalty in the "sin bin" during the second half of the race.
The Pembrokeshire Harrier had been in third place behind Warner, who also coaches her, and Davies before she fell foul of the judges.
When she emerged from the sin bin, Griffiths had fallen to fifth place and was unable to claw her way back into the medal placings.
The race had been dominated from the start by Warner who led from gun to tape to claim gold in a time of 22:22.50 ahead of her great friend and rival Davies, who clocked 22:58.85.
Warner said after the race: "It feels amazing to come back here (Manchester) and be British Champion again. I had a tough race last year with being disqualified, so it felt good to walk a good race today.
"The cards were shown quite early on, so it was a hard race to manage with being careful not to foul and achieving a good time. I would have loved to have pushed even more, but I had to play it tactically which I did."

Asked about her plans for the remainder of the season, Warner added: "I'm looking more towards the winter season at the moment. It feels good to finish on a high before we get the blocks back out for the winter."
Silver medallist Davies added: "It was a really good race, and to medal with my great friend Heather is a great feeling. It's great to come here (British Champs) especially for race walking as usually we are on the roads for longer distances. It's a great opportunity to showcase our sport.
"It was a good crowd today, they got behind all us athletes. I did set my PB in the rain actually, but I'm very glad the weather wasn't like yesterday, it looked horrible.

"I'm happy with where I'm at currently. I would love to get back to under 21 minutes. I'm aiming to do some 20k's in the winter."
Welsh gold was struck again in one of the first field events of the day as shot-putter Adele Nicoll defended the title she won at the same venue 12 months ago.
Nicoll obviously feels at home at the Manchester Regional Arena as she pretty much picked up from where she left off last year producing what turned out to be the winning effort of 17.26m in the second round.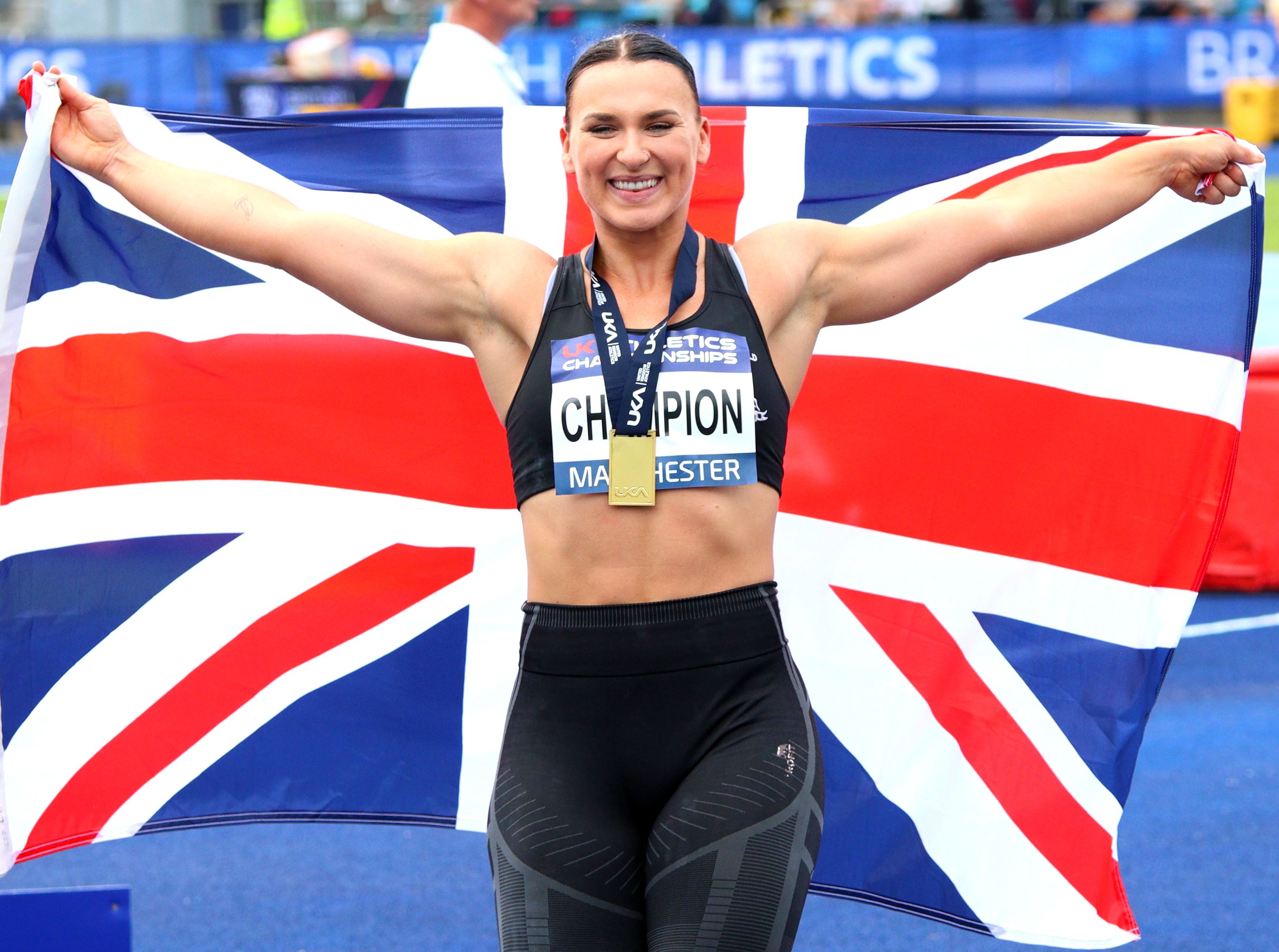 Adele Nicoll celebrates her Gold medal.
The Birchfield Harrier, who has ambitions to represent Great Britain in bobsleigh at the next winter Olympics, finished well ahead of second placed Ameila Strickler, who produced a best distance of 16.83m
A delighted Nicoll said afterwards: "I feel amazing as today means a lot after I made the decision to change my technique last year.
"I train for bobsleigh through the winter so then training starts in April for me. I have a lot to take away from today as this was my best throw with the new technique.

"I like to prove I can do whatever I put my mind to. I recently did a TV show "Go hard or Go home" and I was very committed to it."
The fourth Welsh athlete to step onto the medal podium was middle distance star Melissa Courtney Bryant.
The Poole AC runner was up against Olympic medallist Laura Muir in the 1500m final, but it was Herne Hill Harrier Katie Snowden who claimed gold ahead of the Scot, with Courtney-Bryant picking up bronze in 4:11.91.
All three athletes have the qualifying standard for the World Athletics Championships in Budapest, but only the top two on Sunday earned automatic places on the Great Britain team.
Courtney-Bryant must now wait to find out whether she will earn a third place on the team for the 1500m.
Melissa Courtney-Bryant celebrates Bronze.
Tom Wilcock came within a hair's breadth of claiming a fifth Welsh medal in the 110m hurdles.
The Northampton AC athlete ran a new personal best of 13.69 as he finished third in his heat to earn a fastest losers spot in the final.
Lining up in lane one, Wilcock ran a brilliant race to take another chunk off his PB to cross the line in 13.48, just 0.02 off the bronze medal time as Tade Ojora took gold.
Swansea Harrier Joe Brier was well-placed for much of the 400m final, but eventually finished fifth in 46.72 as Alex Haydock-Wilson took gold.
Pontypridd Roadents had two representatives in the shape of Piers Copeland and James Heneghan in the 1500m final, which was run in conditions reminiscent of the thunderstorms which hit the previous evening's 100m finals.
Heneghan made much of the early running but as the torrential rain worsened it was Giffnock North AC athlete Neil Gourley, who came through to take the title.
Copeland finished sixth in a time of 3:47.33, while Heneghan crossed the line in twelfth clocking 3:50.85.
James Heneghan leads the 1500m final.
Liverpool Harrier Osian Jones started his hammer competition in promising form with an opening throw of 67.22, but three no throws contributed to him not being able to improve his best and he finished in sixth place behind gold medal winner Jake Norris.
Wrexham AC's Tom Walley finished seventh in the pole vault where he cleared a best height of 4.70m.
Rebecca Chapman, of Cardiff Athletics, finished eighth in a high class long jump competition with a longest distance of 6.13m.
Hannah Brier and Hannah Longden were unable to progress past the heats in the 200m.
Swansea Harrier Brier finished third in her heat in a season's best time of 23.79, while Longden achieved a new PB of 23.69 to finish fourth in her race.
Brighton Phoenix endurance athlete failed to finish the 5000m final, which was won by Blackburn Harrier Jessica Warner-Judd.