Volunteer Coordinator Resources
Volunteer Coordinator Resources
VOLUNTEER RESOURCE PACK FOR CLUBS (Welsh Athletics)
This Resource Pack is for you, it provides role descriptions, ideas on how to recruit and where to recruit, as well as, how to reward and retain volunteers. As Volunteer Coordinator you will look at a strategy of how to implement these resources. If the resources are used with a clear and targeted approach, there is no reason that your campaign will not be successful.
Take a look at the Toolkit for Volunteer Coordinators from the Welsh sports sector Sport Wales - Club Solutions and WCVA (Wales Council for Voluntary Action).
A free useful e-learning module for a club Volunteer Coordinator 'Introduction to Volunteering in Sport: E-Learning module' (Sport Wales - Club Solutions).
The module is designed to help you take the first steps to improving the volunteer culture at your club. You'll learn top tips on creating a positive volunteering environment at your club, how you can recruit volunteers and keep them!
COFFEE CONNECT CHAT SERIES

The last 12 months have been challenging, therefore it is really important that throughout this time everyone prioritises their own mental well-being. To reconnect the Officials/Volunteers community during this period we are launching the Coffee Connect Chat series.
This series started with 'Time to Talk day' Thursday 4th February 2021
Topic: Mental well-being with Guest Speaker Georgia White, Mental Health professional that has a vast amount of experience in both public and private sector.
If you missed the repeated session at the Welsh Athletics virtual Officials/Volunteers Conference 2021 here is the presentation with audio - Officials & Volunteer Mental Well-being
The Officials/Volunteers well-being session covered promoting positive mental health - the benefits linked with volunteering, the importance of mental well-being, and relaxation techniques. The session included real examples throughout and highlighted resources to visit for further support.
OUR NEXT COFFEE CONNECT CHAT DROP IN
We welcome you to join us for a virtual coffee/tea and to interact with friends in the officials'/volunteers community.
Wednesday 31st March 2021 18:00 - 19:00pm
Register in advance for this meeting HERE
(After registering, you will receive a confirmation email containing information about joining the meeting).
This session has no key topic just an informal catch up opportunity.
Please get in touch with suggestions for future session topics officials@welshathletics.org
ALSO TAKE A LOOK AT THE OFFICIALS/VOLUNTEERS WELL-BEING CALENDAR FOR MARCH!

UPCOMING WORKSHOPS
Athletics announcer workshop
PRE-RECORDED ONLINE WORKSHOPS
Sunday 7th March 2021 saw the staging of the first-ever virtual Welsh Athletics Officials & Volunteers Conference, under the banner of the #Unite Conference Series. This conference was the first in the series. It was great to see almost 100 volunteers and club officials registered for the afternoon. The opportunity to network, connect and learn through a virtual medium was well received by those in attendance from across Wales and even outside of Wales engaging throughout the afternoon sessions. The afternoon saw over 65 delegates in attendance, making it the biggest officials' conference held to date.
Take a look at the news item of how the afternoon went - 'Conference summary - The first #Unite Virtual Officials & Volunteers Conference'
Pre-recorded content is now available for the following virtual workshops:
Presentation with Audio:
Presentation only for UKA T&F Officials Pathway Level 1-5 by Sue Maughan (UKA Level 4 Field Judge) & Geoff Wickens (UKA Level 4 Timekeeper).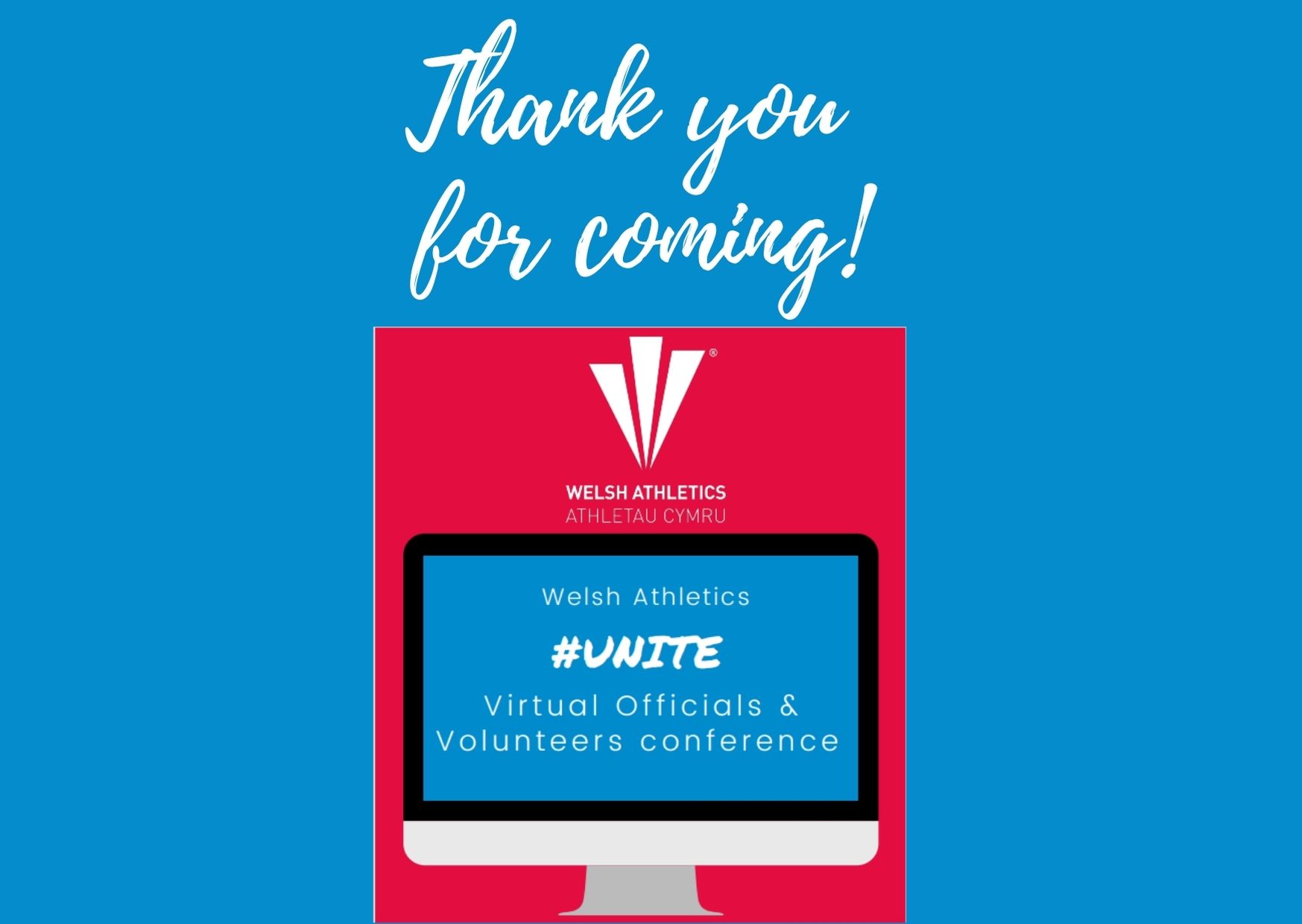 Club case studies
Menai Track & Field
During 2020, Menai Track & Field have actively been recruiting new officials and coaches during lockdown. They have successfully had 6 key volunteers come forward from varying backgrounds from a secondary school PE teacher, an outdoor activities officer, A level PE student as well as Bangor University students.
Recruiting volunteers – poster / social media / role descriptions
"The club have recently had six new volunteers from the recruiting process and one was a level 2 coach who retired and moved from a club in England to Anglesey. He is now one of the Regional Sprints coaches. It's exciting times at the club and it's welcoming news that the coaching team will be growing".
Volunteer retention – CPD courses fees covered / Mentoring / monthly meetings to listen to volunteers feedback / opinions. Welcome pack filled with info and resources.
Valuing volunteers – Awards / Kit / expenses / experience / team manager roles / message of thanks in newsletters and press releases.
"The club use external awards ceremonies to showcase the club volunteers. We have had officials and coaches shortlisted for national and regional awards including the Welsh Sports Awards".
Check out their eye catching club recruitment posters
Featured links
Useful pages within this section you may like to condsider visiting.