Development and Performance
Commonwealth Programme
WHAT IS THE COMMONWEALTH PROGRAMME?
This level of the pathway is for athletes with a focus on making the 2022 Commonwealth Games and has two tiers:
TIER 1: COMMONWEALTH GAMES ATHLETE supports senior athletes who are likely to represent Wales at the next Commonwealth Games with a probability of winning a medal or achieving a top-6 finish. These athletes are also likely to be GB internationals challenging for major games places.
TIER 2: COMMONWEALTH GAMES POTENTIAL supports a range of senior athletes from those who will be challenging for Commonwealth Games selection, to those on the cusp of making finals and challenging for medals.
Direct Financial contribution to help with their individual athlete plan and coach development.
Funded training camps and international competition opportunities
Objective measures of technical and physical abilities to provide insight and interventions to enable development e.g. DEXA Scans, Bloods, Physiotherapy -subject to individual athlete plan
Multi-Disciplinary Team + review meetings based around individual athlete plans and integration with Personal Coach and NTDC
Organised training days and camps with education programme which ensures athletes & coaches are provided with the knowledge and tools to realise their potential.
Access to performance support services.
Access to performance training environments.
Tolerance tables for access to the Commonwealth Programme are presented below and are based a within ~5% of Commonwealth Games 'A' standard – a metric based on achieving a Top 6 performance.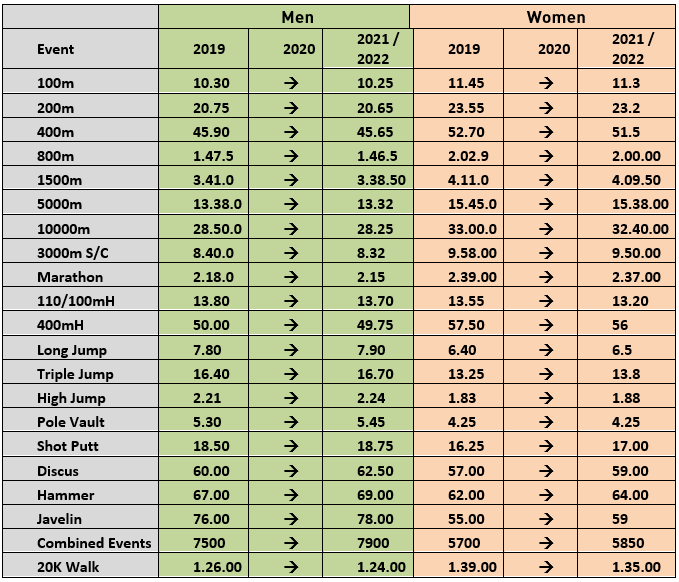 Featured links
Useful pages within this section you may like to consider visiting.