Road
Snowdonia Marathon Eryri
SATURDAY 29TH OCTOBER
START TIME: 10:30am
LOCATION: Llanberis, Gwynedd, North Wales, LL55 4UR
RACE ORGANISER CONTACT: snowdoniamarathon@btinternet.com
RACE WEBSITE: www.snowdoniamarathon.co.uk/
---
RACE DESCRIPTION
Race start time is 10.30am from just outside Llanberis. The route follows the A4086 and climbs to the top of the Llanberis Pass (Pen y Pass 1.100ft). Dropping down to the Pen Y Cwyryd junction, the race then follows the old road along to the campsite until it joins the A498. This 2km section is farm track, downhill, then the surface returns to the tarmac. There is a short, sharp uphill back up to the main road at the campsite. The route then continues to the Beddgelert (200ft) and then continues along the A4085 to Waunfawr. From here it is a rapid climb to about 1,200ft at Bwlch y Groes (a short length is unmetalled) and then downhill to the finish in Llanberis.
---
ADDITIONAL INFO
Venue facilities:The route has 12 feed stations.
Registration takes place in the Event Village in Llanberis where there are retail and food outlets, baggage storage and massage facilities.
---
COURSE MAP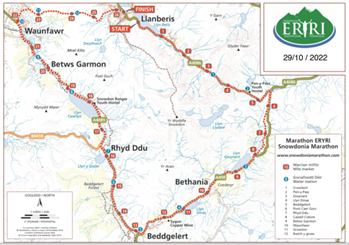 For more details on the event, please visit: www.snowdoniamarathon.co.uk/
Featured links
Useful pages within this section you may like to consider visiting.