Road
Broad Haven Xmas Pudding Run 2022
SUNDAY 27TH NOVEMBER
START TIME: 10:00
LOCATION: Broad haven Seafront, Broad Haven, Pembrokeshire, SA62 3JG
RACE ORGANISER CONTACT: xmaspuddingrun@hotmail.co.uk
RACE ORGANISER WEBSITE: www.xmaspuddingrun.co.uk/
ENTRY PRICES:
---
RACE DESCRIPTION
This is a festive 10km charity fun run in the beautiful coastal village of Broad Haven. There is the famous John Hart "best dressed runner" award for fancy dress efforts. There are also various distance Little Puds runs - which will take place on the beach!
This is the 10 year anniversary for the run, so the event should be more fun than ever! The run is hopefully going to go ahead as the full event this year (COVID-19 allowing) and the event is kindly sponsored by local businesses. All the money raised goes to local charities. The main charity is yet to be chosen this year. There will also be smaller donations to our nominated causes - the Friends of Broad Haven School, and Prostate Cymru.
This is a charity fundraiser, and the emphasis is on fun. There will be a Christmas Pudding for every finisher, a locally produced wooden medal - and of course the chance to win the highly coveted "Best Dressed Runner" Prize.
---
ADDITIONAL INFO
There will also be the Little Puds Run on the beach for children, organised by the Friends of Broad Haven School. Entry for this will be on the day and will cost £2.50 per child. All children will receive a wooden medal.
---
COURSE MAP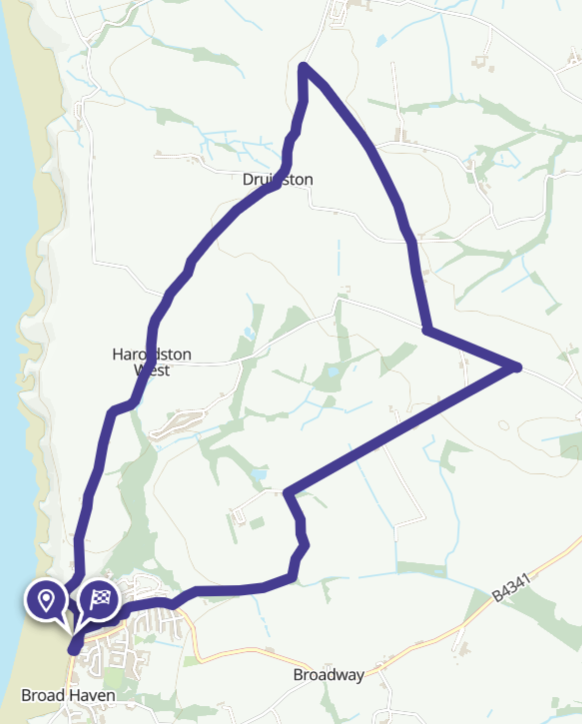 For more details on the event, please visit: www.xmaspuddingrun.co.uk/
Featured links
Useful pages within this section you may like to consider visiting.