Road
Abersoch 10K
SATURDAY 3 JUNE
START TIME: 10:30
LOCATION: Lon Pen Cei, Abersoch, LL53 7AP
RACE ORGANISER CONTACT: info@sensationgroup.com
RACE ORGANISER WEBSITE: www.abersochtriplecrown.com/
ENTRY PRICES: Affiliated: £23 Non-affiliated: £25
On the day: Affiliated: £25 Non-affiliated: £30
---
RACE DESCRIPTION
The Abersoch 10K is an exhilarating race with a memorable atmosphere in a most stunning part of the world. Selling out in advance every year the race starts in Abersoch's picturebook village and finishes along the golden sands of Abersoch's main beach. Live music & beach bar to help celebrate afterwards! Boasting an exciting exhilarating course the race takes place in the very popular and picturesque surf village of Abersoch, North Wales, with its narrow streets of bustling café's, pubs and trendy surf shops. The Henri Lloyd Abersoch 10K race kicks off by running through a street packed with spectators and takes in some sensational scenery as it winds its way over tracks and roads and up on to a spectacular viewpoint over Cardigan Bay, Bardsey Island and the dramatic Snowdonia mountain range.
---
ADDITIONAL INFORMATION
To ensure a spectacular end to this challenging race, worthy of its stunning backdrop, the 10K finishes on Abersoch's main beach where runners have to negotiate the groynes, battle both hard and soft sand before being welcomed by hoards of cheering spectators at the picturesque finish line. A professionally run race with a £1,000 prize fund. Prestigeous trophies and some nice product prizes as well as some superb bespoke zinc alloy race medals. It includes bibtag timing technology, good marshaling, clear kilometer markers as well as prominent start & finish lines, drink station at 5km & the finish, and a fantastic atmosphere at the finish.
---
COURSE MAP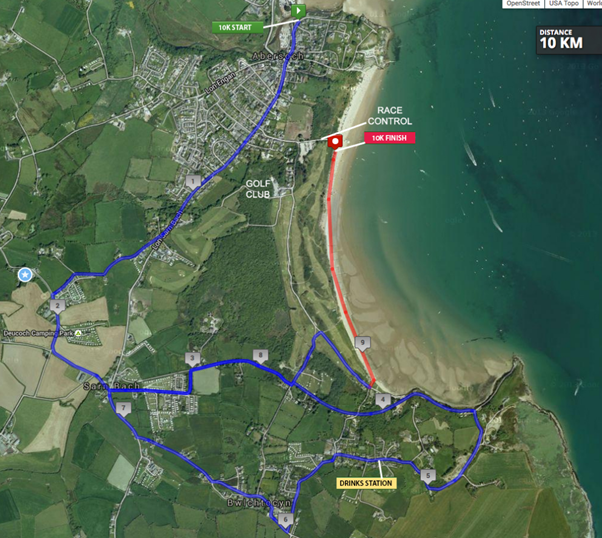 For more details on the event, please visit: www.abersochtriplecrown.com/
Featured links
Useful pages within this section you may like to consider visiting.