Regional Volunteer Awards
Regional Volunteer Awards
Following the conclusion of Volunteers' Week 2021, we launched the Welsh Athletics Regional Volunteer Awards to recognise and value the contribution made by active volunteers in club and regional activity across the four regions.
Eligibility: All volunteers who contribute positively to athletics in Wales.
Criteria: a nomination should demonstrate clearly why the contribution of a volunteer should be recognised.
Recipient has contributed to club and regional activity within the selection timeframe.
Recipient has shown commitment to own development through qualifications and training relevant to their role e.g. Welfare, Coaching, Officiating etc. and has used their knowledge and skills to positive effect in club/regional environments.
Recipient has promoted athletics opportunities in the region e.g. schools, community groups.

---

Each nomination must be a minimum of 150 words (maximum of 300 words). Limited to 1 nomination submitted per club each time. Nominations must be submitted via the Welsh Athletics Regional Volunteer Award nomination form.
We would encourage club Volunteer Coordinators to discuss their nomination with the club committee prior to sending the nomination in for the Regional Volunteer Award.
Nominations from clubs will then be forwarded to Zoe Holloway who will inform the Regional Council of the regional recipients. Regional recipients will receive a framed Regional Volunteer Award certificate!
Regional Awards will be presented at National Championships or club night. All regional recipient nominations will be considered by the Welsh Athletics National Awards panel to be considered for Volunteer of the Year.
All Regional Volunteer Award recipients for July 2021 & January 2022 will automatically be added into Commonwealth Games ticket ballot. Successful recipients drawn from the ballot will have tickets confirmed via email by Friday 24th June 2022. Each successful recipient selected will receive a pair of tickets to ONE athletics session. The Commonwealth Games Athletics competition schedule will take place at Alexander Stadium from Tuesday 2nd August - Sunday 7th August 2022. You have the chance to win a pair of tickets to 1 session ONLY this could by an AM or PM session. There will be no exchange of tickets for other sessions, and successful recipients cannot request tickets for specific sessions. Travel and accommodation expenses are not included, these must be organised and funded by the recipient.
Awards timeframe
Opening date Clubs to submit nominations by:
2023 2023
Neal Hockley (Eryri Harriers)
Owen Chesher (Maldwyn Harriers)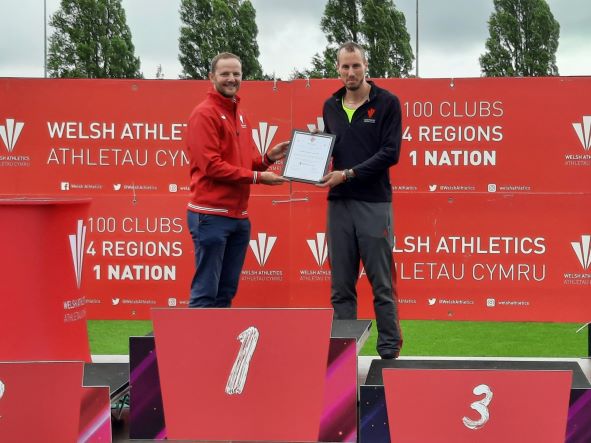 Liz Davies (Ogmore Phoenix Runners), Iwan Dowie (Cornelly Striders AC), Dai Dix (Swansea Harriers)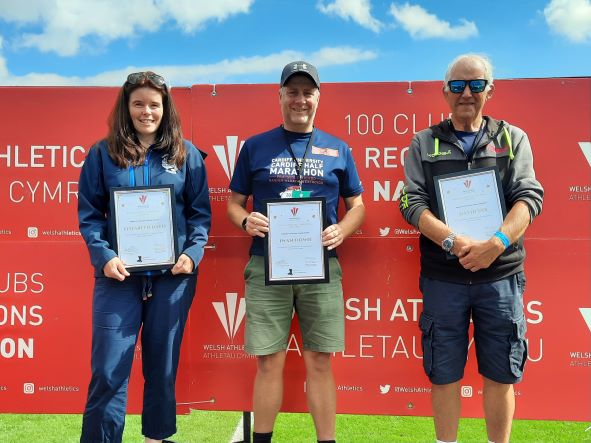 Stuart Davidson (Bridgend AC)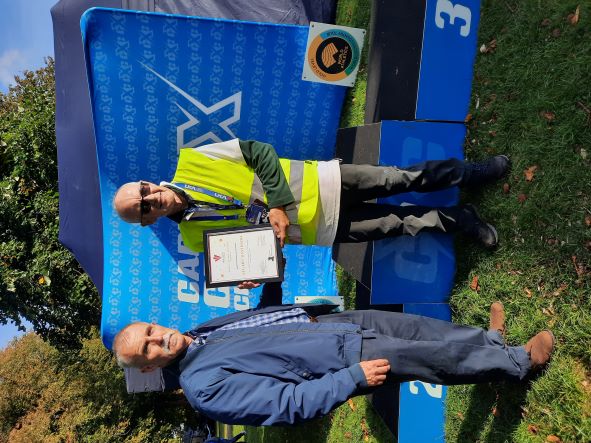 Chris Pratt (Ogmore Phoenix Runners)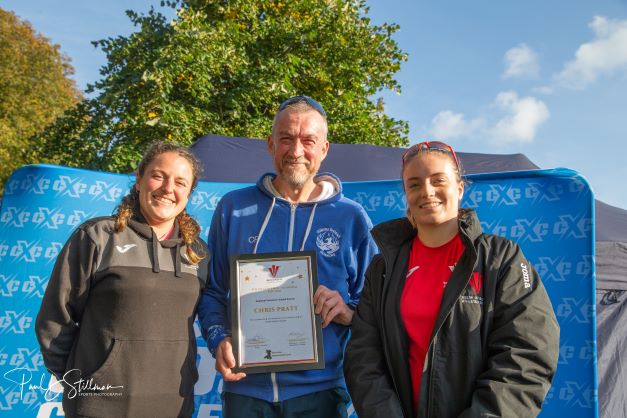 Martin Bell, Catherine Collins (Swansea Harriers), Dawne Meynell-Western (Rhondda Valley Runners)
Jamie Clode (Heath Massive runners)
Patricia Masterson (Menai T&F)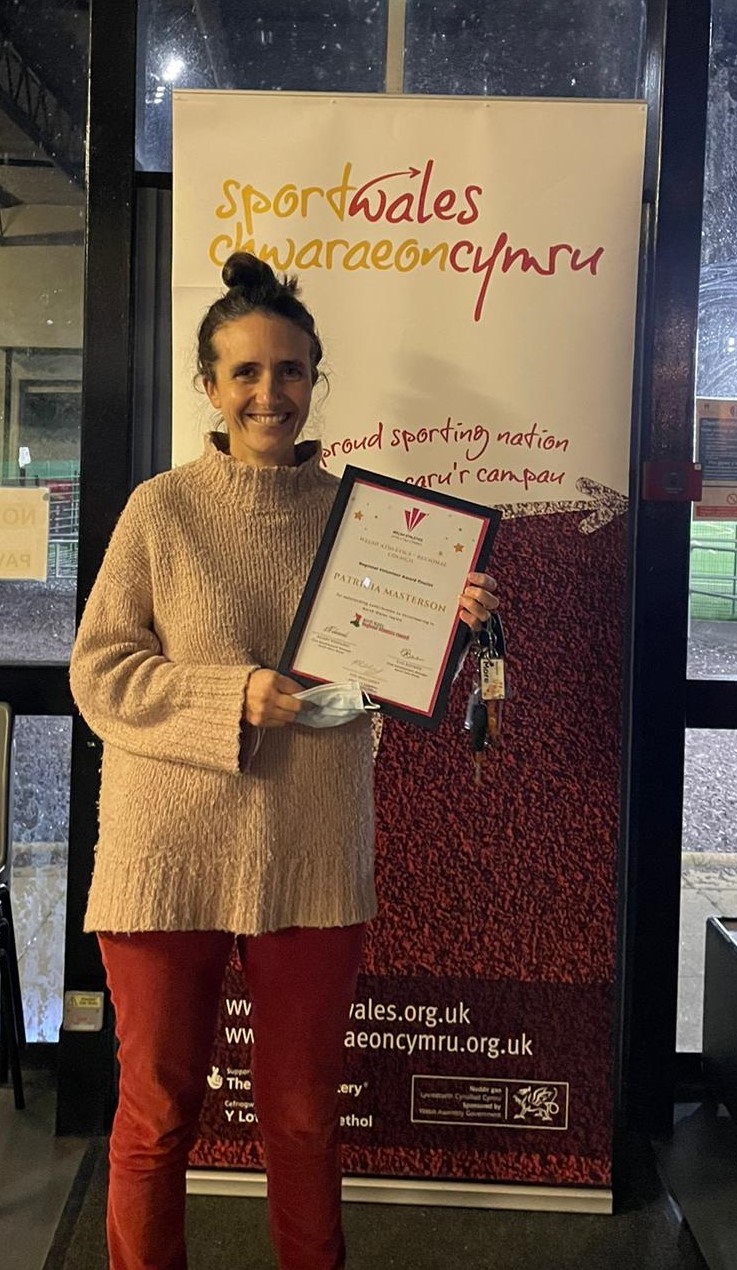 Sue Rodgers (Prestatyn Running Club)
Martyn & Jeanette Jenkins (Fairwater Runners Cwmbran)
| | | |
| --- | --- | --- |
| Haydn O Reilly | East | Builth & District Running Club |
| Colin Wilmott | East | Griffithstown Harriers |
| Wayne Griffiths | West | Pembrokeshire Harriers |
| Alun Parry | North | Prestatyn Running Club |
| John Messum | North | Menai Track & Field |
| Kevin Wyn Jones | North | Menai Track & Field |
| Gareth Jenkins | South | Ogmore Phoenix Runners |
Gareth Jenkins, Wayne Griffiths and Colin Wilmott were presented at the 2022 Welsh T&F Senior Championships in Cardiff.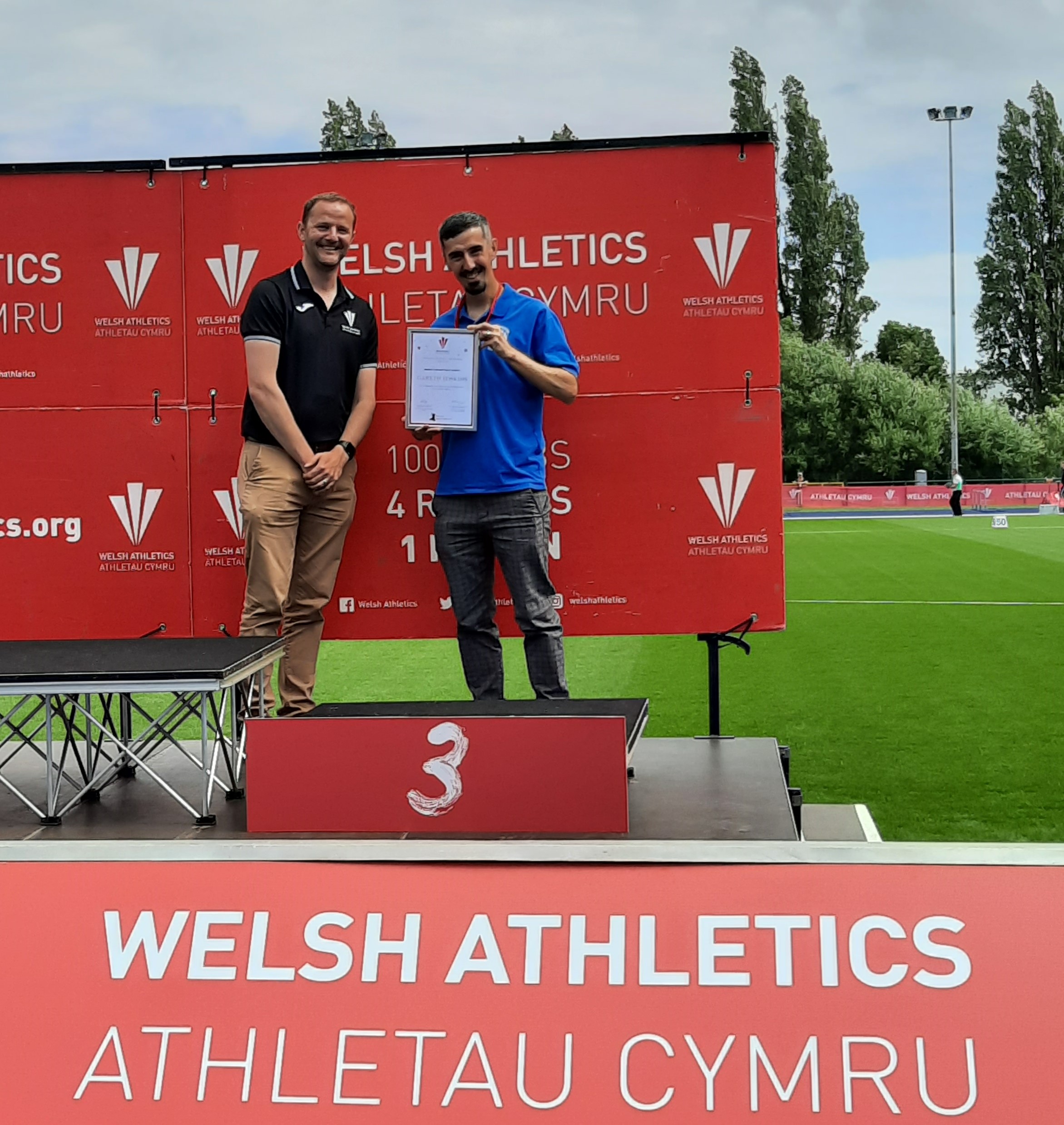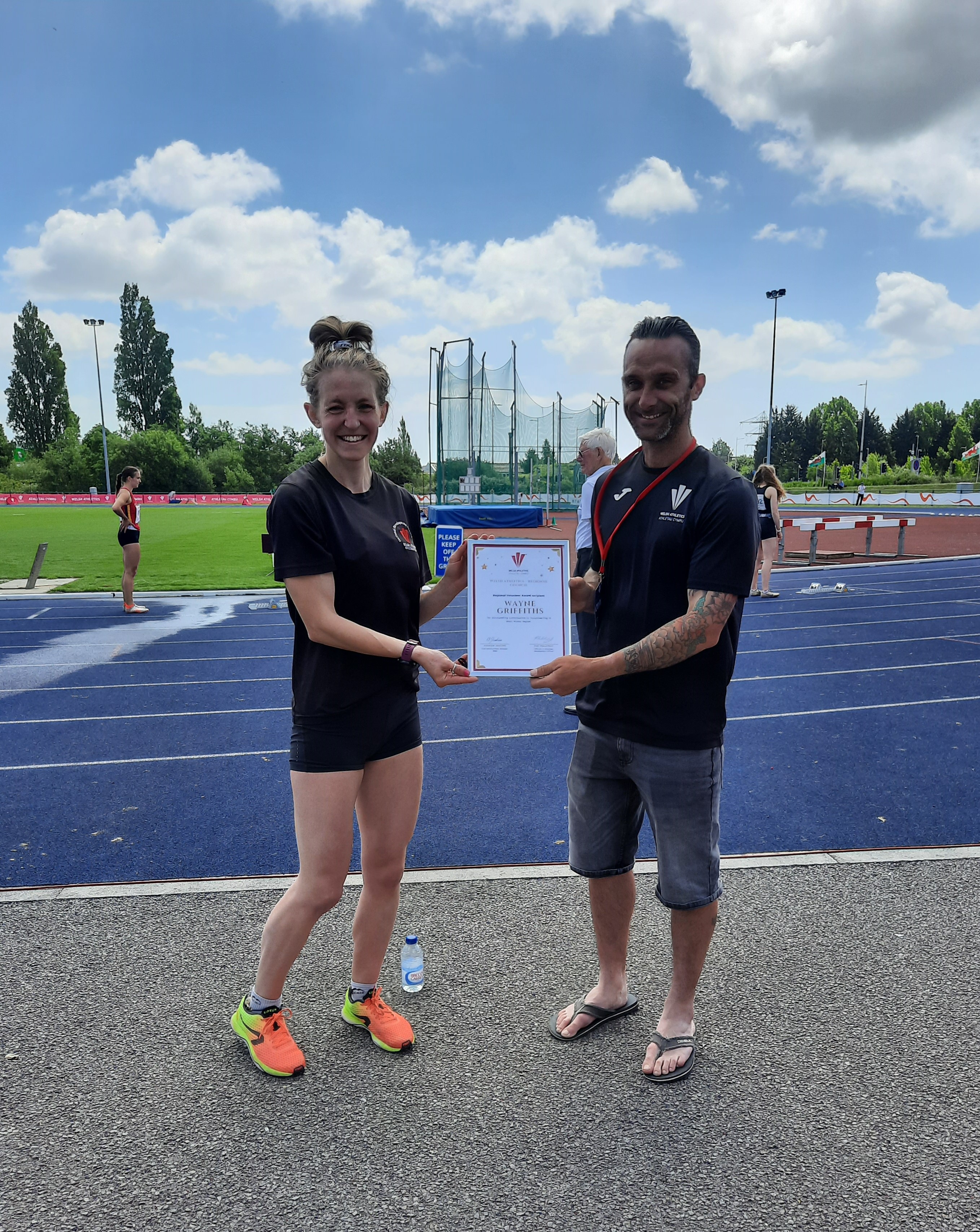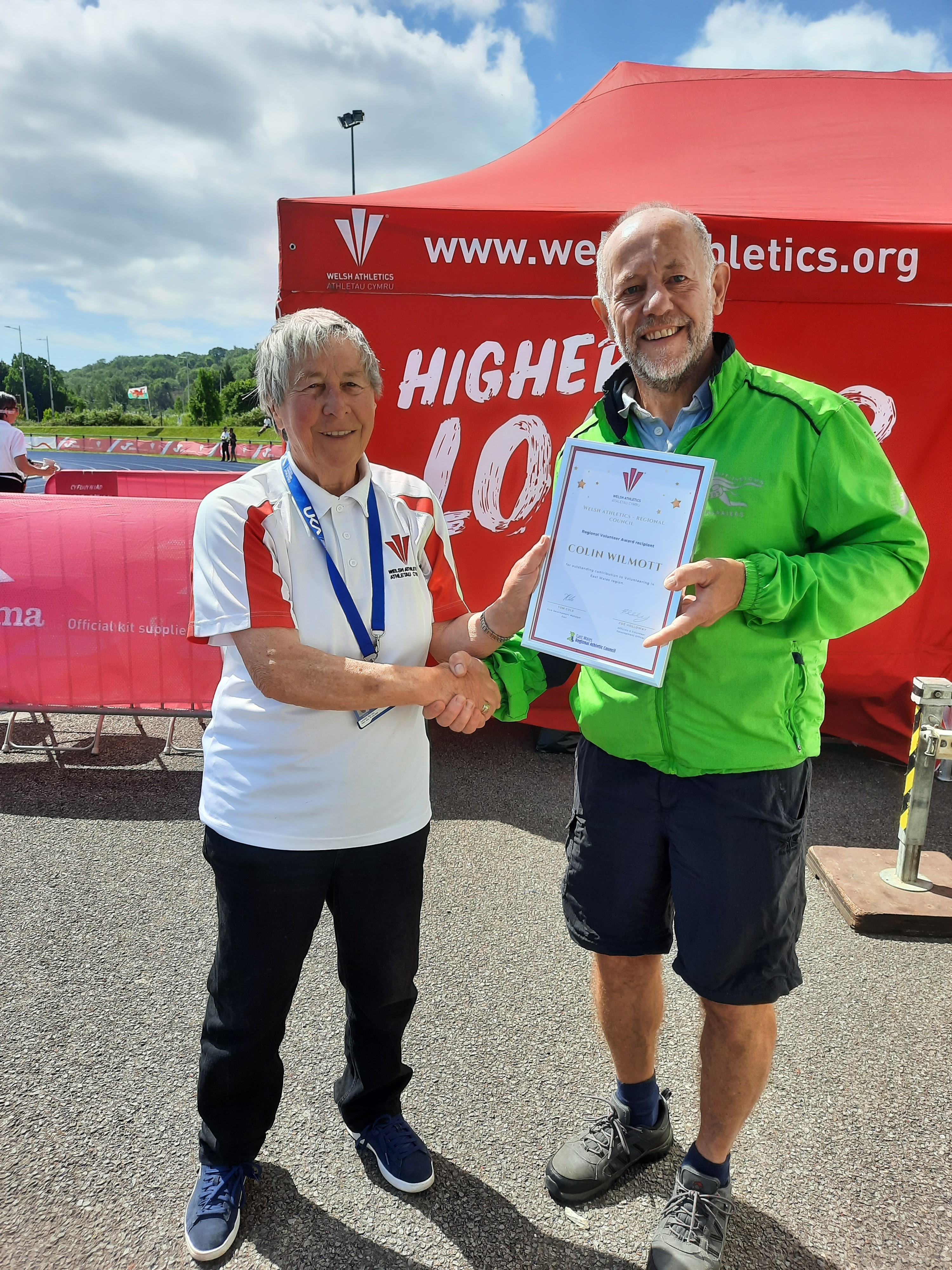 Featured links
Useful pages within this section you may like to consider visiting.