WSAA Award for Outstanding Performance
10/05/2022 00:00, In Blog / Track & Field / School News /
Every year at the Welsh Schools AA AGM, usually held in November, schools Districts make nominations for various awards, given to individuals for their performances over the school year September – July. At last year's AGM, it was agreed that no Cross Country (XC) awards should be given because there was little or no XC taking place because of Covid in the school year to July 2021.
Last summer, the Covid restrictions across the UK and the Irish Republic had eased to an extent that allowed for a Schools International Athletics Board (SIAB) Track & Field International event. It was England's turn to host the event but the timing of the lifting of restrictions precluded from being held, as usual in July.
The 4 SIAB countries, English Schools, Irish Schools, Scottish Schools and Welsh Schools, agreed to the event moving to late September, and to being held in Derby. Welsh Schools would usually hold our National Track & Field Championships at the beginning of July and use that as a means of selection for the SIAB event. As some athletes would have technically "left school" in July, and there had been very little competition up to July, Welsh Schools therefore agreed to cancel the National T & F Championships for 2021, but hold a "SIAB trial" instead; it was held at Brecon on Saturday 3rd July.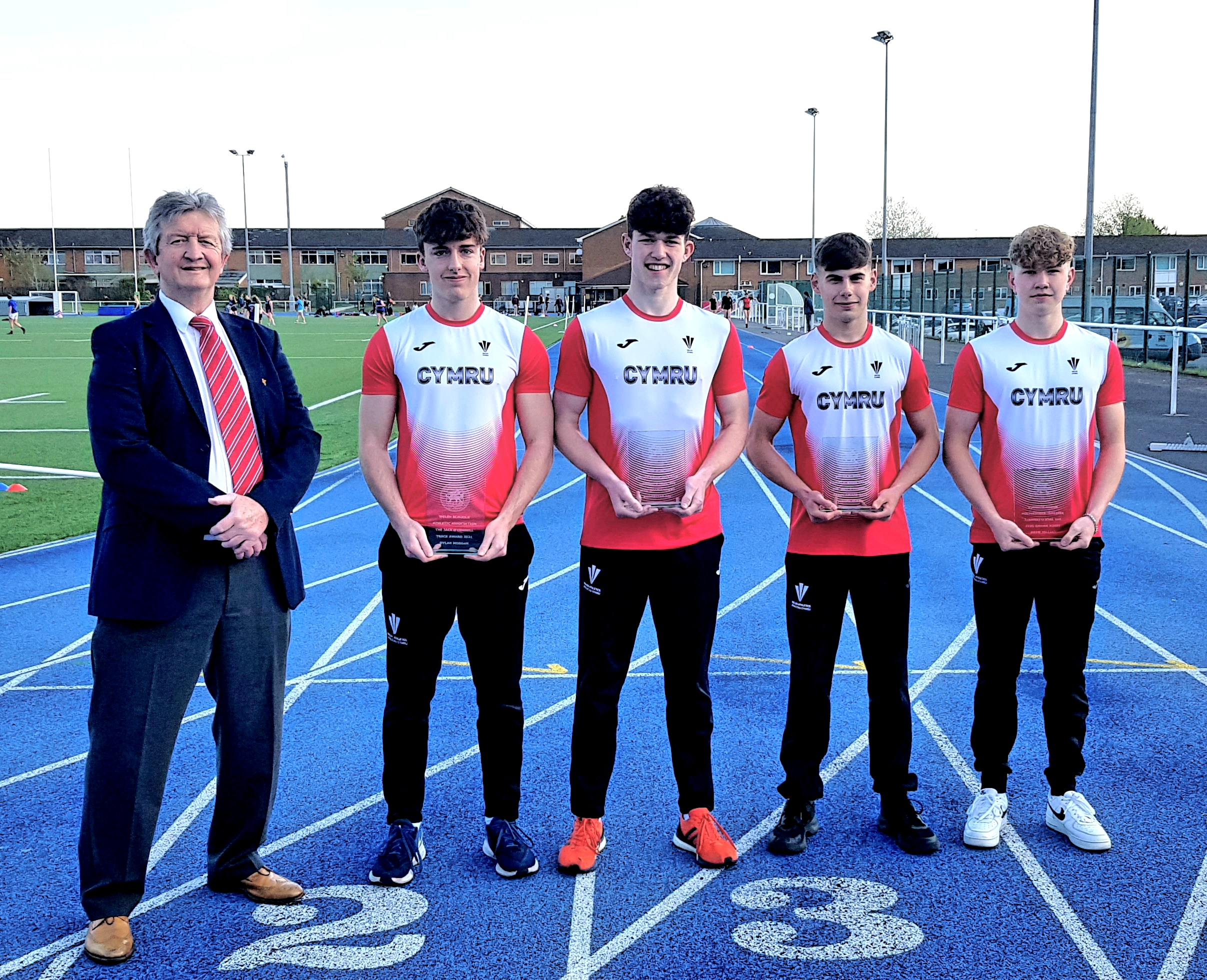 Knowing that Covid cases would prevent some athletes from appearing at the trial, Welsh Schools gave athletes until the first week in September to produce performances worthy of international selection, if they didn't make it at the trial, or couldn't make it to the trial. The other countries were similarly affected but as usual, they have larger 'pools' of athletes to choose from. Irish schools is made up of athletes from north and south of the border.
At the SIAB in Derby, the Welsh Schools athletes, for a variety of reasons, were having a hard time of it, with personal performances good or very good, but still behind the other 3 countries with our sole winner being Gracie Griffiths, Haverfordwest High, Dyfed Schools. Very late in the day, and it must be said, against the odds, Welsh Schools athletes won gold in the Boys' Pole Vault (William Trott, Ysgol Gyfun Gwyr, Swansea, Afon Nedd Tawe Schools, with 4m70), gold in the Boys' Discus, and tocap it all, gold in the 4x100m Relay! A truly amazing finish for the Team!
When it came to the award nominations in November, the performances at the event in Derby produced almost unanimous agreement for the track and field awards. For the JDB Williams award for outstanding Field event performance, it was given to Michael Jenkins of Ysgol Y Preseli, Pembs, Dyfed Schools for winning that Discus with "an absolute beast" of a throw in the final round that also set a new Welsh record of 51m55.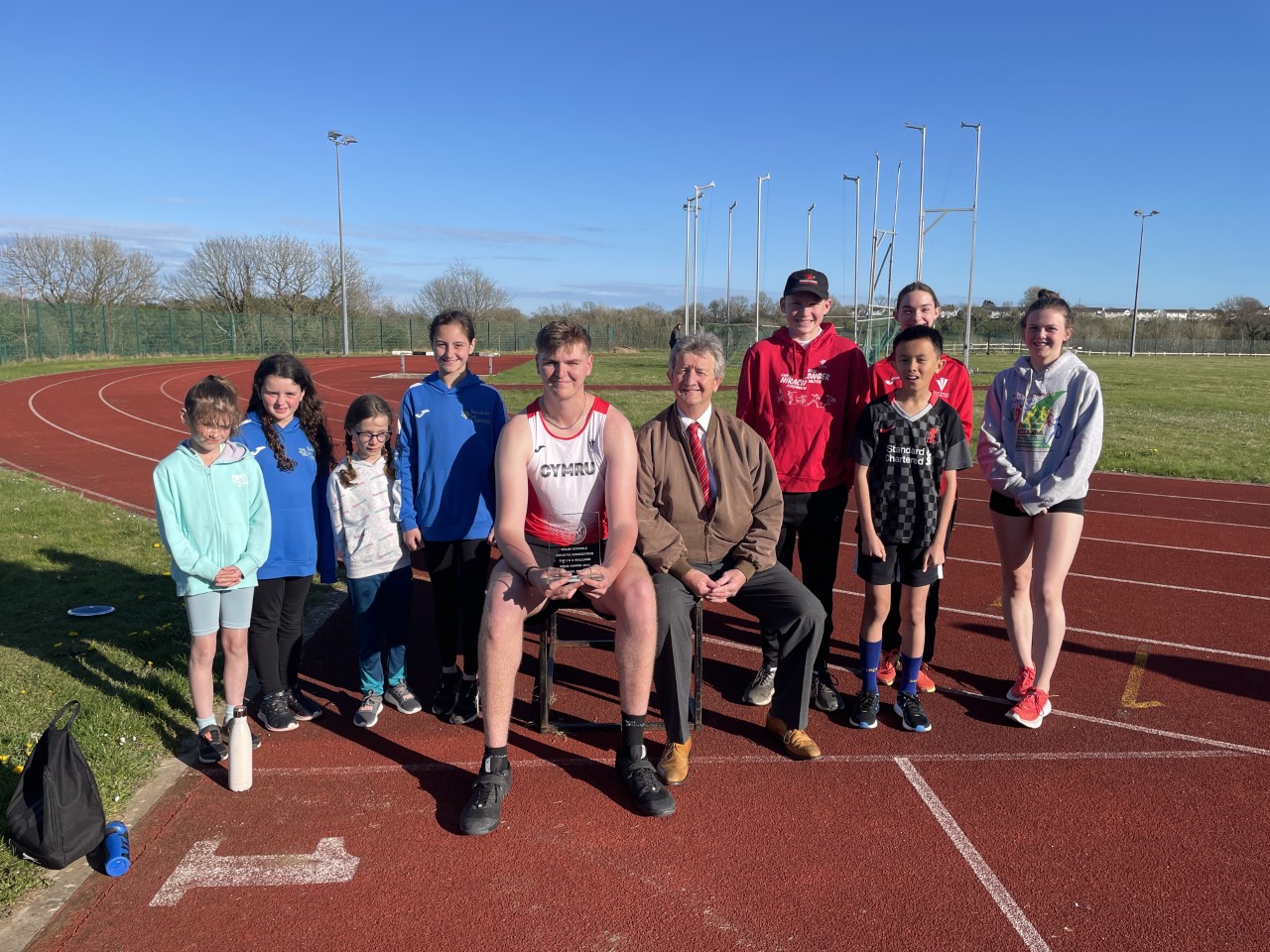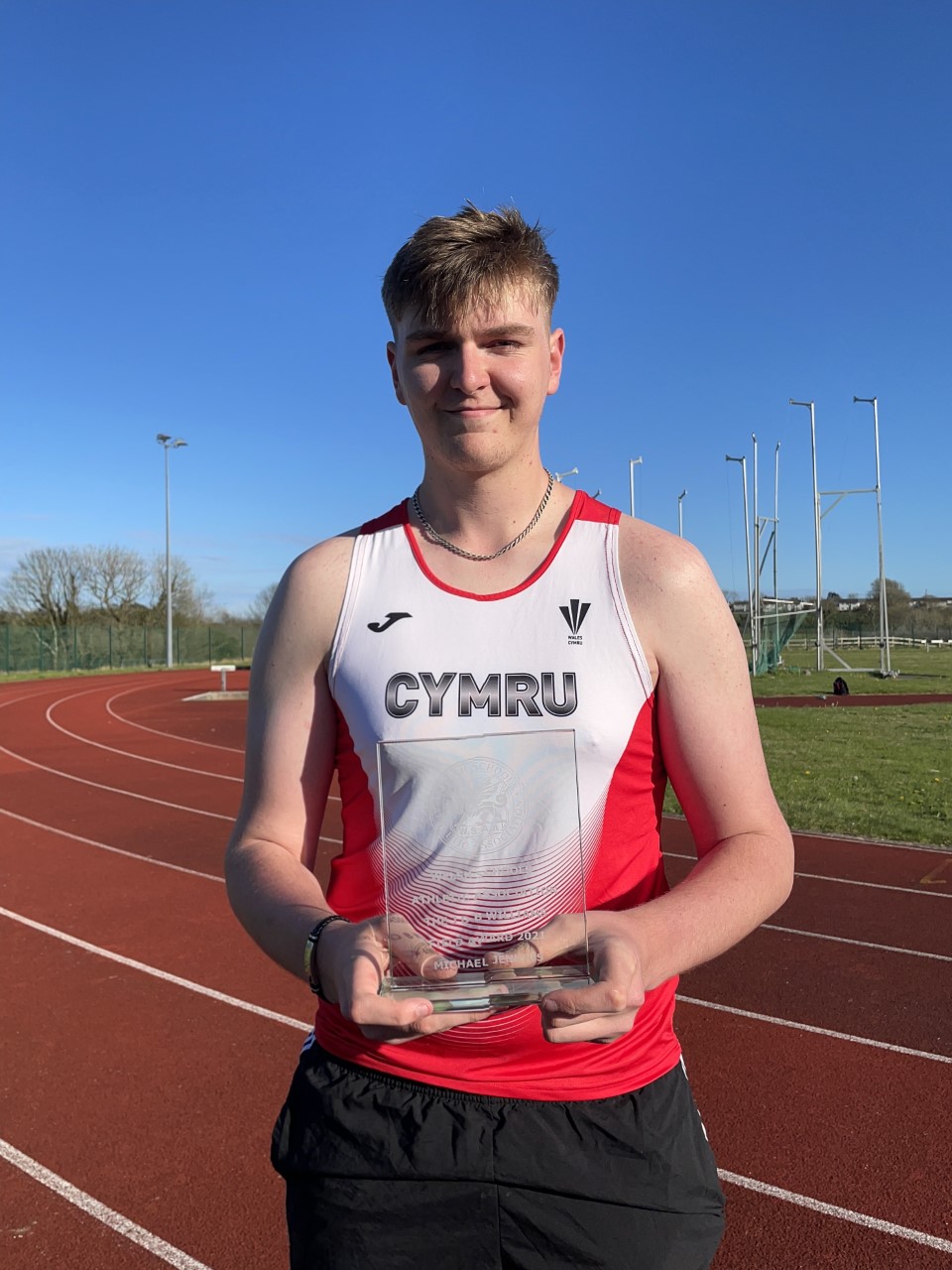 For the Jack O'Connell award for outstanding Track performance – for the first time in memory – it was awarded to our 4x100m Relay team of Jac Patterson, St Cyre's, Penarth, Cardiff&Vale Schools; Callum Webb, St Joseph's RC, Newport, South East Wales Schools; Dylan Morgan, Ysgol Gyfun Gwyr, Swansea, Afon Need Tawe Schools; and Joe Berry, Caerleon Comp, South East Wales Schools.
The relay boys went to extra relay training sessions before the SIAB event and it certainly paid off, because from an inside lane, they put massive pressure on the other 3 teams – especially the 'favourites' English Schools – and the Welsh boys were much smoother with their baton handovers.
In Michael's case, it was particularly pleasing to see him do so well: earlier in the day he had finished down the field in the Shot, and with his mobility issues in his legs, he made good in the Discus. In fact, Michael also competes in the 'disability' sports system with a classification of F38 T38 and had a very good year too, in summer 2021. When presented with his award before training in.
Haverfordwest, he was sociable and unassuming, and it was clear that he was already a "local hero" for the younger athletes who joined him in a photo opportunity. Standing at around 2m (6' 6" tall) he certainly was someone to look up to!
Gerald Davies, Chairman, WSAA.
"The Welsh Schools Athletics Association selection policy document for SIAB can be viewed here for the U17 SIAB international on Saturday 16th July at Belfast. The U15, U17 & U20 Welsh Schools Championships are at Cardiff on Saturday 2nd July, where our eight schools districts will be fielding teams following pupils performances from their districts championships, some of which, have been underway since the first week of May."
Selection policy can be found here