Latest Coronavirus update - Alert Level 4
17/12/2020 00:00, In Blog / Club Notice Board /
Following the most recent announcement regarding restrictions in Wales, we have reviewed the implications for Athletics in Wales. Please look at the Welsh Government Coronavirus Control plan document - Wales entered Alert Level Four from 19th December, so these restrictions apply now.
More details from the Welsh Government on what will be allowed in the different Alert Levels shown is below. We will continue to liaise with colleagues in Sport Wales and the WSA before the next review is due on 18th January, and will provide updates as and when available.
---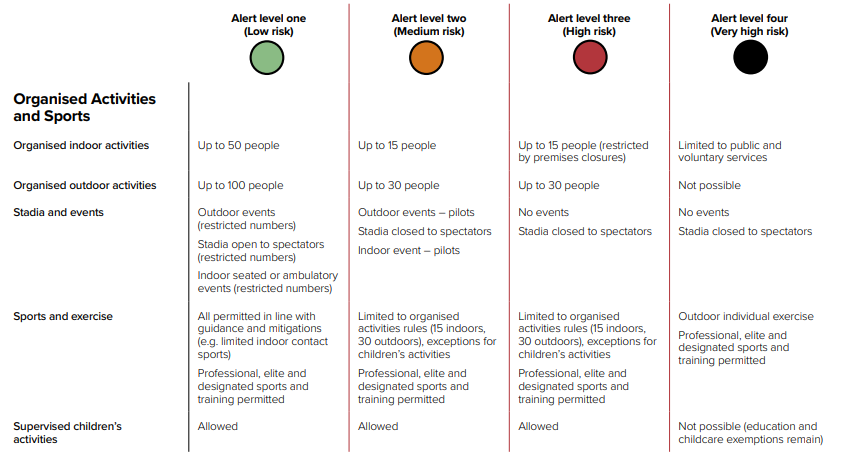 ---
What does this mean for:
Competitions & Officiating
No face to face events will be permitted until Wales moves into Alert Level 2. Virtual events will continue and should be undertaken in line with Welsh Government advice on exercising on your own or with your household group
Club Training:
Meeting with others outside of your own household/support bubble is not permitted. In addition; facilities in Wales will remain closed throughout this period, whilst it is also worth remembering that, at this level, travel is restricted, therefore you should not be travelling to train/exercise.
Running and Group Running:
Running/walking individually or with members of your household/support bubble is permitted. to stay active throughout this period. Welsh Government are encouraging people to remain active; walking and running activities are one of the most accessible and viable exercise options throughout this period. Group running or meeting up with others outside of your household/support bubble is not permitted.
Facilities:
Most facilities across Wales will be closed and will not be permitted to open until Wales moves into Alert Level Three.
Coach and Leader Education:
All face to face education has been suspended and will not resume until restrictions are eased. All online coach and leader education will continue (Coach Education Calendar) with additional webinar and education content scheduled for early in 2021.
---