Road
2024 Newtown 10K
SUNDAY 26 MAY
START TIME: 09:00
LOCATION: Newtown
RACE ORGANISER WEBSITE: www.adrenalinesportingevents.co.uk
RACE ORGANISER CONTACT: hello@adrenalinesportingevents.co.uk
ENTRY FEES: £21.50 & £23.50
---
RACE DESCRIPTION
A one-lap race starting and finishing in the centre of town. The route is a fast one-lap race taking in the beautiful scenery alongside the river Severn.
---
ADDITIONAL INFORMATION
08:30 am warm up, 09:00 am start, 10:30 am finish, presentations at 10:45 am.
---
COURSE MAP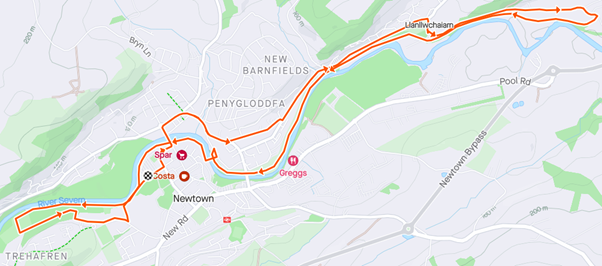 For more details on the event, please visit; www.adrenalinesportingevents.co.uk
Featured links
Useful pages within this section you may like to consider visiting.