Traws Gwlad
Run Wales Winter Relays
RUN WALES WINTER RELAYS
Pembrey country park, Llanelli, Saturday 22nd February – 10am
3 people x 2 Miles
This is entirely a no-pressure event, for every level of runner and the emphasis is on fun and running as a team.
"The camaraderie, excitement, socialising and general fun sense of the event was tremendous"
Pembrey Country Park is one of Wales's top visitor attractions. Set inside 500 acres of woodland and alongside eight miles of golden sands, it provides a unique blend of coast and countryside.
Each runner completes 1 circuit of the 2 mile (approx.) gently rolling off-road course in teams 3.
Teams can be Female, Males or mixed (either 2 men and 1 woman, or, 1 man and 2 women)
What you get
A unique and unforgettable experience
Winners prizes
A bottle of water
Race number
Closed road off road loop
Spot prizes
FAQ –
Do I need to be in a run group or club? No you don't have to be and you can call your team whatever you want, the funnier the better
Are there any special rules? It's pretty simple and most of the rules are for your safety. If you continue scrolling down you will find the important bits.
How much is it to enter? its only £16 per team and you can enter here
Do I need to confirm my team members when I enter? No, you only need to decide what your team name is and what type of team it is (Female, Male or Mixed). You'll be asked when you enter for team members, but if you don't know them or they change thats fine.
Do we all have to wear the same vest / t-shirt / outfit? No. We encourage you to look and feel like a team, but it's certainly not mandatory as each team gets a unique number.
Am I fit / fast enough? Yes, this is a fun event and everybody is welcome as long as you can get around the approximately 2-mile course.
How old do I need to be? Only over 18's can take part, there's no maximum age
Details are below and a full race information pack will be posted here in the week leading up to the race.
Please contact us via email if you have any further questions irun@runwales.org.uk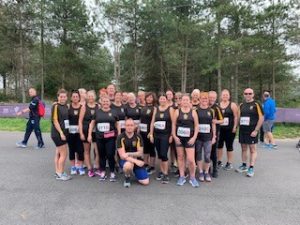 LOCATION AND DIRECTIONS
Pembrey Country Park is located about five miles west of Llanelli. The main entrance is approximately 1.5 miles west of Burry Porth on the A484
Address: Pembrey Country Park, Pembrey, Llanelli, Carmarthenshire, SA16 0EJ.
For Satellite Navigation or Google Maps, use the postcode SA16 0EJ.
RACE RULES.
A runner can only run once for the same team.
Race numbers must be worn on the front of the runner's clothing and be clearly visible at all times.
Runners must run consecutively according to their given letter – A then B then C.
All runners must be aged 18 or over.
Runners must obey marshals' instructions at all times.
Runners must not block other people at the changeover zone
A 'slap band' will be provided to you that you must use as your 'Baton'
'Batons' must be carried on the runners wrist at all times. The band must be passed from runner A to runner B and from runner B to runner C.

The wearing of earphones, headphones or similar devices is not permitted in the race.
Course Information
The gently rolling course is entirely within the park, on a variety of tarmac paths.
The course is marshalled at all key points, with additional signage to guide runners through unattended sections.
Bottled water will be available just after the finish line to all finishers.
Footwear Choice
The course is off-road, but due to the nature of the ground, you will be fine in normal running trainers.
Dolenni diddorol
Tudalennau yn yr adran hon a allai fod o ddiddordeb.