U13, U17 & U20 Indoor Championships Report
05/02/2022 00:00, I Mewn Blog / Track & Field /
In a weekend full of championship best performances and multiple personal bests, the U13, U17 and U20 athletes showed they are ones to look out for in the future!
In the first event of the day, the U17 women's high jump was won in great style from Sophie Lisk (Cardiff Archers) in 1.63m, a new personal best, 5cm higher than Megan Taylor (Cardiff Archers) who jumped a best of 1.58m, a massive 7cm personal best. Not to be outdone though, over not the long jump runway, U17 Benjamin Parker (Abergavenny) sailed out further than anyone else, landing a jump of 6.34m, ahead of Osian Parry's (Cardiff Archers) 5.97m.
In the U13 boy's shot put, Lachlan Robbie (Cardiff Archers) produced the performance of the day, throwing 9.55m in his first attempt, significantly surpassing Jack Farrell's Champion Best Performance of 7.76m set in 2020.
Although qualifying as only the 5th fastest, Leo Stark (Newport) saved enough energy to runaway from the field in the U17 men's 800m. Stopping the clock in 2:06.12, Stark finished ahead of Loui Camilleri (Cardiff Archers) and Iwan Wilson (Llanelli), who ran 2:07.78 and 2:11.03. The U13 girl's 800m was won by Bryony Boyce (Cardiff), running the fastest time of her life, crossing the line to be crowned Welsh Champion in 2:25.78. Lois Codling (Newport) was second in 2:30.88.
In a gruelling afternoon of heats, semi and a final for the U17 Women's 60m, Jessica Lee (Carmarthen) ran away to victory, crossing the line in 25.64s, ahead of Anais Shepperd (Cardiff) who ran 26.64s. in the U13 girls event, Aliyah Afolabi (Cardiff Archers) had the race of her life, running 26.08s in the final, setting a new Championship Best Performance by nearly a whole second in the process.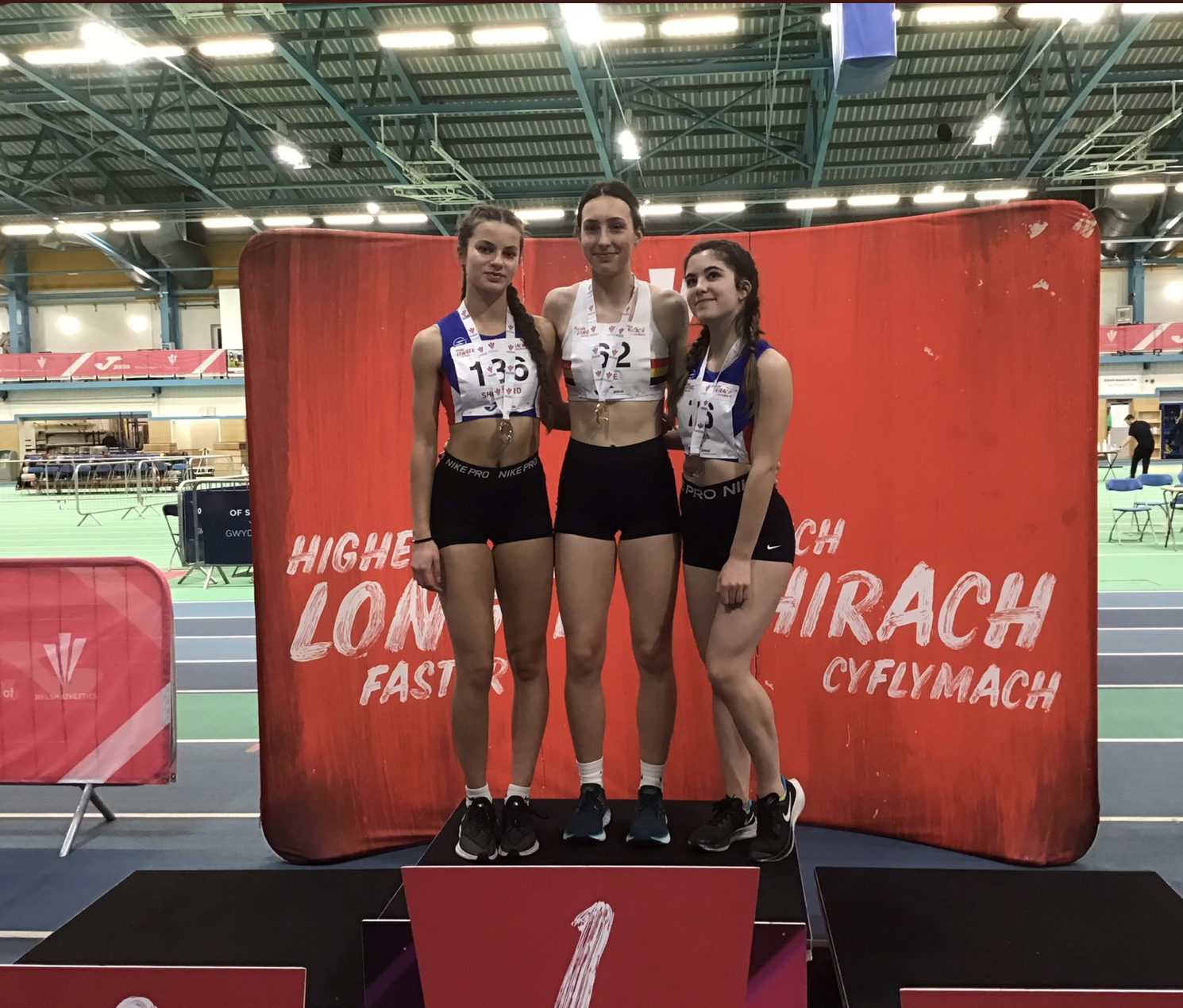 Jessica Lee (Carmarthen) carried on her 60m form into the U17 Women's long jump, jumping a Championship Best Performance, surpassing Caitlyn Mapps's 5.65m set in 2018. Her jump of 5.67m was enough to get her two wins on day one of the championships!
Just like Lee, Aliyah Afolabi (Cardiff Archers) did not want to settle for just one gold medal, and swiftly added other collection in the U13 girl's long jump, again setting a new Champion Best Performance of 4.71m, a whole 10cm further than Chloe Hughes record of 4.61m set in 2011.
In the U20 men's Pole Vault William Trott (Swansea) got close to the Championship Best Perfromance, clearing a height of 4.50m
Bryony Boyce doubled back after her win in the U13 girls 800m on day one to win the U13 girls 1500m in a new Championship Best Performance, running under 5 minutes, stopping the clock in 4:59.27. Not only was this a CBP, but also a Welsh Age Group record, surpassing Hywelis Thomas Howells mark of 5:01.0 set in 2007.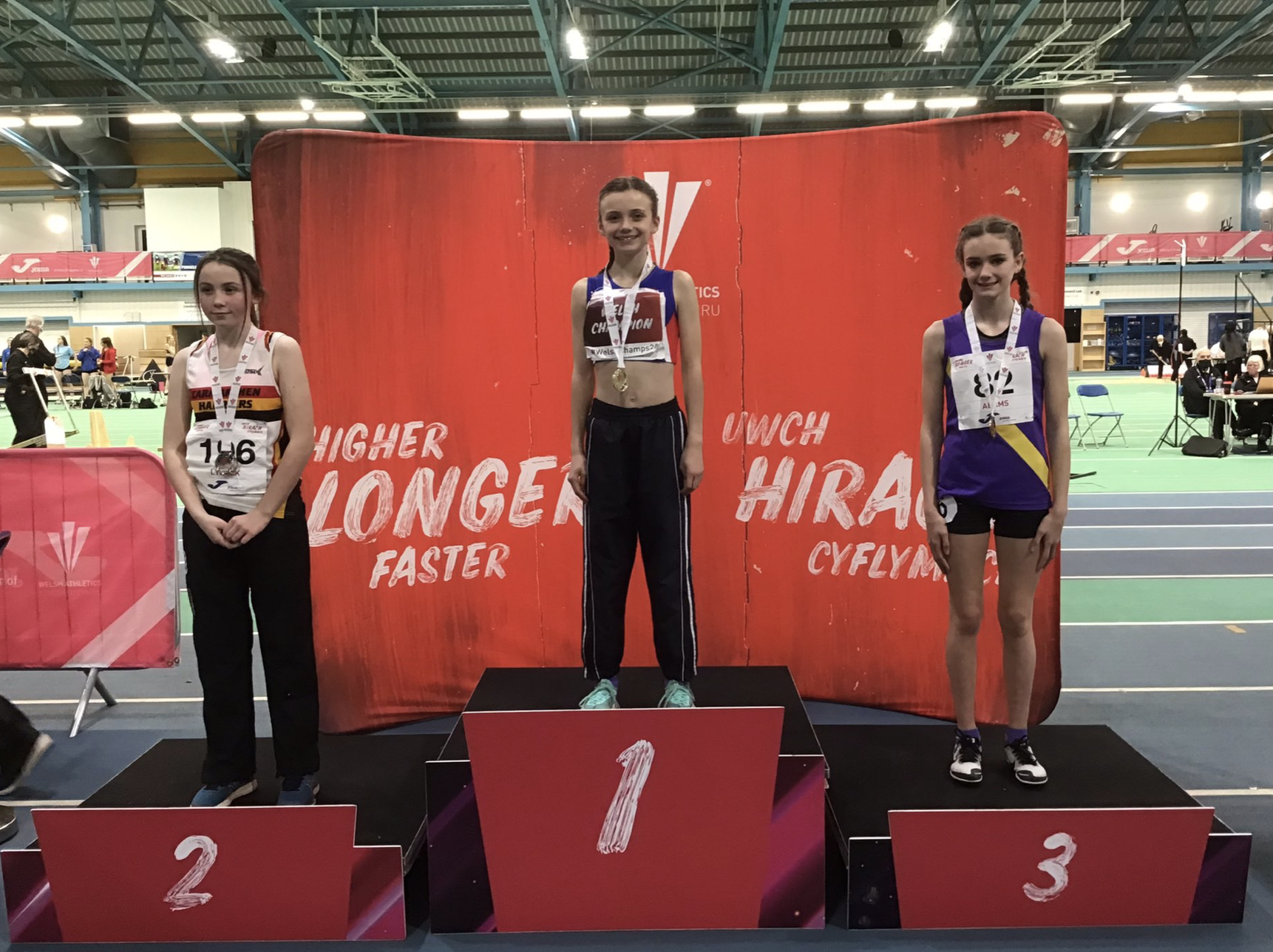 Aliyah Afolabi (Cardiff Archers) continued her fantastic weekend, setting a Championship Best Best performance in the U13 Girls 60m, scorching her way to a 7.93s clocking. Hollie Taylor (Newport) was second in 8.55s. Not to be outdone though, in the U17 women's 60m, Nell Desir (Cardiff Archers) also set a new Championship Best Performance of 7.57s, knocking 0.5s off last weekends Senior Women's 60m champion, Hannah Brier, previous Championship Best Performance. In the U17 Men's event, Joseph Berry (Newport) ran away with the victory, stopping the clock in 7.06s, ahead of King Musa (Cardiff) in 7.23s.
Isabel Thomas had the performance of the day in the U20 Women's pole vault. Setting a new U20 Welsh record as well as a Championship Best Performance, she cleared 3.77m on her first attempt. The previous Welsh record was set by Rebecca Davies in 2010, at 3.66m.
In one of the final events of the weekend, Sophie Lisk (Cardiff Archers) set a new personal best of 6.70s to come within 0.01s of the Championship Best Performance. Her time was enough to secure her the Welsh champion title ahead of Megan Gwyther (Swansea) in 9.01s.
It was a fantastic weekend of action from all age groups, with a new Welsh Recrod, many new Championship Best Perfromaces, and an abundance of personal bests. Congratualtions to all athletes who participated, their coaches and a big thank you to all volunteers who helped ensure the weekend was a success!
Full results can be found here.