Tributes to Olympian & Welsh Sprint Legend Ron Jones
30/12/2021 00:00, I Mewn Blog / History /
It is with great sadness that we have learned of the death today, December 30th, of one of the all-time greats of Welsh athletics, Ron Jones at the age of 87.
He captained Britain's Olympic team in 1968 , was part of the Britain's sprint relay team that set a world record in 1963 and was a member of both the Welsh Athletics Hall of Fame and Welsh Sports Hall of Fame - his biography is available here. The new athletics facility in Aberdare was named after Ron who grew up in nearby Cwmaman when it opened in 2018.
---
The late Ron Jones – an appreciation by Clive Williams
The athletics world has reacted in a wonderful and highly respectful way to the death yesterday, December 30th, of a Welsh sporting titan – Ron Jones at the age of 87. Apart from his numerous achievements on the track he was a highly respected sports administrator who was still at the helm of sports charity SportsAid Cymru until last year. The fact that he captained Britain's 1968 Olympic team and did the same for Wales's Commonwealth Games team two years earlier clearly underlines his status as one of the all-time greats of Welsh – and possibly British – athletics.
Said Peter Radford, the 1960 Olympic 100m bronze medallist: "I am very sorry to hear the news of Ron's death. We were great friends. I shall miss him with great affection."
My first personal memory of Ron was after one of the Nos Galan races in Mountain Ash in the early 1960s. Along with several other athletes and officials we were sleeping on the floor of the race organiser, Bernard Baldwin's house in Mountain Ash. After several glasses of red wine I (as an athletics statistician) got told off by Ron for not making sure that wind speeds were recorded on the top bends of 220 yards races. That really indicated his passion for the sport at a time before he achieved his greatness as an athlete. Our friendship grew from there.
Reacting to his death, another close friend, the 1964 Olympic long jump champion and former president of UK Athletics Lynn Davies said:
"Ron was one of my heroes growing-up. He had a very warm and outgoing personality." Lynn continued: I don't think that I ever beat him over 100, especially in Welsh championships. I will miss his friendship and he will be sadly missed by everyone in our sport of track and field athletics."
Former Cardiff student and one-time world 220 yards record holder Radford continued: "Ron was always a tough competitor. I competed against and with him from as early as the 1958 Oxford Street dash in Mountain Ash which was held before the Nos Galan midnight road race. I especially remember the 1963 World Record for the 4x110yds when I handed the baton to Ron who ran a cracking back-straight to help us beat the USA as well as equal the world record. He had the best receiving hand in the business. We ran with and against each other for years and were friends. When I told David Jones – who was also a member of that team, along with the late Berwyn Jones - that we had just lost Ron, there was a long, heavily charged silence as we both remembered him affectionately, and how much we will miss him."
Another tribute came from former Welsh mile champion Fred Bell:
"My abiding memory of Ron was how unassuming he was. Just after I had won the Welsh Games junior mile as a 20 year-old, he came over to me and gave some inspirational words. Here was an Olympic athlete coming over and speaking to me! I couldn't believe it. I will always remember his humility."
Undoubtedly Ron was one of the all-time greats of Welsh athletics, rising from humble beginnings in Cwmaman where he trained between coal trucks on railway sidings through to being a world record-holder, captain of Britain's Olympic athletics team and one of the finest athletes produced by Wales.
He was delighted when Rhondda Cynon Taff named the new athletics facility after him in Aberdare a few years ago. He told me:
"I can't believe it, I used to kick a football around in that area and here it is now with my name on it."
Probably his finest race was holding almost certainly the world's fastest sprinter at the time, Bob Hayes of the USA to a smidgeon over 100 yards at the Britain v USA match at London's White City in 1963 [photo above]. Hayes would go on to win the Olympic title in Rome the following year and set the world record. The late Mel Watman, the renowned authority on athletics and long-time editor of Athletics Weekly, the bible of the sport in the UK, said in his AW report of the race that Ron was Europe's best sprinter – a statement that the unassuming Ron didn't agree with!
Later in that match, he would combine with Peter Radford, David Jones and fellow Welsh star, Berwyn Jones to equal the world sprint relay record. This performance made Ron one of only four Welsh athletes - Ron, Berwyn Jones, Colin Jackson and Steve Jones - to have held a world record in the traditional track and field events.
Photo: The world record equalling team. On top David Jones, then Peter Radford, Berwyn Jones and Ron Jones.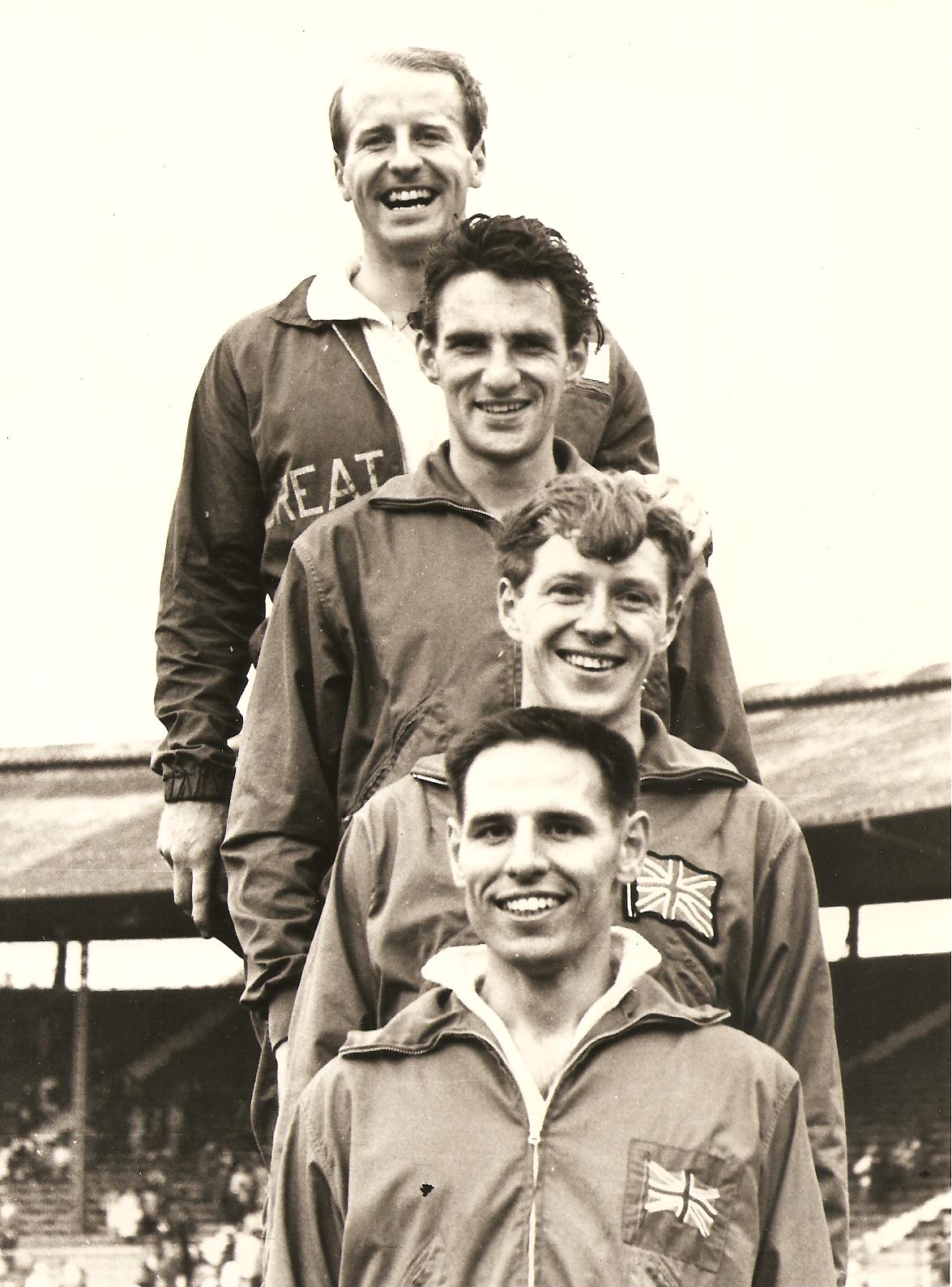 Ron won the first of his 12 Welsh sprint titles in 1956 but his 100 yards win came about as an accident. He had dabbled with this event during his national service days with the RAF in Northern Germany, but his main event was the 440 yards. Indeed he won the Glamorgan title at this distance in 1956 and as a result had entered both events in the upcoming Welsh championships. Ron told me that after winning the 100 he gave the 440 a miss as he was feeling a bit tired. I wonder what would have happened if the 440 had been held before the 100!
Ron held the Welsh 100m record with 10.42 for almost 22 years until future 110m hurdles world record holder Colin Jackson bettered it with 10.29 in 1990.
Remarkably, Ron was 34 years-old when he set that Welsh record at the 1968 Mexico Olympics where he was Britain's team captain. He competed for Britain on the last of 31 occasions in 1970 when he was approaching his 36th birthday. It's an extraordinary fact that at an age when many people would be enjoying their leisure time at home, Ron was still competing at the very highest level.
Altogether his set 25 Welsh records, the first in 1958 when he equalled the 100 yards record of 9.8 secs held by a number of athletes including the 1948 Olympic 4 x 100m silver medallist and rugby star Ken Jones with whom he had a great friendship and whose record number of Welsh 100 wins he bettered.
He completed in four Commonwealth Games – Cardiff 1958; Perth, Australia 1962; Kingston, Jamaica 1966 and Edinburgh 1970, along with two Olympic appearances – in 1964 and 1968. In the former he ran despite being worried with injury problems. Said Lynn Davies: "I was part of that team and with a fully fit Ron we could have been close to the medals." In those 1962 Commonwealth Games, he took the bronze medal in the sprint relay alongside Berwyn Jones, David England and Nick Whitehead. He also took bronze in the Belgrade European Championships of the same year partnering Berwyn, Alf Meakin and David Jones to set a new UK record.
Outside of athletics, he became Chief Executive of Queens Park Rangers in 1976, the first Managing Director at Cardiff City in 1980 and then Managing Director at Portsmouth in 1988. He became a governor of the sports charity Sports Aid Cymru Wales in 1997 and ran the charity with his wife Linda until last year.
He was awarded the MBE in the 2001 New Year's Honours List for his services to sport and charity.
In my introduction to his forthcoming autobiography, I refer to his conviviality, and his liking of good red wine and enjoyment of playing his guitar – excellent ingredients to display his warmth and outgoing personality. Along with many people, I shall miss him greatly.
Our sympathies go to his family and especially to his wife Linda.
---
Jeff Kirby, Clive Williams, Ron Jones and Bob Maplestone in Florida in 2012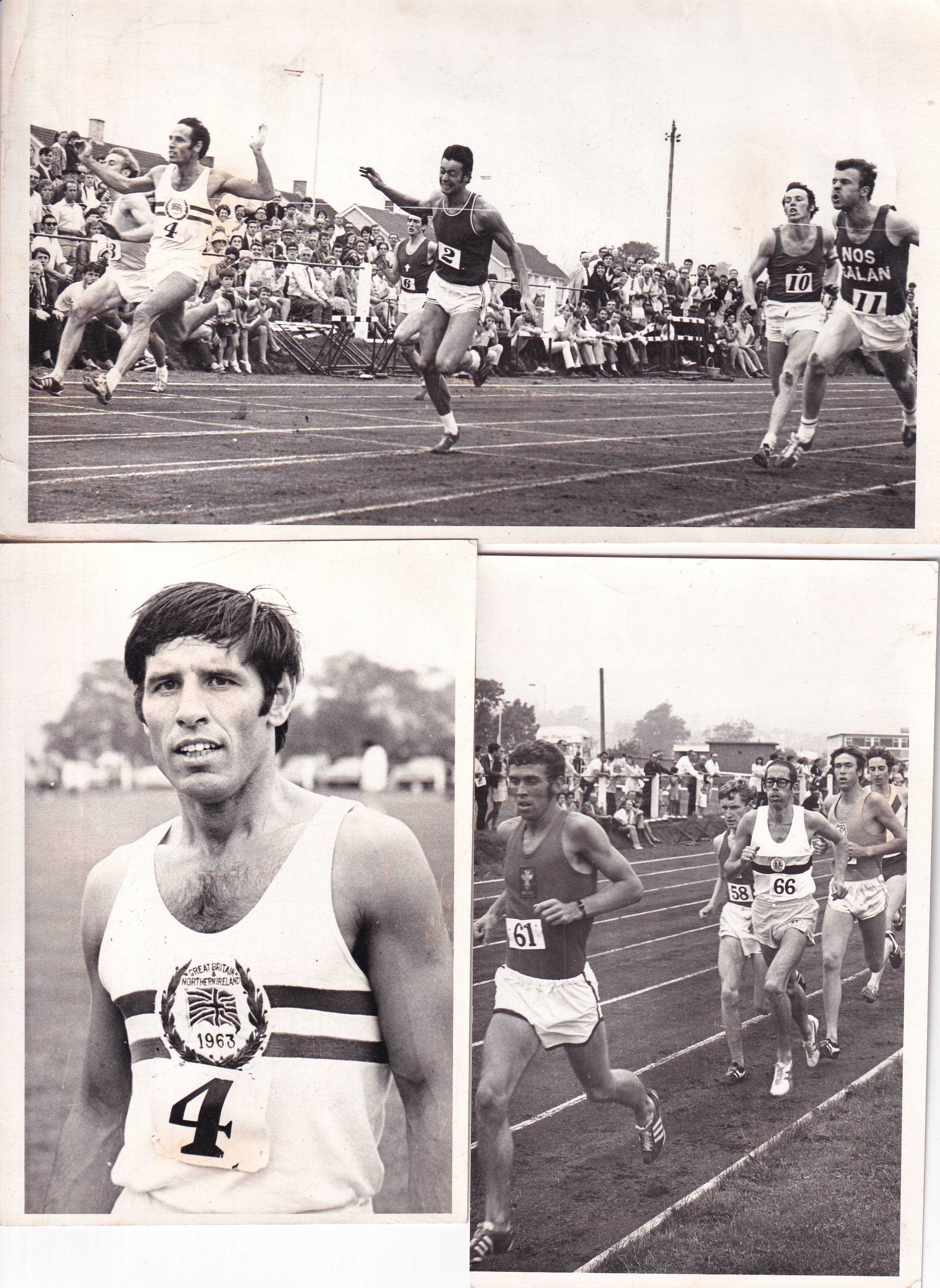 ---