Welsh Sprinter Nick Williams has sadly died - updated.
21/04/2022 00:00, I Mewn Blog / History /
The late Nick Williams
Update - "The Funeral of former Welsh international sprinter Nick Williams will take place on Tuesday 10th May at 2.30 at Llandaff Cathedral."
Clive Williams traces his athletics achievements:
The Welsh athletics and sporting fraternity is sad to learn of the sudden death of former Carmarthen Harrier and Welsh international athlete Nick Williams who died on 17th April aged 74.
Nick was one of a number of outstanding sprinters at Cardiff College of Education (now Cardiff Met University ) in the late 1960s, one of whom was the late JJ Williams. JJ narrowly beat Nick over 100m with both clocking 10.7 secs in the College's match against the Royal Navy and St. Luke's College early in May 1969. But Nick had his own back in the 200 beating the eventual Wales and Lions winger in 21.7. Later in the month, JJ, who won four Welsh sprint titles, again pipped Nick over 100 with both clocking windy personal bests of 10.6.
Those times placed both just outside the UK top 10 in 1969. Nick's best 200 was 21.5 in 1968. These performances set on the cinders of Cyncoed would not be out of place on the all-weather surfaces today.
Nick also represented Welsh Schools in the international schools meeting in Brighton in 1965. He was unlucky not to make the Welsh Commonwealth Games team in 1970 after finishing third over 200m in the trials. However, he went to Edinburgh as an official.
On hearing the news of Nick's death, the 1964 Olympic long jump champion, Lynn Davies, who was Nick's lecturer at Cardiff College said that he was the leading light of the athletics team at college and was captain of athletics and rugby. Lynn continued:
"Although I was his lecturer we were close friends and this friendship lasted until he died." He was also president of the Cardiff Met University rugby club at the time of his death.
Like most Welsh sprinters, he was also an outstanding rugby player for both Cardiff College and Cardiff RFC. He was a member of the Cardiff RFC team that won the Snelling sevens and Welsh national sevens in the 1968/1969 season. Nick was also in the same Welsh schools' rugby team as Gareth Edwards and the two became lifelong friends and were contemporaries at Millfield School and Cardiff College.
He had considerable business interests in Cardiff and throughout the UK and in 2008 donated a large sum of money to aid Cardiff's cancer research programme. He said at the time that it was his way of saying thanks after recovering the disease.
All in Welsh athletics send their sympathies to his family.
---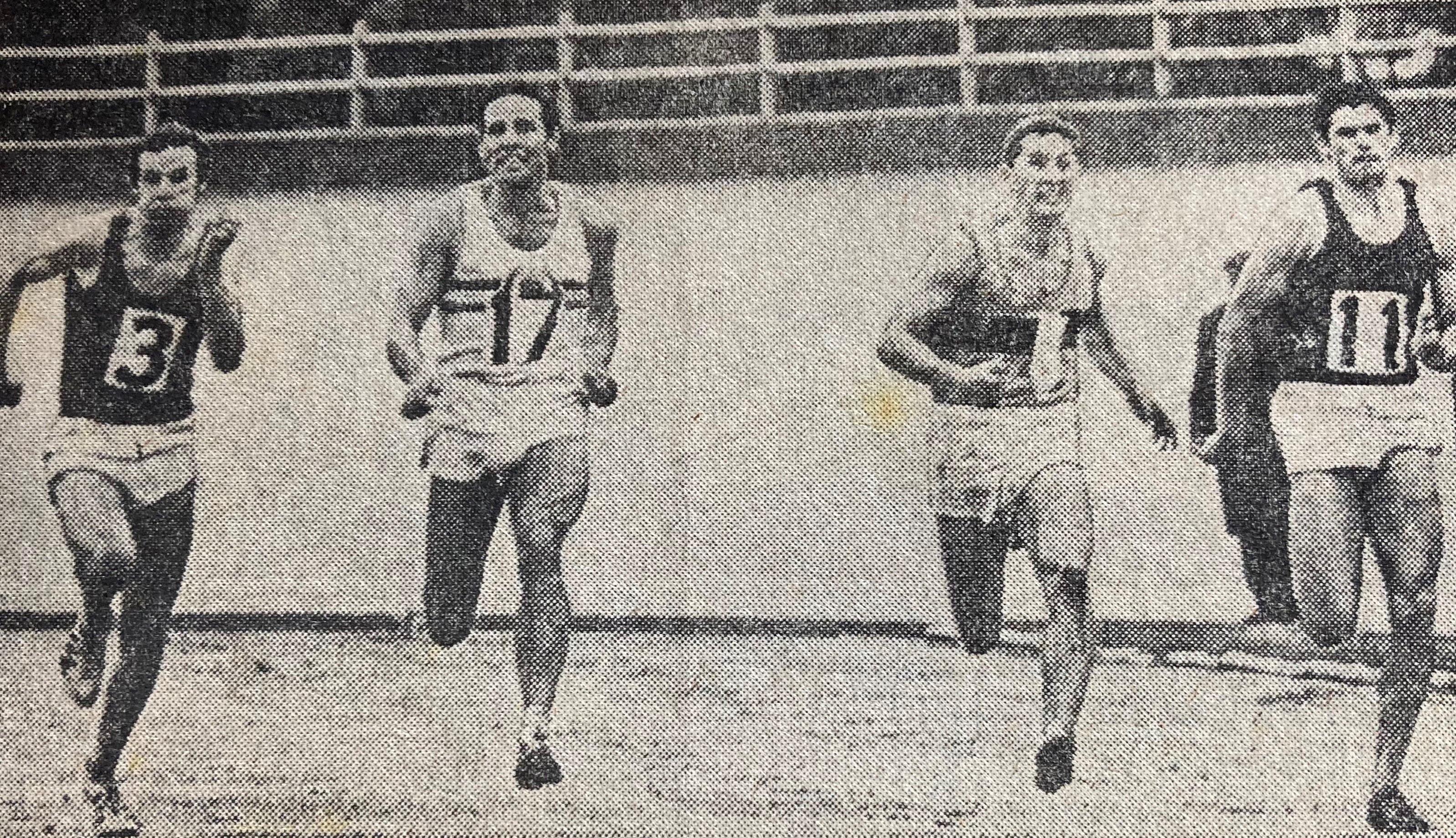 Photo: the Welsh 100 yards Welsh Championship in 1968. Caption: Left to right: JJ Williams, Ron Jones on his way to retain his title, former winner Brian Coles, and Nick Williams (no.11). And below, Nick is bottom right in this photo from Carmarthen Harriers presentation evening in 1967.