SPOTLIGHT WITH CHRIS DAVIES
02/07/2020 00:00, I Mewn Blog /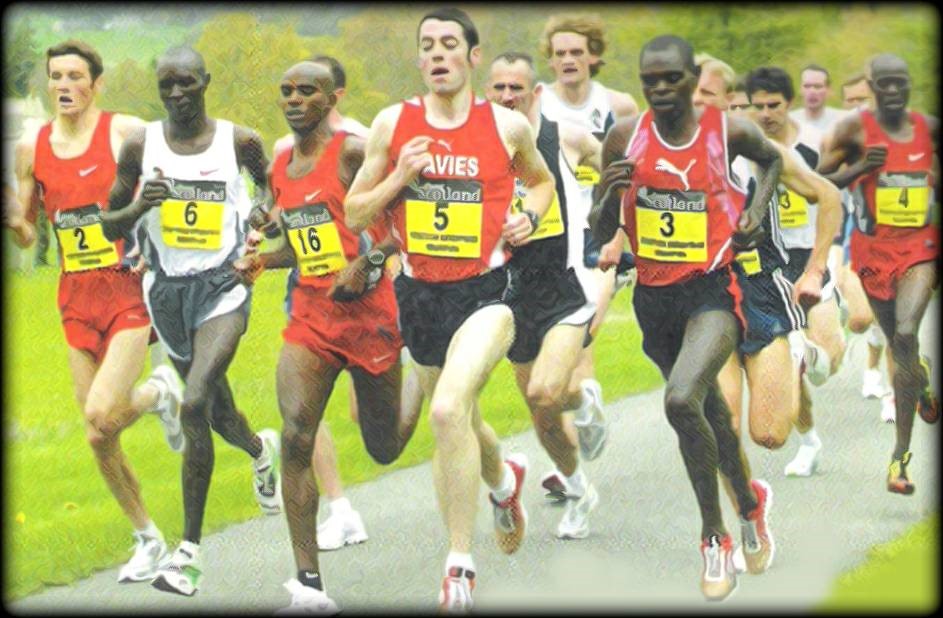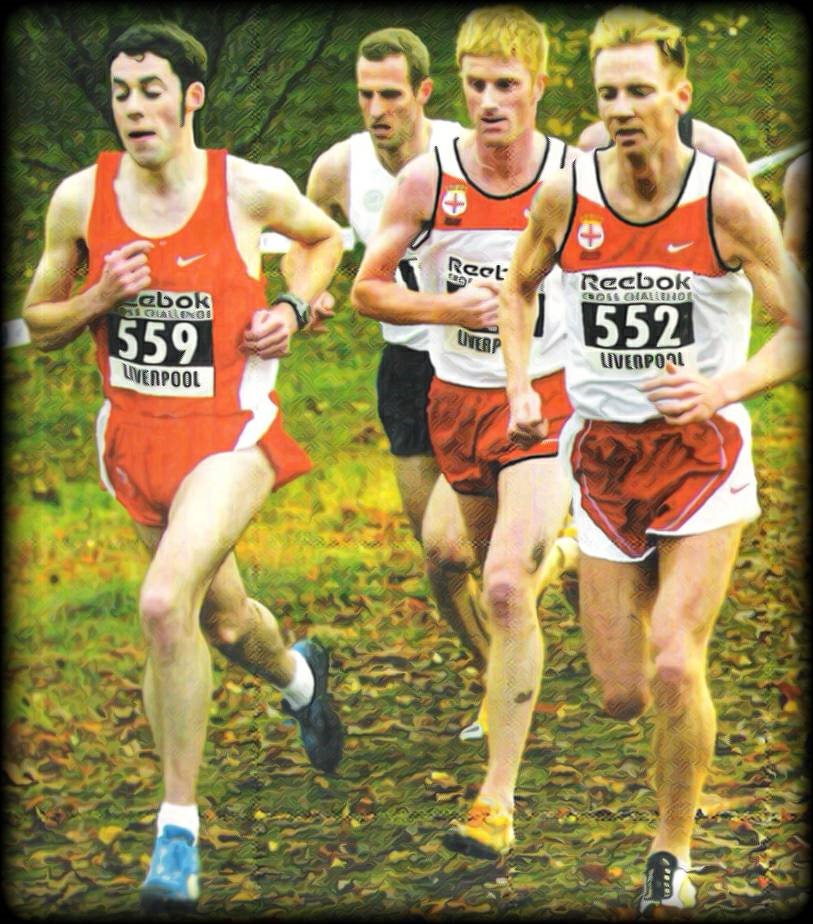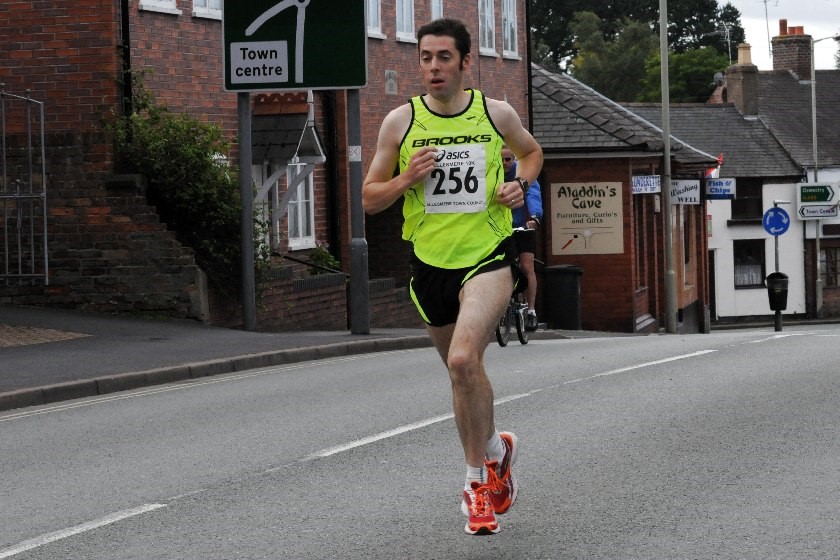 Chris Davies, Telford AC is the most prolific race winner in the history of the North Wales Cross Country League. An aggressive front runner Chris competed for Wales and Great Britainand has some of the fastest times ever at Sutton Park, home of the National Road Relays. He answers a few questions on his career.
1: How and when did you start running?
I was 14 at the time. I fell into the sport by accident really, I went to school at William Brookes in Much Wenlock, so with strong links to the birth of the modern day Olympics, Athletics was pretty prominent, although my talent for running was not. I was staying over at my mates house on a Friday night, he lived opposite the school and threw Hammer and Shot for the county and for Wenlock Olympians. The following morning he went over to the Athletics club to train so I tagged along, I decided to give the distance group a go and despite being tailed off in last, I quite liked the idea of pushing myself. I stuck with it and joined the club. My first race was the Shropshire Young Athletes XC League where I was 3rd (to Last) so I managed to beat a couple of people, throughout the year I progressed quite a bit beating a few team mates, although nowhere near the sharp end of the field by the end of the season I was knocking on the door of a top 30.
2: My records show that your first 'win' in the North Wales Cross Country League was in the Under 17 Men's race at Bridgnorth in October 1993. Do you have any recollections of your first win?
I think my first win was actually the previous year in the last race of the season at the Marches School , Oswestry. I was bottom of the age group and running for Wenlock Olympians then. I had improved a lot throughout the season, but wasn't expecting to win but was determined to give it a good go. I was then able to watch you win the men's race Bernie on my warm down (Wow my one and only North Wales Cross Country League race win!!)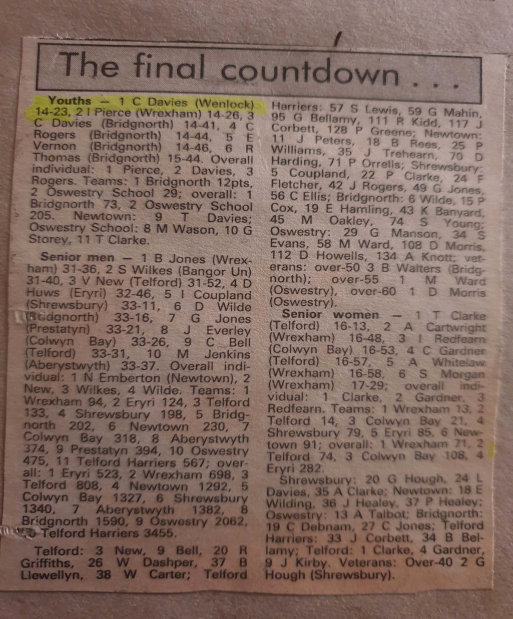 3: My records show that you won your first senior League race at Oswestry in March 1977. Do you have any recollections of this race?
I am not sure I actually remember my first senior win, I won quite a few times at Oswestry, It was one of my regular races of the season . I do have video footage from quite a few of the North Wales XC races so will have a look back at them.
4: You are the most successful men's race winner in the League with over 20 wins. What recollections do you have opf competing in the North Wales League?
I always found the North Wales a very friendly league and got to know many people during my years competing, This made it appealing to turn out regularly, but is was always very competitive, whilst moving through to seniors I had the likes of Colin Jones and Colin Donnelly to try and hang onto and had great battles with many other quality athletes over the years.
I remember George Tudor trying to get everyone on the start line and the hard work David Alun Williams put it to organize the league. There was always a good selection of cakes at the end which was an added bonus.
5: Why do you think that you are the most successful male athlete and Claire Martin the most successful female athlete, both from Telford?
We had a great training group during this time regularly getting up to 20 people turn up so there was always someone to chase or hang on to, my dad used to organize the sessions for Tuesdays and Thursdays and tried to structure things in a way that everyone was competitive by either adjusting distances or staggering start times and positions. Claire like me also worked for Royal Mail as a postie in the same depot.
6: You had a terrific career including competing in the Commonwealth Games and representing Great Britain on a number of occasions. What were your pb's?
Track Road
1500m: 3.43 5km: 13.50
Mile: 4.03 4mile: 18.57
3000m: 7.55 5mile: 23.15
5000m: 13.38 10km: 28.37
` ,
7: Which performances during your career gave you the most pleasure?
From a North Wales XC perspective I enjoyed winning the league most in the 2008/9 season, with my sister Sian winning the women's league and both parents watching It was a great family occasion, topped off with a nice pub meal after the race.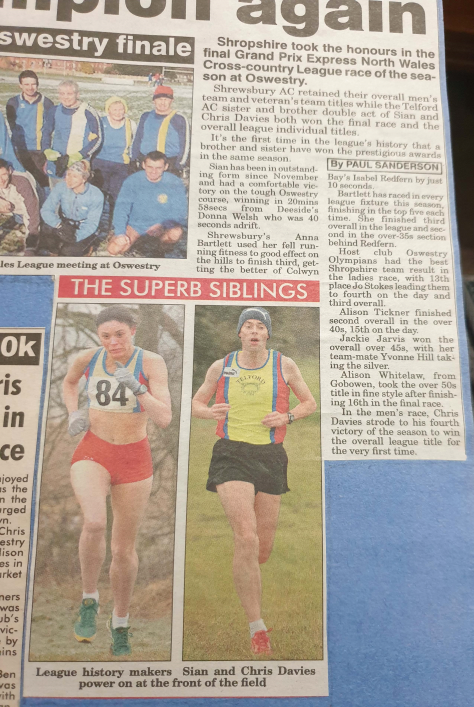 Away from the North Wales , my proudest moments would be breaking the course record for both the National 6 Stage and National 12 Stage Road relays at Sutton Park, both of which still stand
8: And most disappointing?
I remember going to do the Great Welsh Run in Cardiff one year, I was in really good shape. The Tuesday before I had 4 x 1Mile efforts which averaged 4.20; (looking back I had done too much and went into the race tired) but was expecting a great race. The race was one lap around the marina, I went off with the leaders but was struggling by 3k and got cramp in my calf at 6k, with no way off the course I had to continue walk/Jog around towards the finish, during this time I had loads of people tapping me on the back saying come on mate you can make it around.
9: What was a typical week's training at your peak?
I was never a high Mileage athlete, around 50-60 was my maximum although this was supplemented with a 4hr walk each morning as I worked as a Postman back then. I tended to do more quality and less quantity in sessions pretty frequently too which was different to a lot of athletes, but seemed to work well for me. E.g. rather the doing 8x1km I would do 4/5 x 1km and would take 2mins recovery instead of 1min, but I would be looking to run them in sub 2.40's rather than 2'50's.
I used to do a 20/25 min tempo every week often on a hilly course. My other runs in the week were mostly either on and around the Wrekin which is a multi terrain hilll close to where I lived running to feel as fast or slow as I felt, or on flat sports fields where I kept the tempo around 5.30miling. I did a group social run of 10-14 on a Sunday morning
10: You suffered a great deal from injury during your career and retired early. What happened?
I did suffer with quite a few injuries during my time competing but after The Commonwealth Games in Melbourne, a few World XC Champs, European xc Champs and on the track in the European Cup I felt I had achieved what I wanted to and was ready to take a step back from running to concentrate on other aspects of my life,
11: I note you are doing a bit of running these days. Any chance of a comeback?
I have tried to maintain a certain level of fitness, and have turned out for Telford in the odd league XC in the past few years, but off very limited training, until this year I had not run a 40Mile week nor a run of 10Miles or over since 2012. I have been doing a bit more recently but would need a bit more structure in my training to consider a comeback, getting back into sessions would take a while to adapt to and would have to be a gradual process, but I would definitely consider racing again if I was able to keep injuries at bay for long enough for me to get to a level I was happy with. I have changed jobs in the last couple of years after 5½yrs of nights so definitely feel more able to commit more to running again.
12: Comments on:
running in North Wales/Shropshire
I think both North Wales and Shropshire are blessed with some fantastic scenery and some great places to train and race, I competed on many different courses in the North Wales League, coming from a track background I really liked racing at Wrexham and Colwyn Bay as the ground was normally quite firm. I still follow the race results and try and keep up to date with how things are going.
(b) Telford AC
We had had a great team over the years, but were spread quite thinly on occasions with the B'ham XC Leagues and North Wales XC clashing. I remember one year we were in a good position but struggled with a team on the fourth race, We had to get everyone out in the last race to secure the team title. Think it was 6 in 9. I am lucky enough to have been made a life member of the club, although I no longer live in the area, I am back fairly often so turn up for the odd training run when I can.
Chris always ran the same way, whether he was competing against the world's best, competing in a Commonwealth Games or running in the North Wales League, leading from the front and always giving 100% and doing everything he could to win. A very talented athlete, who with a little more luck around injuries would have achieved even more.
Thanks Chris for an enlightening Spotlight.